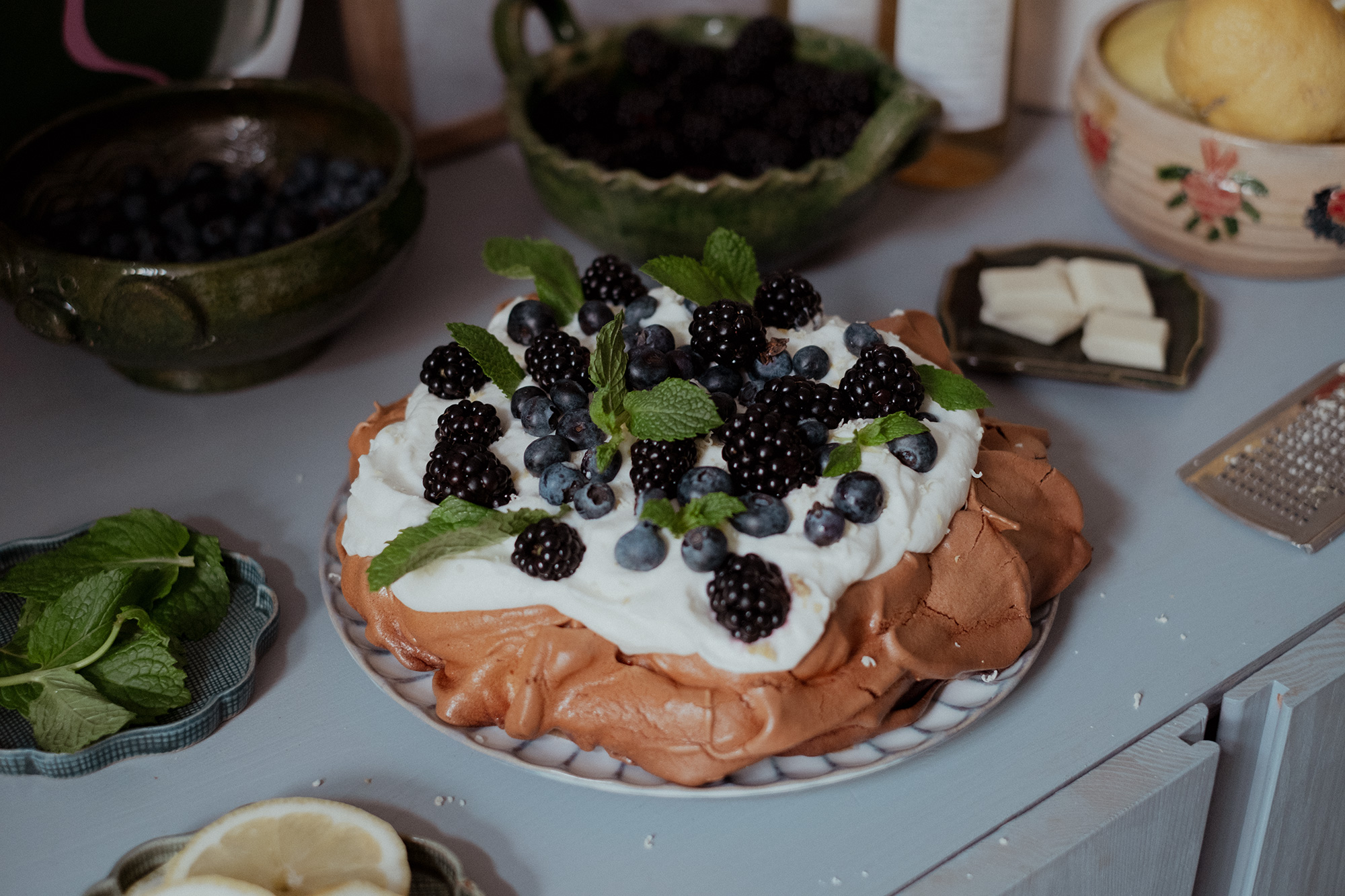 Wie kann man hier wiederstehen? Der Pavlova Klassiker aus braunem Zucker, mit schwarzen Beeren & Holunderblüten-Sahne

---
Der Sommer ist da und für die süßen Mäulchen unter euch ein ganz besonderes Rezept mit einem etwas anderen Twist: Brown Sugar Pavlova! Dieser fluffige sündhaft-leckere Kuchen, der vor allem aus Baiser bzw. Meringue-Masse und viel Sahne besteht, gibt es heute auf meinem Blog mit Brown Sugar anstatt wie regulär aus weißem Zucker. Denn es wäre kein #AliceEats Rezept, wenn es hier nicht noch etwas anderes wäre als die traditionelle Version. Brauner Zucker ist einer meiner liebsten Zutaten, wenn es ums Backen geht und gilt aber auch in ganz Süd-Ost & Ost-Asien weitverbreitet als Favorit, der sich in Bubble Tea, Kuchen als auch anderen Süßspeisen wiederfindet.
Australien als auch Neuseeland streiten sich immer noch um den Ursprung dieser köstlichen Nachspeise, doch heute wollen wir uns nicht damit befassen und ich zeige euch in ganz einfachen Schritten, wie ihr zu dieser Schönheit kommt! Getoppt habe den Brown Sugar Pavlova mit schwarzen Beeren, einer unglaublich leckeren Holunderblüten-Sahne als auch weißer Schokoladenraspeln.
Nun aber genug geredet, viel Spaß beim Ausprobieren & ich freue mich wie immer über eure Kreationen auf Instagram & Co.! Love, Alice
---
Brown Sugar Pavlova with Black Berries & Elderflower Cream Recipe
Menge: für 4-6 Personen
Schwierigkeitsgrad: einfach
Zubereitungszeit: circa 120 Minuten
Rezept
Benötigte Zutaten für Brown Sugar Pavlova with Black Berries:
• 6 Eiweis
• Prise Salz
• 140 g feiner brauner Zucker
• 150 g Puderzucker
• 1 Zitrone (oder Zitronensyrup)
• schwarze Beeren
• frische Minze
• weiße Schokolade
Benötigte Zutaten für die Holunderblüten-Sahne:
• 3 EL Holunderblütensyrup
• 2 EL Puderzucker
• 300 ml Schlagsahne (30% Fett)
• ggf. 1 Packung Sahnesteif
Benötigtes Werkzeug:
• Ofen
• Backpapier
• Handmixer / Standmixer (hier: Kenwood Chefkoch XL*)
• Spatula
• Küchenreibe
---
Zubereitung Brown Sugar Pavlova with Black Berries & Elderflower Cream Recipe
Zubereitung des Meringue Teig für den Brown Sugar Pavlova mit schwarzen Beeren:
Zunächst wird der Ofen auf 130 °C (Gas Stufe 2) vorgeheizt. Währenddessen wird das Eiweiß mit einer Prise Salz mit einem Handmixer oder Standmixer cremig geschlagen
Der feine braune Zucker sowie Puderzucker werden nun in eine separate Schüssel vermischt und dann nach und nach zu dem Eiweiß gegeben, bis dieser sich beim Umrühren auflöst. Nun noch 2 EL Zitronensyrup ggf. Saft einer halben frischen Zitrone hinzugeben.
Nun sollte der Meringue Mix sehr glossy aussehen, falls dies nicht der Fall ist, einfach noch etwas weiter rühren.

Tipp:

Wenn man den Meringue zwischen zwei Fingern reibt, sollte man keinen Zucker mehr spüren.
Den fertigen Meringue-Mix kann nun auf ein Backblech mit Backpapier nach und nach übertragen werden. Diesen einfach je nach belieben formen & auftürmen. Für einen Extra 'Fancy Look' einfach einen Löffel oder Gabel nehmen und kleine Spitzen auf der Oberfläche der Meringue kreieren.
Dieser kommt nun für ca. 1 Stunde 10 Minuten (mindestens, aber 55 min) in den vorgeheizten Ofen bzw. bis dieser außen fest ist. Der Meringue Teig sollte außen knusprig und innen weich sein. Zum Abkühlen einfach aus dem Ofen nehmen und zur Seite stellen.
Zubereitung Brown Sugar Pavlova with Black Berries & Elderflower Cream Rezept
Zubereitung Elderflower Cream Recipe / Holunderblüten-Sahne:
Kurz vor dem Servieren kann man nun die Creme für die Pavlova zubereiten.
Mit dem Standmixer wird nun der Puderzucker, die Sahne & 3 EL Holundersyrup zu einer weichen Sahne geschlagen.
Je nach gusto kann man noch 1 Packung Sahnesteif hinzugeben, wenn man die Sahne etwas fester mag. Vorsicht hier, dass die Sahne nicht überschlagen wird, sonst wird sie klumpig!
Letztendlich wird die Sahne nun auf den Brown Sugar Meringue verteilt. Oben drauf kommt dann noch etrwas Zitronenschalen- als auch weiße Schokoladen Abrieb & die schwarzen Beeren. Für ein wenig Farbe sorgen noch frische Minzblätter, die zwischen den Beeren verteilt werden können.
Guten Appetit & viel Spaß beim backen!
---
---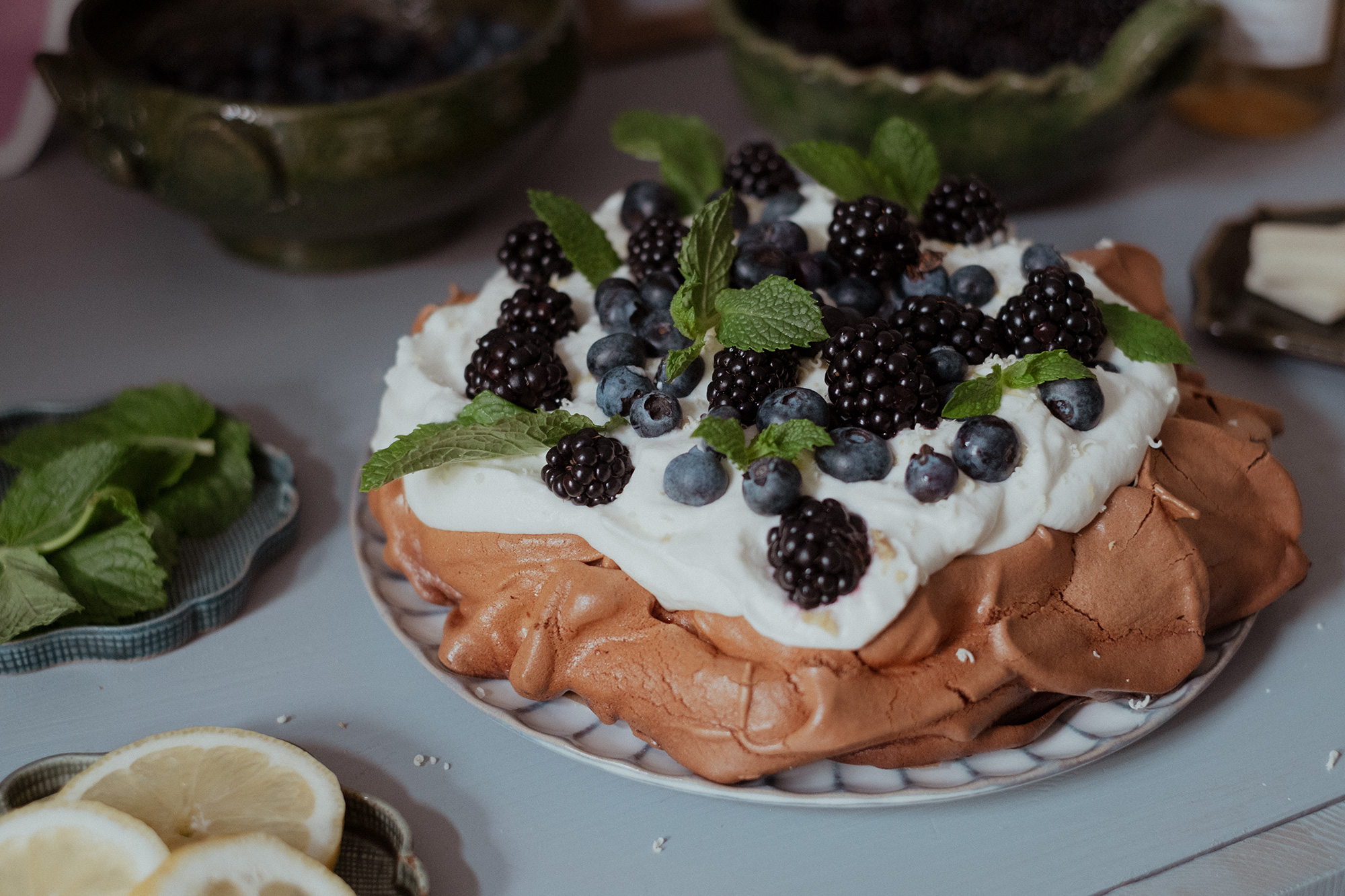 ---
Weitere Süße Rezepte auf dem Blog:
---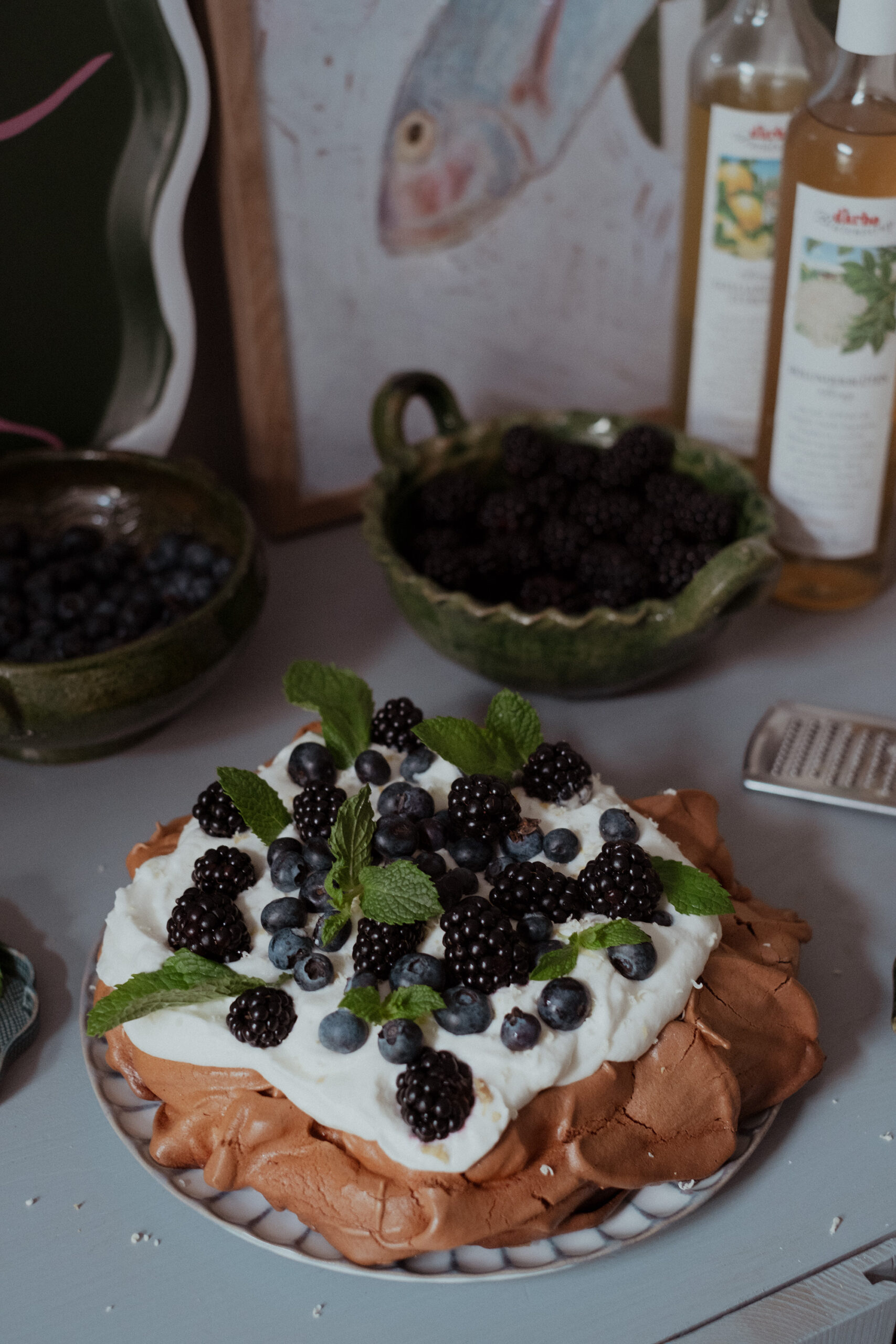 ---
Alle im Beitrag genannten Marken und Produkte wurden ohne Bezahlung und ausschließlich aus persönlicher Überzeugung genannt.
Markennennungen und Produktempfehlungen sind aktuell laut dem Gesetz als werblicher Inhalt zu kennzeichnen.
Photo / Alice M. Huynh
*Affiliate Link / PR Product
*The opinions expressed here represent, as always, my own.