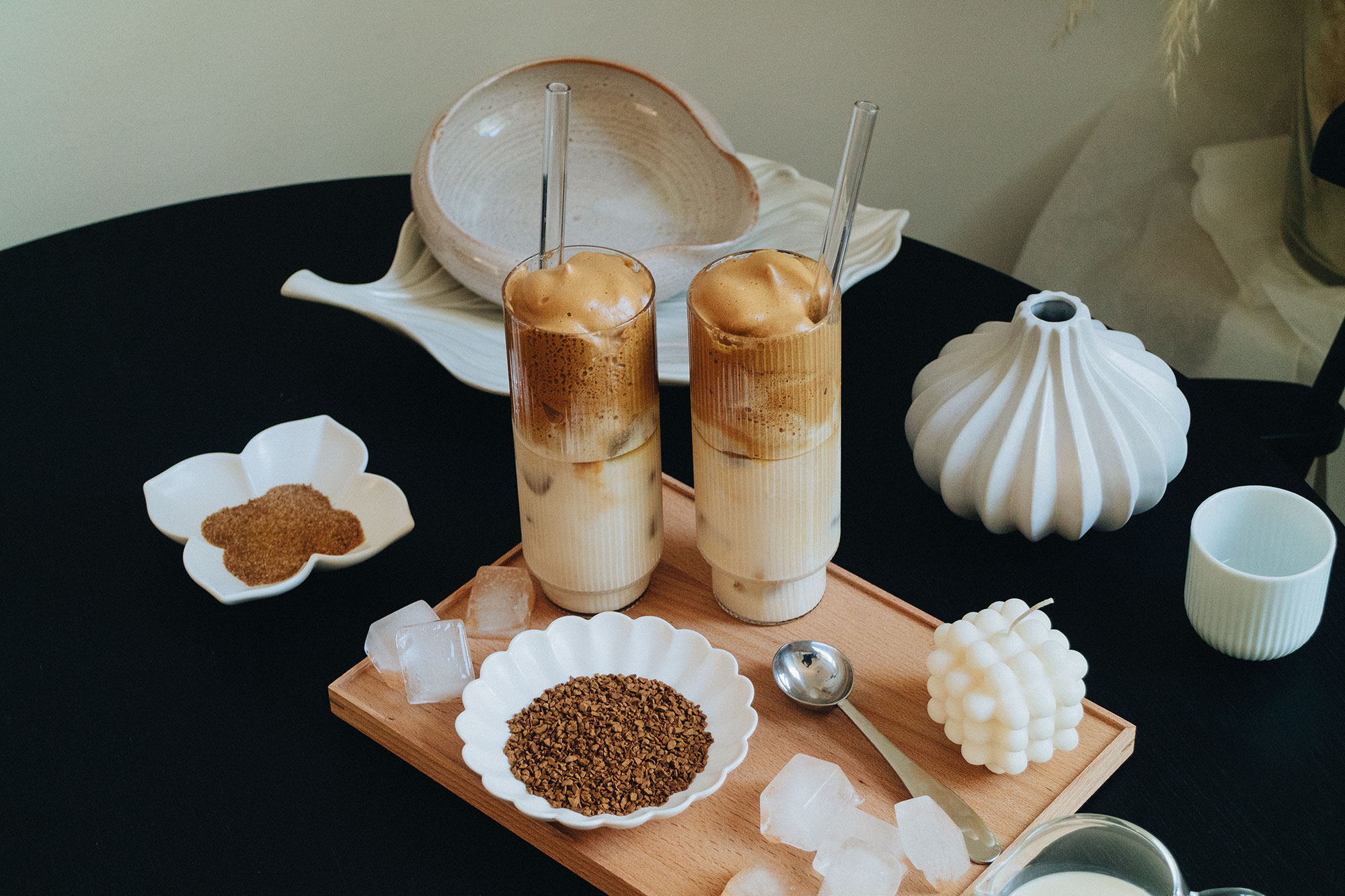 Dalgona Coffee – Der neuste cremige Kaffee-Trend aus Asien ganz einfach & schnell für zu Hause!
---
Foodtrends aus aller Welt erreichen uns dank verschiedenster Plattformen wie Instagram oder TikTok je schneller denn je und auch der Dalgona Coffee, ursprünglich aus Macau, ist der neuste Kaffeetrend seit dem Flat White aus Australien. So musste ich gestehen, dass ich etwas hinterher war, denn ich genieße meinen Kaffee lieber stark und aus lokalen Röstereien (Coffee Snob much?), doch als Nisi von Teetharejade mir diesen an einen warmen Frühlingstag servierte, war ich hin und weg! Ihr fragt euch sicherlich, was es mit diesem "umgedrehte Cappuccino" mit Instantkaffee also auf sich hat?! So simpel, lecker und dann auch noch instagramable und dass alles in nur wenigen Handgriffen, machen wohl den Charme von Dalgona Coffee aus!
Wusstet ihr, dass Südkoreaner die größten Kaffeekonsumenten in Asien sind? Der Dalgona Coffee, der vor allem durch die Covid-19-Pandemie als Internetphänomen aus Südkorea raschen Zuspruch bekommen hat, erfolgte vor allem durch die Fourth Wave Coffee Generation. Anfang des Jahres brachte Jung-Il Woo ('Unstoppable High Kick' & 'The Return Of Iljimae') es aus einer Reise von Macau nach Südkorea zurück und stellte es in einer TV-Show unter dem Namen Dalgona Coffee vor, da die Farben ihn an einen Dalgona-Kuchen erinnerte. Da ist es nicht verwunderlich, dass nachdem die Cafés wegen der Pandemie geschlossen werden mussten, die eigenen vier Wände zum hippen Coffeeshop umfunktioniert wurden. Und so kam es nun, dass diese einfache Zubereitung des Dalgona Coffee über die sozialen Netzwerke in Südkorea ihren Weg auch in den Westen gefunden haben.
Dank Nisi und ihrer wunderschönen Küche, konnte ich nun dieses kinderleichte Rezept für das Trendgetränk mit dem fluffigsten Kaffeeschaum des Jahres festhalten. In diesem Rezept zeige ich euch, wie man den perfekten creamy Dalgona Kaffeeschaum hinbekommt – egal ob nun vegan, hier mit Hafermilch, auf Eis oder auch ganz klassisch warm und mit Milch. Falls ihr auch ein detailliertes Video für die Zubereitung von Dalgona Coffee braucht, findet ihr diesen hier im April Vlog auf Nisis YouTube Channel!
Viel Spaß beim Zubereiten und ich freue mich über eure Foodbeiträge auf Instagram (@alicemhuynh)! Love, Alice.
---
---
Dalgona Coffee
– Creamy Kaffeeschaum Rezept
Menge: für 2 Personen
Schwierigkeitsgrad: einfach
Zubereitungszeit: circa 15 Minuten
Rezept
Benötigte Zutaten:
• 4 gestrichene EL Instantkaffee (wahlweise entkoffeiniert)
• Hafermilch (Oatly Barista Edition)
• 4 EL Wasser
• 1 ½ – 2 gestrichene EL Brauner Zucker
• Eiswürfel (optional)
Benötigte Werkzeuge:
• zwei hohe Gläser
• ein Esslöffel
• Handmixer (oder Schneebesen)
• Rührschüssel
---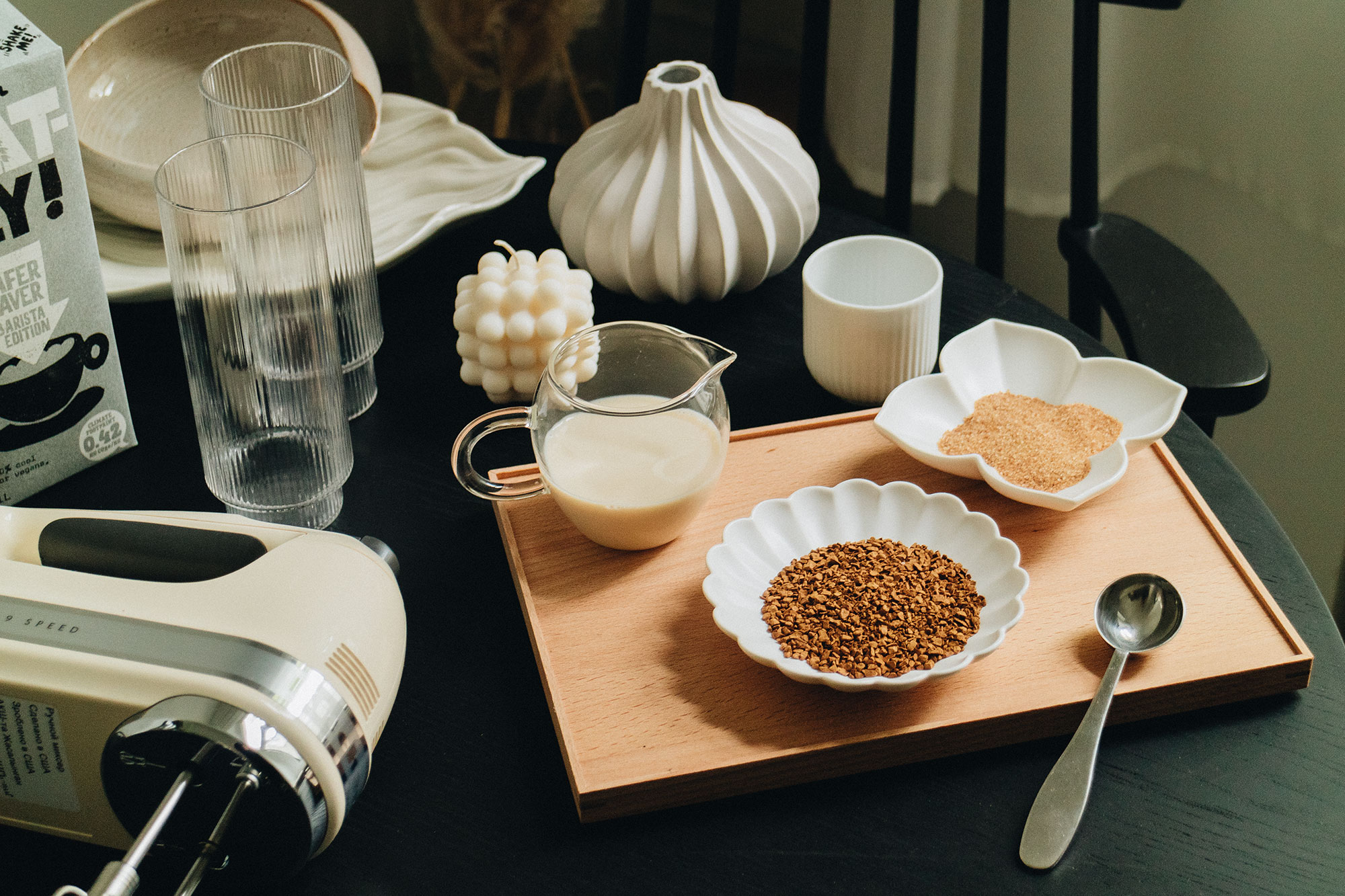 Ripple Long Drink Glasses / Ferm Living* – Hand Mixer / Kitchenaid* – Soy Wax Candle / AU*
---
Zubereitung (Vegan) Dalgona Coffee
Zubereitung:
Das Hauptmerkmal des Dalgona Kaffee ist der creamy Kaffeeschaum, für den man zunächst 4 gestrichene EL Instantkaffee, 1 ½ gestrichener EL brauner Zucker sowie 4 EL Wasser in eine Rührschüssel gibt.
Nun kommt der Handmixer ins Spiel, denn vor allem so kann die richtige Konsistenz (ohne abgestorbenen Arm) erreicht werden. Dafür werden einfach alle oben genannten Zutaten für mind. 5 Minuten vermischt, bis die Masse eine hellbraune/beige Farbe bekommt & steif geschlagen wurde, welches vor allem nur durch den Instantkaffee gelingt. Zwar funktioniert der creamy Kaffeeschaum auch mit einem Schneebesen, welches aber mehr Muskelkraft als auch Zeit erfordert.
Sobald mit dem Handmixer der Kaffeeschaum fest geschlagen wurde, wird in den langen Gläsern nun entweder die (Hafer-)Milch, hier verwende ich am liebsten Oatly Barista Hafermilch, mit oder auch nach Belieben ohne Eiswürfeln, bis zur Hälfte eingegossen. Der fertige Schaum wird dann einfach oben drauf gelöffelt.
Optional kann der Dalgona Coffee nun mit Schokoraspeln oder Zimt getoppt werden. Ich persönlich genieße ihn vor allem kalt, mit Hafermilch und ohne Topping. Viel Spaß nun beim Nachmachen & lasst es euch schmecken!
---
Wooden Tray / Ferm Living* – Glas Strohhalme / Butlers* – Ripple Long Drink Glasses / Ferm Living*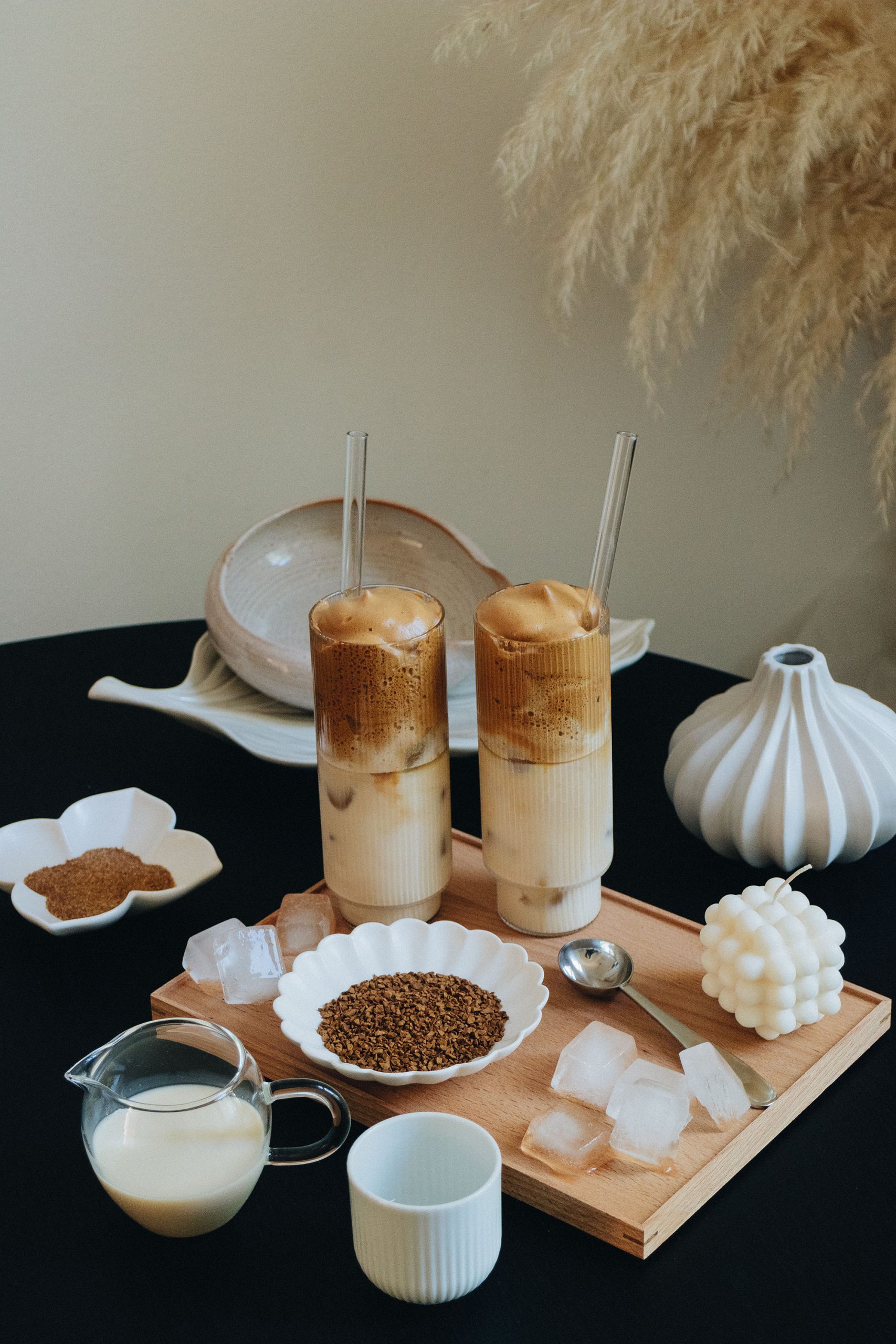 ---
Photo / Alice M. Huynh
*Thanks to Nisi for the help!
*Affiliate Link/PR Sample
*The opinions expressed here represent, as always, my own.
Alle im Beitrag genannten Marken und Produkte wurden ohne Bezahlung und ausschließlich aus persönlicher Überzeugung genannt. Markennennungen und Produktempfehlungen sind aktuell laut dem Gesetz als werblicher Inhalt zu kennzeichnen.