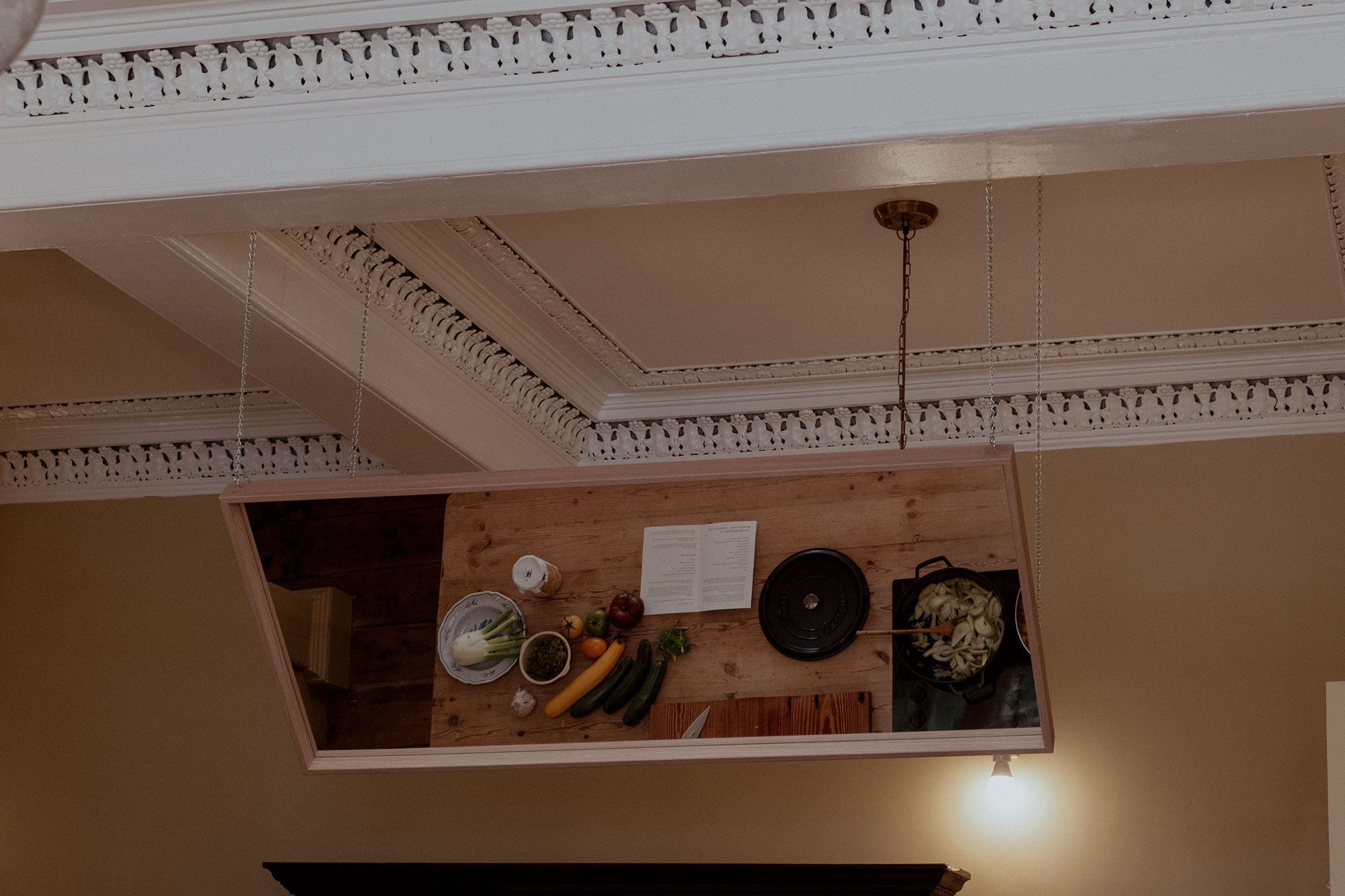 ---
Eines meiner besonderen Foodie Highlights aus Edinburgh war vor allem das Elliott's. Außerhalb der vielen historischen Gebäude und der vollen Innenstadt befindet sich direkt hinter den grünen Feldern auf der Sciennes Rd, eine wunderbare Ruheoase für alle Foodies und ist wohl mein liebster Niche-Foodie Tipp aus Schottlands Hauptstadt.
"Elliott's is a warm and inviting neighbourhood space that brings together the local community over good coffee, simple cooking and seasonal baking." – Elliott's
Das Wetter war großartig, nicht zu kalt und auch nicht zu warm. Sciennes Rd ist eher ruhiger und ist umgeben mit saftig grünen Vorgärten, abenteuerlustigen Katzen und wunderschönen Häusern. Mit meinem Flat White, der übrigens mit Monmouth Coffee Company Bohnen aus London gebrüht worden ist, saß ich auf der Holzbank vor den Grasgrünen Ladenfläche und beobachtete den alltäglichen und dennoch entspannten Geschehen der Locals. Das frische saisonale Gemüse auf meiner Summer Galette erfüllte meine Gaumen mit einer Geschmacksexplosion, die mich direkt wachrüttelte und mir einen guten Morgen wünscht.
Elliott's Café & Shop
27 Sciennes Rd
Edinburgh EH9 1NX
Neben dem Summer Galette war ich vor allem auch von den anderen leckeren im Shop begeistert: Isle of Mull Cheddar Scone, Soup & Sourdough, Fennel Seed Sausageroll als auch diverse Baguettes. Ab 9 Uhr morgens werden diese Leckereien angeboten & zudem gibt es auch eine kuratierte und schöne Auswahl an Kochbüchern der Besitzerin Jess Elliott selber als auch lokalen Produkten und Erzeugnissen wie Naturweine, saisonalen Säften, Obst und Gemüse. Alle Gerichte werden jeden Tag frisch in House gebacken und zubereitet.
---
---
Simple Cooking & Seasonal Food
at Elliott's in Edinburgh
Nur einige Schritte vom Café & Shop entfernt ist das neue restaurierte Event Space von Elliott's, welches vor allem mit der Intention eines Showrooms, Eventspace als auch kreativer Space um Testrezepte und Kochbücher zu schreiben, widmet.
Auf meiner Reise hatte ich zudem auch das Glück, bei dem Ersten von vielen Cooking Sessions teilnehmen zu können. Die Summer Series 2022 mit Jess startete im Juli und ist auf eine kleine, aber überschaubare Zahl an Teilnehmer:innen beschränkt, die eine einzigartige Kochdemonstration und Tasting Lunch mit Jess als Ziel hat. Der Event Space ist genauso wie Elliott's Café & Shop selber, charmant, persönlich und in angenehmen Farben gehüllt, den einen direkt in das Wohnzimmer beim Lunch mit guten Freund:innen katapultieren lässt.
"So much of what we do at Elliott's is inspired by the seasons, from the produce we cook with, to the items on our shelves. With that in mind, events will follow each season with a calendar of cookery demonstrations, food talks and workshops with guest authors, artists and makers." – Elliott's
Ein Ticket für £85 beinhaltet Willkommenssnacks und Drinks, ein Hauptgericht als auch Dessert aus saisonalen Zutaten, Getränken als auch eine exklusive Tote Bag & ein von Phillipa illustriertes Rezeptbooklet mit allen Gerichten aus der Summer Session, damit man auch diese zu Hause nachkochen kann. Mehr Informationen zu Elliott's Café & Shop als auch allen Terminen zu den verfügbaren Cookery Demonstrations gibt es auf der offiziellen Website.
---
---
More from Edinburgh, Scotland