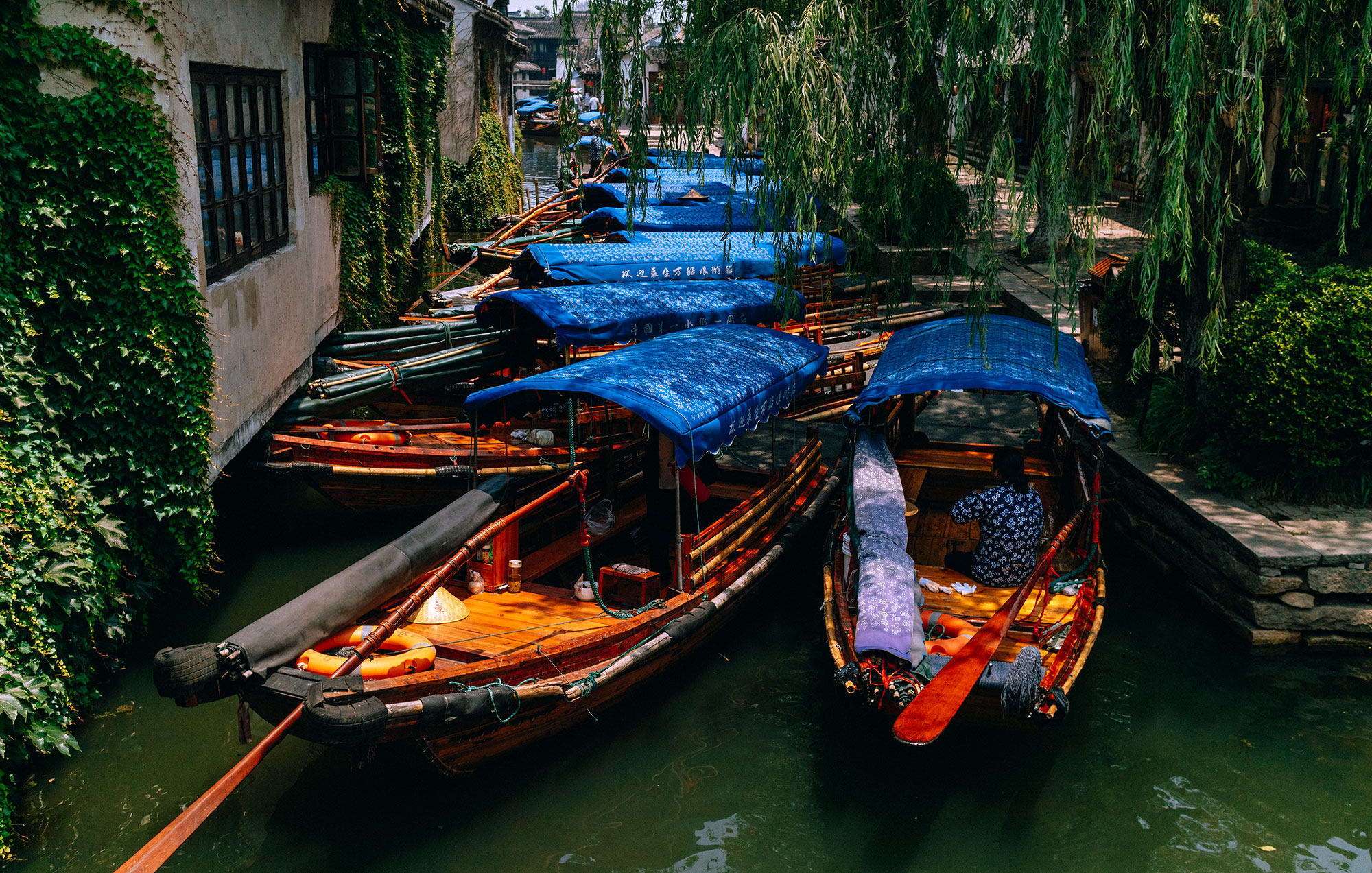 ---
Ich suche mir einen schattigen Platz am Kanal und verweile dort ein wenig, während ich gierig mehrere Schlucke Wasser trinke und die pralle Sonne unerbittlich über mir ihre volle Kraft entfaltet. Das bekannte Geräusch der Zikaden wird immer lauter und verschwindet nach einer Weile wieder. Eines von vielen alten Holzboote mit Touristen schippert sanft im dunkelgrünen Wasser an mir vorbei. Eine Frau steuert das Boot mit gleichmäßigen und ruhigen Bewegungen. Es ist fast schon meditativ: vor und zurück; und vor und zurück bewegen sich ihre Arme, während das Boot nur eine Richtung, nämlich vorwärts, kennt. Sie stimmt ein Lied an und ohne einen einzigen Ton Anstrengung, schwebt sie mit ihrem blauen Oberteil, mit weißem Blumenmuster, an mir vorbei.
Ein starker Windstoß schlägt auf die alte Weide, unter der ich Schutz von der Sonne suche, und rüttelt ihre langen fallenden Äste durch. Die Häuser haben schon einiges mitgemacht und man könnte meinen, dass sie die alten Geschichten um dieses Wasserdorf südöstlich von Suzhou, durch ihre Fassade aus Holz und Stein den Besuchern unbedingt erzählen möchten. Man hört aber nichts, nur die Grillen und das Rascheln der Bäume. Wenn man genauer hinschaut, kann man sehen dass die Häuser und Wände, als auch Fenster und Dächer nicht ganz gerade sind, sei es durch Menschenhand oder doch aus der Laune der Natur heraus verursacht. Es ist irgendwie aber doch sehr charmant, denn so bekommt Zhouzhuang (周庄镇) einen gewissen Charakter, ohne allzu sehr poliert und plastisch zu wirken, was in manchen guterhaltenen Dörfern der Fall ist. Die alten Steinbrücken, die sich über die Kanäle beugen zieren sich mit Efeu und Touristen, die das beste Bild für ihre Social Media Accounts erhoffen.
Meine Flasche Wasser ist ausgetrunken und ich habe das Gefühl, dass es mir wieder aus allen Poren hinausdringt. Mein Platz am Kanal blickt direkt auf die Rückseite eines alten Hauses. Ich tippe auf ein Restaurant, denn das Schild aus dunklem Holz trägt Schriftzeichen, die ich nicht lesen kann, in einem glänzenden Gold – eine glückbringende Farben für ein gutes Geschäft. Während ich durch die Fenster im zweiten Stock des Hauses runde Tische mit Drehplatten, Geschirr sowie Teetassen sehe, wandert mein Blick wieder raus auf die Außenfassade. Zwar ist es die Rückseite des Gebäudes doch die große Tür sowie die steinernen Treppen die bis ins Wasser gehen, deuten darauf, dass auch die Kanäle noch weiterhin als Transportmittel für die Geschäfte & Restaurants genutzt werden. Es ist heiß und ich mache mich wieder zurück zu dem Treffpunkt, den unser Guide ausgemacht hat, um gemeinsam mittagzuessen. Ich betrete das alte Haus, der Geruch von köstlichen Leckereien überströmt mich während ich die enge und steile Treppe in den ersten Stock hinauf laufe. Als ich oben angekommen war und aus dem Fenster blickte, bemerkte ich dass es genau das Restaurant ist, auf welches ich bei meiner kurzen Verschnaufpause geblickt habe.
---
On The Streets of… Zhouzhuang 周庄镇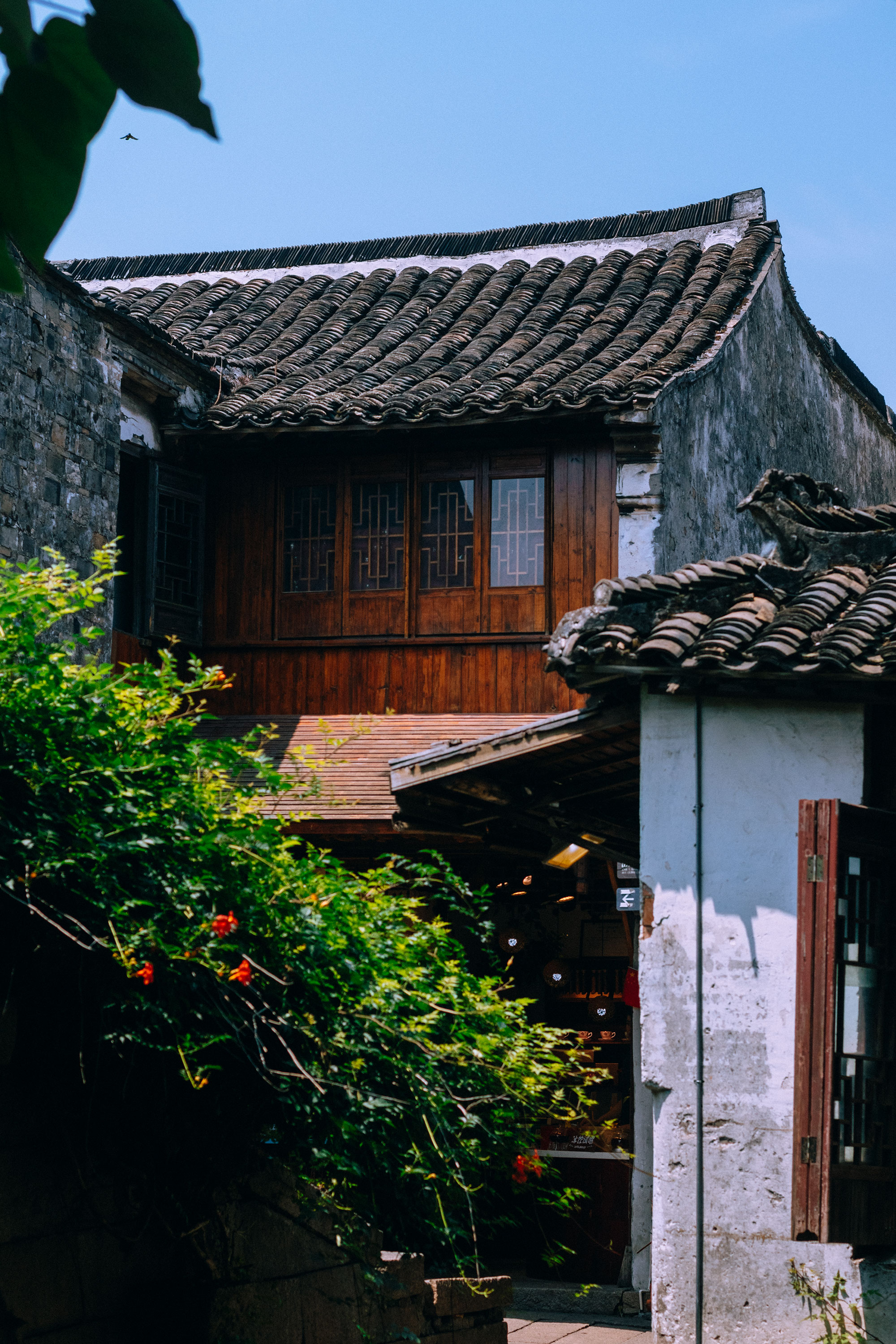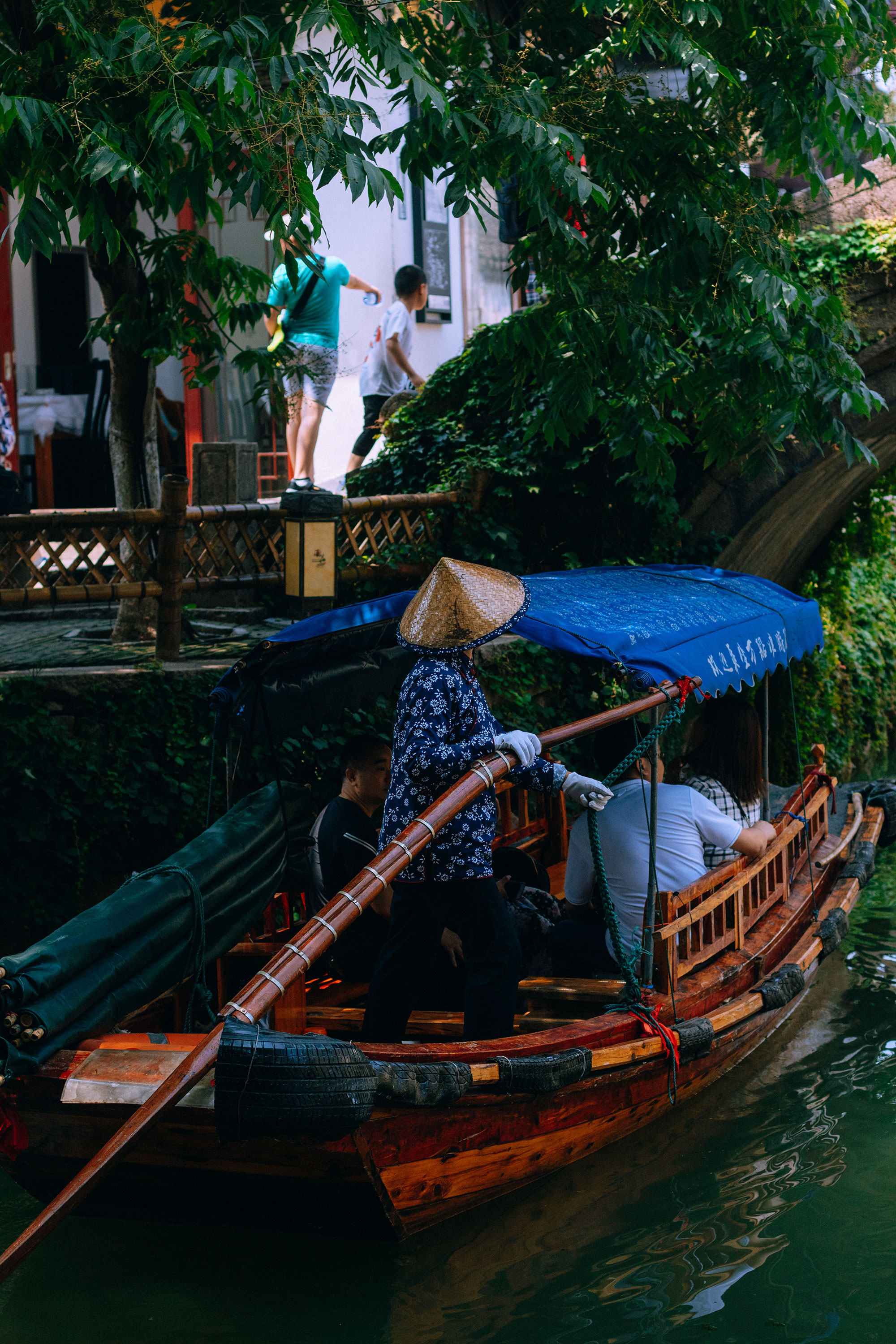 ---
More Travel Diaries & Guides from
Suzhou and Jiangsu Province:
---
Photo / Alice M. Huynh
*This trip was made possible thanks to Visit Suzhou & China Tours
*The opinions expressed here represent, as always, my own.