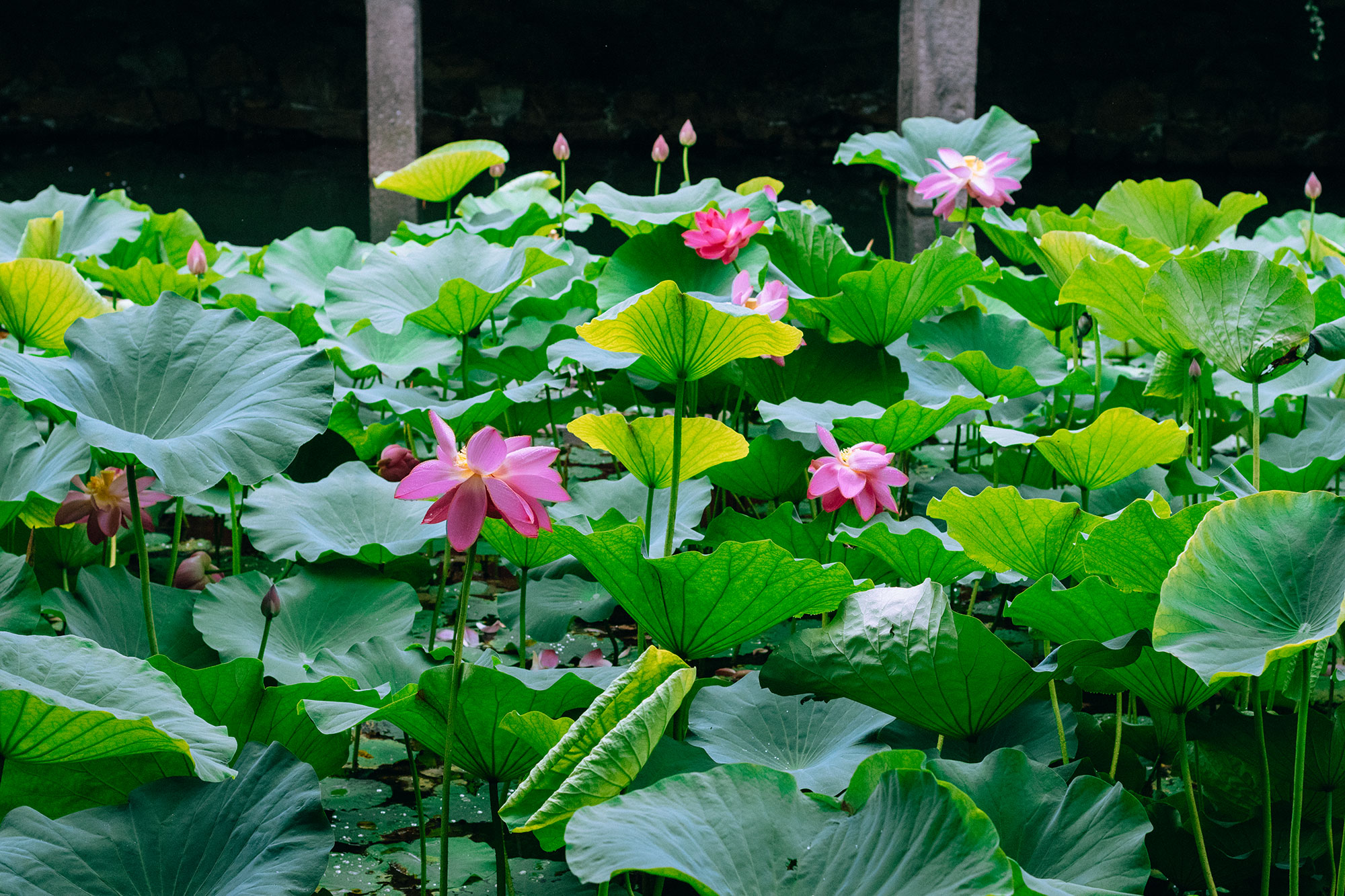 ---
Wenn ich an meine Reise nach Suzhou zurückblicke, so denke ich vor allem an die unzähligen Gärten, für die diese ostchinesische Stadt bekannt ist. Wenn man es nicht besser wüsste, könnte man meinen, es sei nicht so wichtig diese zu sehen. Doch vor allem die Gärten in Suzhou haben mir einen Einblick in die Kunst der chinesischen Gärten gegeben. Das Streben natürliche Landschaften im Kleinformat nachzubilden und diese vor allem sorgfältig auszuarbeiten und eine tiefgründige Bedeutung natürlicher Schönheit in der chinesischen Kultur widerzuspiegeln steht hier vor allem im Vordergrund. Suzhous insgesamt neun Gärten zählen schon lange zu einen der wohl herausragendsten Meisterwerke chinesischer Gartenkunst. Neben dem Sommerpalast in der Hauptstadt Peking, gehört vor allem der Garten des Bescheidenen Beamten zu den wohl schönsten Gärten Chinas und ist, seit 1997 ist dieser auch UNESCO Weltkulturerbe.
Mit über 5 Hektar ist der Garten des Bescheidenen Beamten (engl.: "Humble Administrator's Garden in Suzhou" / chin.: 拙政园 Zhuo Zheng Yuan) der größte Garten in Suzhou, der aus drei klar aufgeteilten Bereichen besteht. Egal zu welcher Jahreszeit, dieser klassische Garten ist durch die Bepflanzung alljährlich zugänglich und vor allem schön anzusehen. So kann man zur Winterzeit die Pflaumenbäume blühen sehen, während Nadelbäume und Bambus grün bleiben und der Kälte trotzen. Vor allem nahe dem Duftenten Schnee und Farbigen Wolken Pavillon hat man wohl die beste Aussicht auf die Bäume. Im Herbst verströmen die filigranen gelben Chinesischen Reisblumen ihren sanften Duft im ganzen Garten. Im Frühling blühen die Zieräpfel und um Sommer leuchten die goldenen Früchte der Loquat-Bäume, während im Teich die gigantischen Lotusblätter und ihre zarten Blüten aus dem dunklen Wasser ragen.
---
Humble Administrator's Garden in Suzhou
Zhuo Zheng Yuan 拙政园
---
Humble Administrator's Garden
Zhuo Zheng Yuan 拙政园
178 Dongbei St; Gusu District
Suzhou, Jiangsu, China, 215001
/
Mo-So 7:30-17:30
50 Yuan zur Low Season (Nov-Apr)
70 Yuan zur High Season (Apr-Oct)
Zwar ist der Garten immer recht gut besucht, doch wenn man auf die im Wind schwankenden saftig-grünen Lotusblätter schaut, auf denen große und kleine Regentropfen, durch die glatte Oberfläche, keinen Halt finden, so ist man ganz und gar verzaubert von der Ruhe und Poesie, die der Garten ausstrahlt. Die alten Pagoden mit seinen aneinandergereihten Ziegeln und dem roten Holz verschmelzen mit der Landschaft und werden gar von dem Grün der Bäume und Büsche sanft umschlungen. Die Böden und Wege sind mit hypnotisierenden Mosaik verziert und noch feucht von dem kurzen Sommergewitter vor einigen Stunden. Die Luft ist dick und und ich ringe nach einer Abkühlung und fächer mir noch etwas wärmere Luft zu, während einige junge Kunststudent*innen im nächsten Abschnitt des Gartens verteilt sitzen und wie gebannt in ihre Zeichenblöcke starren. Ich schaue den Studenten über die Schulter und entdecke filigranen Bleistiftskizzen sowie detaillierte Tusche- und Aquarellzeichnungen, die sie von der Aussicht vom Pavillon machen.
Der Regen hört sich so melodisch an, wenn er auf die Dächer klopft, während neben mir das Geräusch von der Handykamera losgeht und ein älteres Paar Arm in Arm vor dem großen Teich posiert. Es gibt Bilder und Momente, die bleiben einem einfach in Erinnerungen, so auch diese Bilder von Jahrtausend alten Pagoden, Touristen die sich an der Pracht der Lotuspflanzen erfreuen und die warme Luft, die mich umarmte, als ich mitten in dieser malerischen Landschaft stand. Love, Alice.
---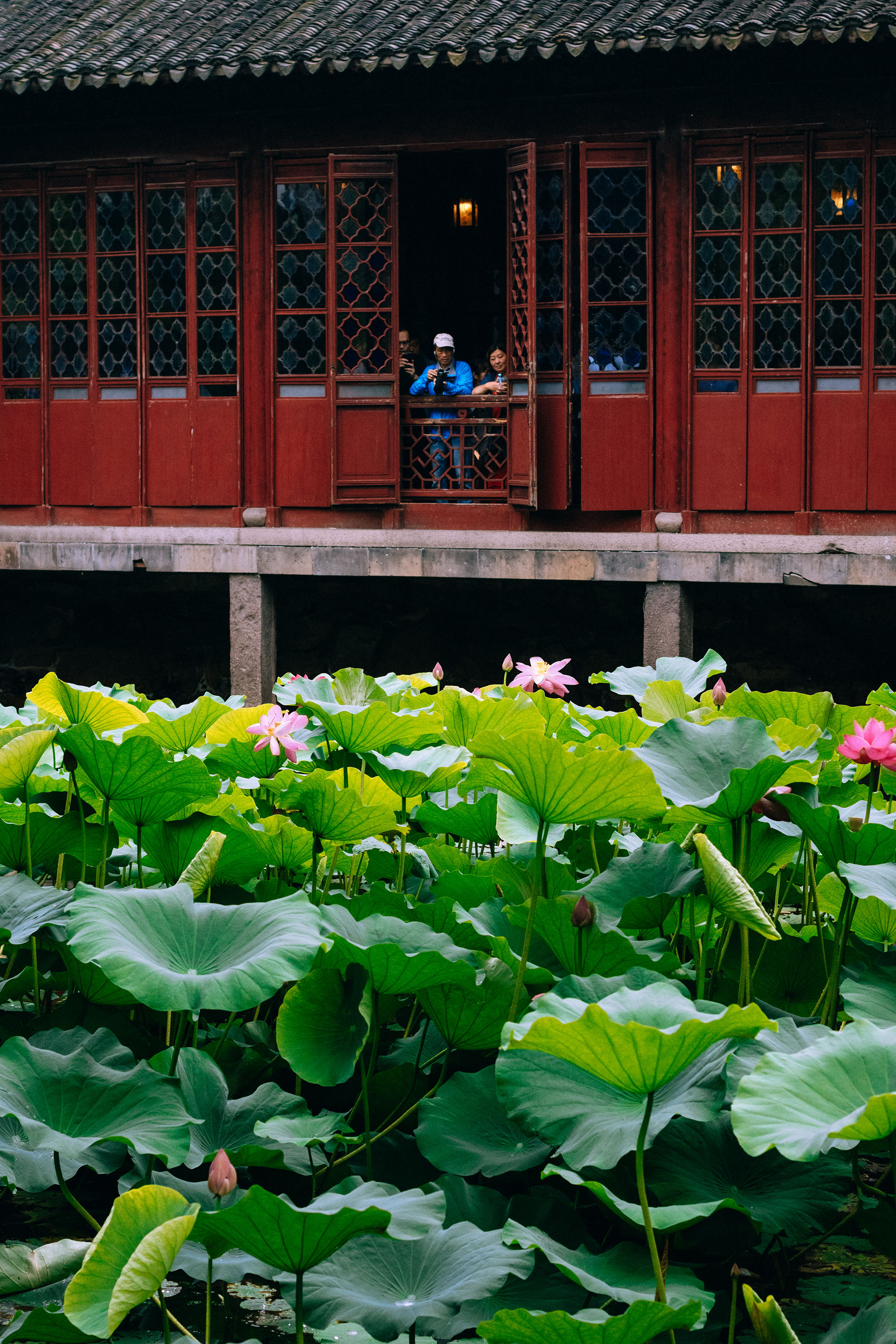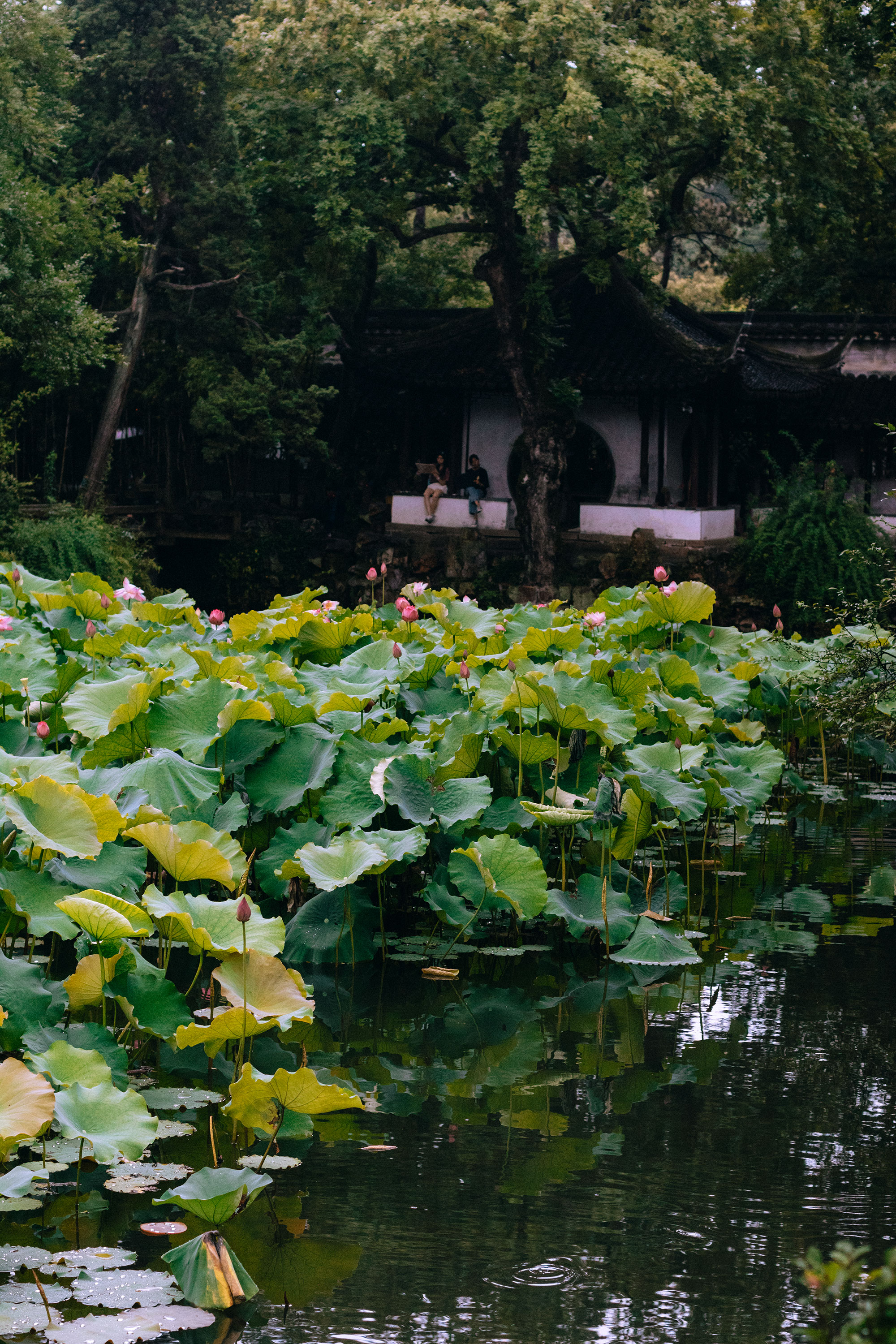 ---
More Travel Diaries & Guides from
Suzhou and Jiangsu Province:
---
Photo / Alice M. Huynh
*This trip was made possible thanks to Visit Suzhou & China Tours
*The opinions expressed here represent, as always, my own.