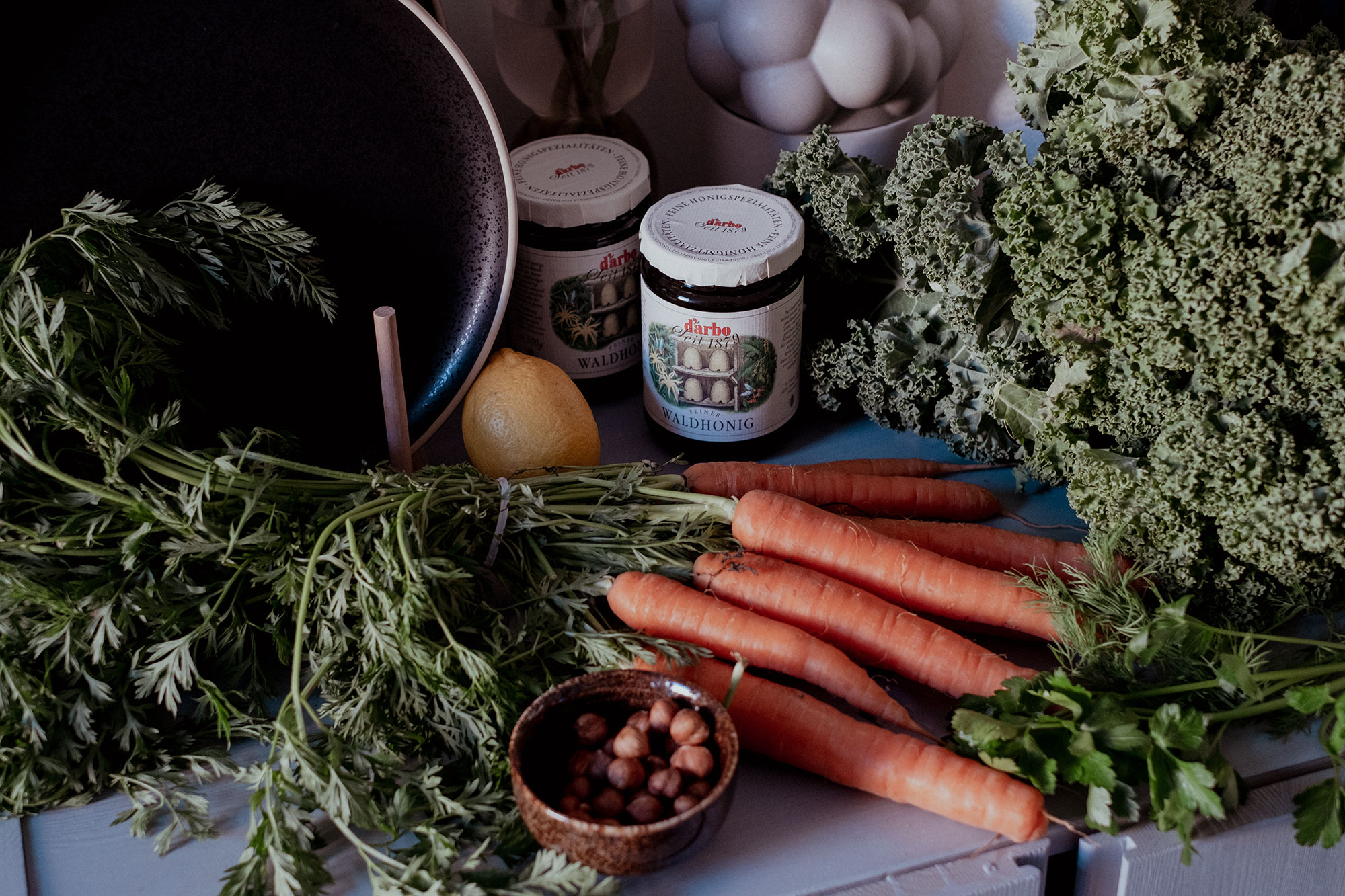 ---
Mit und vor allem für Freunde kochen ist doch immer wieder was schönes, so auch mein heutiges Rezept, welches ich für Claudi's Friendsgiving gemacht habe. Für den Schlemmerabend sollte jeder etwas mitbringen und da ich noch viel Honig hatte und erst auf dem Wochenmarkt im Kiez frischen Grünkohl als auch Möhren gekauft habe, dachte ich mir, dass dieses Rezept wohl perfekt für den Abend wäre. "Honey Glazed Carrots on Greek Yoghurt with Feta Recipe" ist wohl eines der einfachsten als auch leckersten Gerichte, die ich je macht habe.
Die verschiedenen Komponenten in dem Gericht, wie z. B. der Zimt, das Pesto aus Karottengrün, Dill, Petersilie und Schnittlauch als auch der griechische Joghurt und Feta sind ein Traum! Keine Sorge, es hört sich alles komplizierter an, als es ist und wenn man noch Hilfe vom Mixer oder einem Airfryer hat, dann geht alles in Handumdrehen.
Genießt nun mein Friendsgiving Rezept mit Honig gerösteten Karotten und ich freue mich auf eure Kreationen auf Social Media! Love, Alice.
---
Honey Glazed Carrots on Greek Yoghurt with Feta Recipe & gerösteten Haselnüssen und Kräuterpesto
Menge: für 3-4 Personen
Schwierigkeitsgrad: einfach
Zubereitungszeit: circa 45 Minuten
Rezept
Benötigte Zutaten für Honey Glazed Carrots on Greek Yoghurt with Feta Recipe:
• ein frischer Bund Möhren
• Grünkohl
• Waldhonig
• Olivenöl
• eine Packung Feta (ca. 200g)
• 400g griechischer Yoghurt
• TL Zimt
• Salz
• Pfeffer
• Harissa Paste
• Dill
• glatte Petersilie
• Karottengrün
• Schnittlauch
• Bio Zitrone
• geröstete Haselnüsse
Benötigtes Werkzeug:
• Ofen
• Mörser / Mixer
• Ofenform
• Reibe
• scharfes Messer
---
---
Zubereitung Honey Glazed Carrots on Greek Yoghurt with Feta Rezept
Zubereitung Honey Glazed Carrots on Greek Yoghurt with Feta Recipe:
Die gewaschenen Karotten kommen in eine Ofenform mit einen Schuss Olivenöl, ein TL Zimt, Prise Salz und Pfeffer. Bevor es in den vorgeheizten Ofen kommt, wird alles gut vermischt. Tipp: Das Karottengrün nicht wegwerfen! Dies wird noch für das Pesto benötigt!
Nun kommen die Karotten für ca. 15 min im Ofen gekocht werden, wird der Grünkohl zerteilt und in mundgroße Stücke geschnitten, bevor er dann aufs Ofentablett verteilt wird und mit in den Ofen kommt. Tipp: ein Auge drauf haben, damit dieser nicht verbrennt, sondern knusprig bleibt!
Für das Pesto wird nun das übrige Karottengrün verwendet, welches mit Dill, Schnittlauch und glatter Petersilie im Mörser oder Mixer zu einem Pesto klein gehackt wird. Dazu noch Salz, Pfeffer und großzügig Olivenöl hinzugeben, bis es die gewünschte Konsistenz hat. (Ich, liebe etwas gröberes Pesto)
Währenddessen wird auf einem Teller der griechische Joghurt mit einem flachen Löffel oder Spatel verteilt und anschließend wird der Feta drüber grob zerbröselt. Der knusprige Grünkohl wird etwas zusätzlich auf den Teller verteilt.
Sobald die Möhren im Ofen fertig sind, wird die Form rausgeholt. In die Form kommt nun noch ein halber bis ganzer EL Harissa Paste hinzu als auch ein EL Waldhonig, dies wird alles gut vermischt und die Möhren kommen dann auf den Teller mit dem griechischen Joghurt, Feta und Grünkohl.
Vor dem Servieren wird nun das Pesto, die gerösteten Haselnüsse und gerieben Zitronenschale verteilt.
Viel Spaß beim nachkochen & guten Appetit!
---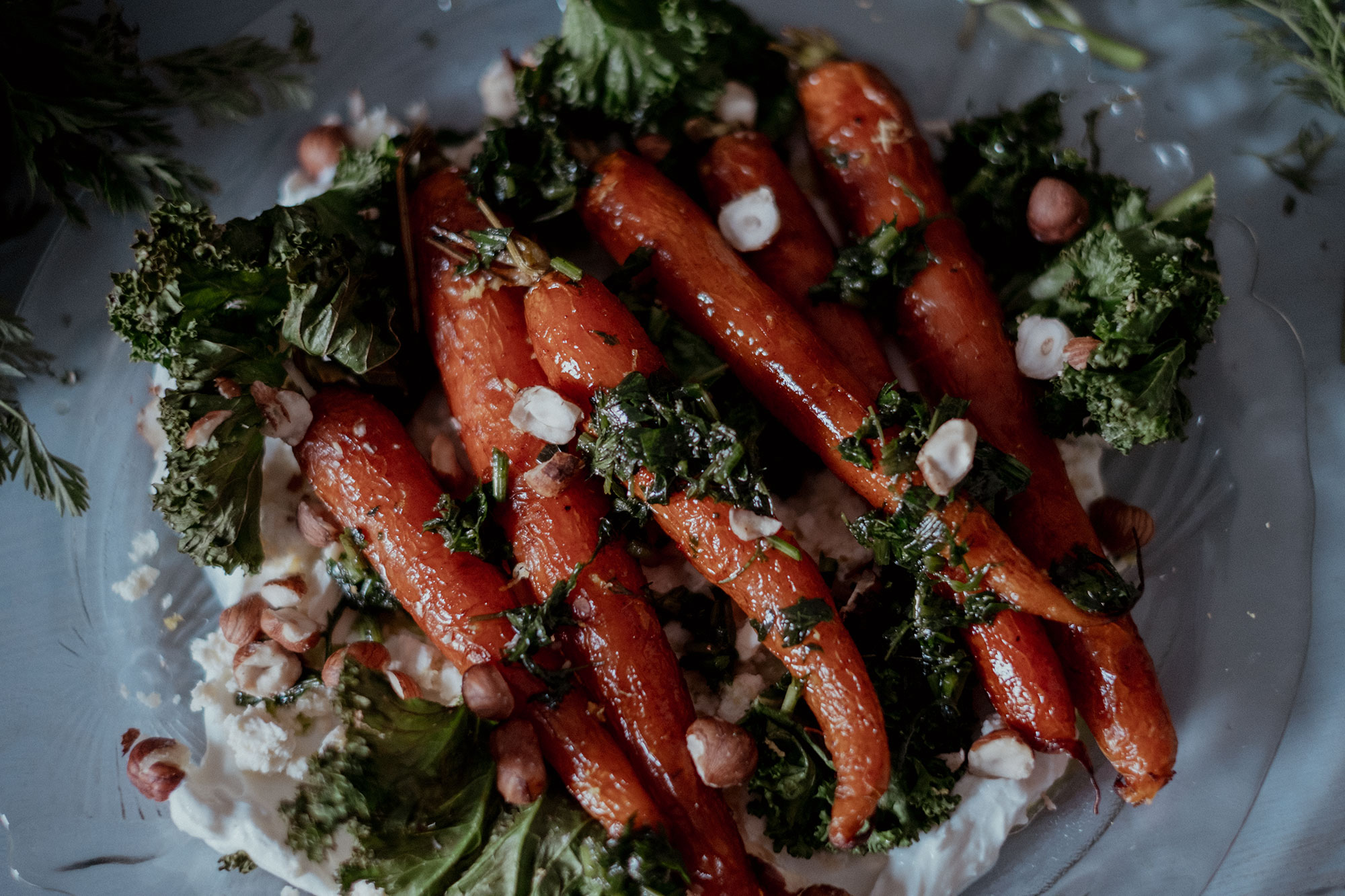 ---
Weitere Gemüse-Rezepte auf dem Blog:
---
---
---
Alle im Beitrag genannten Marken und Produkte wurden ohne Bezahlung und ausschließlich aus persönlicher Überzeugung genannt.
Markennennungen und Produktempfehlungen sind aktuell laut dem Gesetz als werblicher Inhalt zu kennzeichnen.
Photo / Alice M. Huynh
*The opinions expressed here represent, as always, my own.