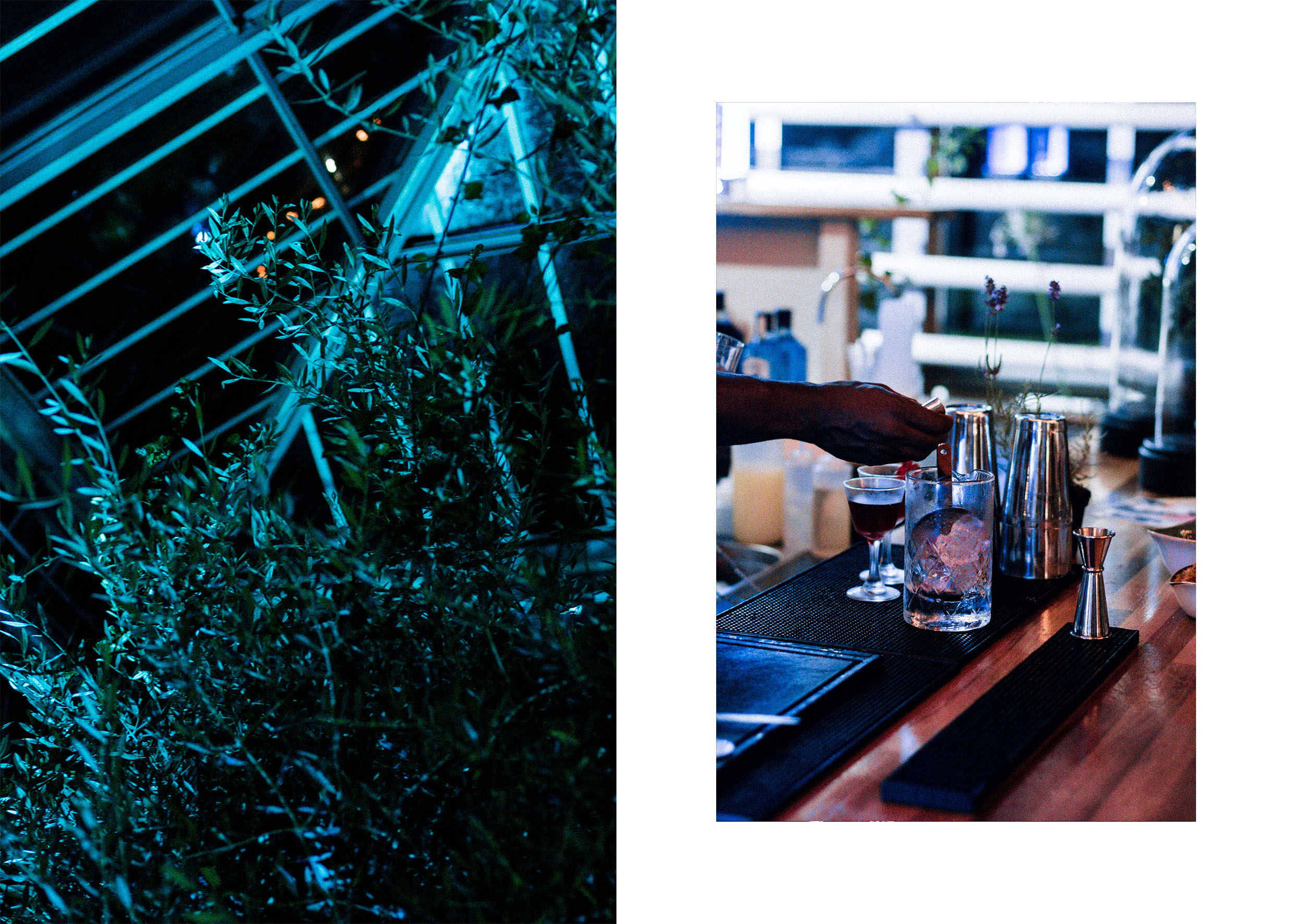 Der Abend war warm, die Luft rein und in der Umgebung hörte man die Grillen leise ihre Lieder zirpen. Ich betrat den Kiesweg im Dunkeln, der mich wie bei Dorothee und der Zauberer von Oz, zu diesem verwunschenen Ort in Berlin brachte. Vom Weiten sah das Gewächshaus wie ein Edelstein aus, der in einem ruhigen dunklen Blau die Nacht erleuchtete.
Der Bombay Sapphire Secret Art Garden lud zu diesem besonderen Abend in den Botanischen Volkspark ein. Wilde Pflanzen, Kakteen und die schönsten Blüten umringten mich beim Betreten der Veranstaltung und ließen mich sprachlos – wie eine Szene aus einem Märchen. Im Zentrum des Gewächshauses zierten warme Lichterketten und Projektionen mit verträumten aber minimalistischen Skizzen zierten die Wände des Raumes. Der Bombay Sapphire Secret Art Garden leuchtete in der typischen Farbe des aromatischen Gins, während die Barkeeper diesen in leckere Cocktails verwandeln.
Bombay Sapphire Secret Art Garden
Schon seit 1761 wird Bombay Sapphire nach einem geheimen Rezept gebrannt und basiert auf der perfekten Balance einer einzigartigen Kombination zehn handverlesener exotischer Botanicals aus aller Welt. Der Geschmack, den Bombay Sapphire ausmacht, sind die natürlichen Aromen dieser Botanicals. Der komplexe und geschmeidige Geschmack entsteht durch das besonders schonende Destillationsverfahren der Dampfinfusion. Umso passender ist also die ausgewählte Location für den Bombay Sapphire Secret Art Garden in Berlin, die zur passenden atmosphärischen Stimmung beitrug.
---
JUNIQE x Bombay Sapphire
Der Bombay Sapphire Secret Art Garden bringt Einzigartigkeit und Stil an einem Ort zusammen. Für diesen besonderen Anlass kamen JUNIQE und Bombay Sapphire nun zusammen und vereinen während der Berlin Art Week, alle Sinne zusammen. Das moderne Stilbewusstsein und der Sinn für Kunst der beiden Marken brachten zwei Künstler zusammen, die die Entstehung der Getränke, auf ihre eigene Art und Weise umsetzten, sollten. Inspiriert durch die Bombay Sapphire Gin Cocktails kreierten Illustratorin Ekaterina Koroleva und Paul Aidan Perry Kunstwerke, die in Harmonie mit den Drinks stehen. Mein Favorit an diesem Abend war der "LIFE IS BETTER AT THE BEACH" Signature Drink mit Bombay Sapphire Gin und Cassis Cordial, in einem leuchtenden Rot.
Die persönlicher Note und das gewisse Etwas, das zur Abwechslung zwischen den vielen Selbstverständlichkeiten des Alltags aus dem Rahmen fällt, sind die Kernpunkte der Künstler. Wer nun ein Stück dieser kreativen Arbeiten für sein zu Hause ergattern möchte, kann dies im JUNIQE Online-Shop tun. Die vier im Zuge des Bombay Secret Art Garden enstandenen Motive sind, limitiert auf 200 Stück, ab dem 13. September als Premiumposter, gerahmte Poster, Leinwand- und Acrylglasbilder oder Alu- Dibond-Drucke erhältlich.
Lasst euch nun von der besonderen Atmosphäre bezaubern und sogar für den nächsten Geburstag, Cocktail-Abend und Co. inspirieren. Love, Alice.
---
Photo: I heart Alice / Alice M. Huynh
*In friendly cooperation with Bombay Sapphire.
* Enjoy this responsibly!
*The opinions expressed here represent, as always, my own.

Merken
Merken