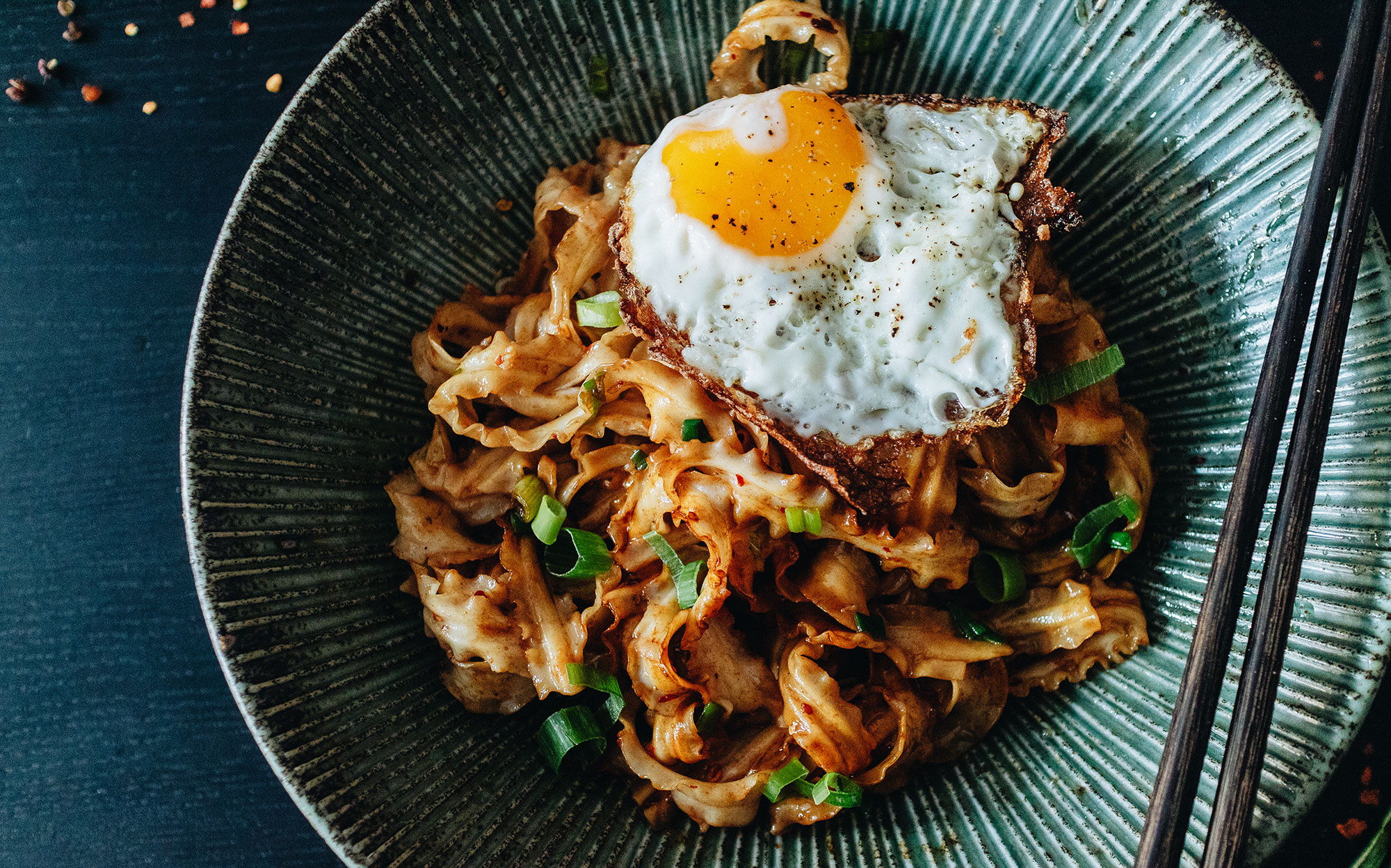 ---
Comfort Food gehört zu mir wie wohl die Sterne am Nachthimmel – und genauso liebe ich auch die einfachen Rezepte, die mich einfach an zu Hause oder an die Zeit auf Reisen in ferne Länder erinnern. Dazu gehören aber vor allem auch dieses supereinfache Sichuan Chili Oil Noodles Rezept, welches in nur 10 Minuten fertig ist! Genau ihr habt richtig gelesen! Lecker, warm und einfach sättigend mit Zutaten, die ihr kennt und all das in nur 10 Minuten ohne die Mikrowelle zu verwenden.
Das Zischen des heißen Öls bei der ersten Berührung mit dem frischgehackten Knoblauchzehen sowie der aufsteigende Duft der grünen Frühlingszwiebeln und Chiliflocken katapultieren mich an die Kindheitserinnerungen, die ich im Restaurant meiner Eltern habe. Deswegen ist dieses Rezept wohl auch so ein kleines Herzstück, dass mich immer wieder daran erinnern lässt, wo meine Wurzeln liegen.
Für alle, die nun auch Lust auf bissfeste Nudeln mit scharfen Chili-Öl und einer ordentlichen Portion Knoblauch haben, ist dieses Rezept ideal für alleine, aber auch für Family & Friends-Dinner Pläne. Viel Spaß beim Zubereiten & ich bin gespannt auf eure Foodie-Beiträge auf Instagram (@alicemhuynh)! Love, Alice.
---
left to right: Lacey Noodles by Wheatsun are my favorite! / Oyster Sauce & Chinkiang Vinegar / all the fresh ingredients before pouring hot oil over it!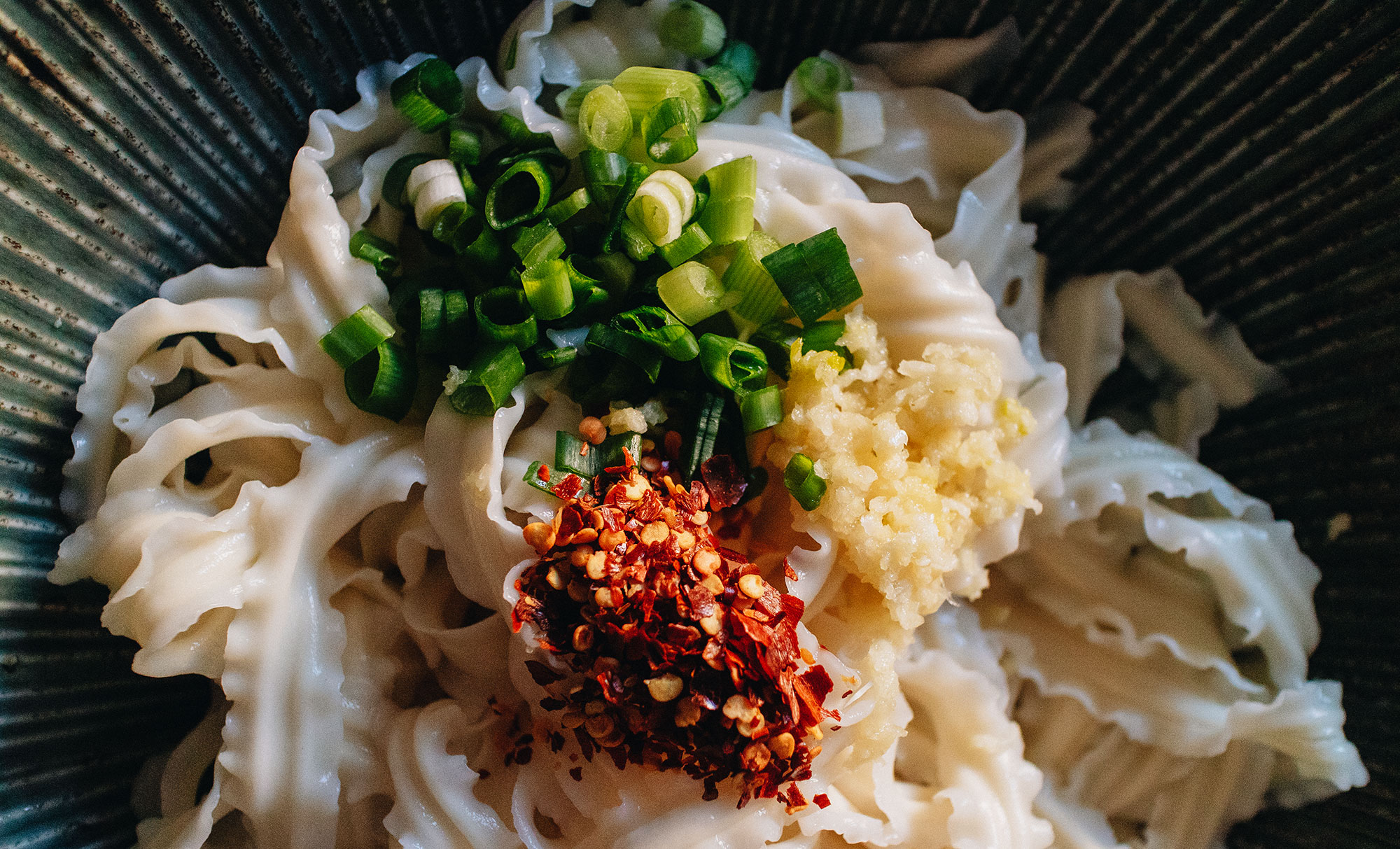 ---
Sichuan Chili Oil Noodles Rezept
– Chinesische Chili-Nudeln in nur 10 Minuten!
Menge: für 1 Portion
Schwierigkeitsgrad: einfach
Zubereitungszeit: 10 Minuten
Rezept
Benötigte Zutaten für Sichuan Chili Oil Noodles:
• ca. 125 g breite chinesische Bandnudeln ('Lacey Noodles' Wheatsun Brand)
• 2 Frühlingszwiebeln klein gehackt
• 2 Knoblauchzähen fein gehackt
• dunkle Sojasoße (Haiyin Bridge Brand)
• helle Sojasoße (Haiyin Bridge Brand)
• Austernsoße (Mae Krua Brand)
• Chinkiang Essig (Jumbo Brand)
• grob gemahlener schwarzer Pfeffer
• grob gemahlener Sichuan Pfeffer
• Prise Zucker
• Chiliflocken
• neutrales Öl zum anbraten
• 1 Ei
Benötigtes Werkzeug:
• eine kleine Pfanne
• großer Topf
• kleiner Topf
• scharfes Messer
---
---
Zubereitung Sichuan Chili Oil Noodles Rezept
– Authentisch Chinesische Chili-Nudeln
Zubereitung Sichuan Chili Oil Noodles:
Zunächst werden die chinesischen Bandnudeln wie auf der Packung gar gekocht (ca. 125 g für eine Portion). Persönlich liebe ich die Lacey Noodles von der Marke Wheatsun & da ich diese auch gerne bissfester mag, nehme ich sie ca. eine Minute früher aus dem kochenden Wasser. Sobald diese gekocht sind, kommen diese schon in die Schüssel / auf den Teller.
Auf die frischen Nudeln kommen nun zwei feingehackte Knoblauchzehen (am besten mit der Knoblauchpresse zerdrückt), zwei fein gehackte Frühlingszwiebeln, ein TL gehäufte Chiliflocken, eine Prise Zucker und jeweils ein halber TL zerstampfter Sichuan Pfeffer & grob gemahlener schwarzer Pfeffer.
Nun kommen neben den frischen Zutaten auch noch jeweils 2 TL dunkle Sojasoße, 3 TL helle Sojasoße (Haiyin Bridge Brand), 1 TL Chinkiang Essig (Jumbo Brand) & 1 TL Austernsoße (Mae Krua Brand) hinzu. Diese sollten nicht auf die frischen Zutaten gegossen werden, da dass heiße Öl auf die frischen Zutaten gegossen wird.
In einen kleinen Topf wird nun ca. 75 ml neutrales Öl erhitzt & in einer seperaten Pfanne wird ein Spiegelei angebraten. Sobald das Öl heiß ist, wird es über die frischen Zutaten (Frühlingszwiebeln, Chili-Öl & Knoblauch) als auch Nudeln gegossen. Nun wird alles gründlich vermischt & zuletzt das Spiegelei draufgelegt. Optional: noch zusätzlich mit Frühlingszwiebeln oder auch Koriander (meine vietnamesische Seite kommt hier total durch!) toppen.
Lasst es euch schmecken & viel Spaß beim Nachkochen!
---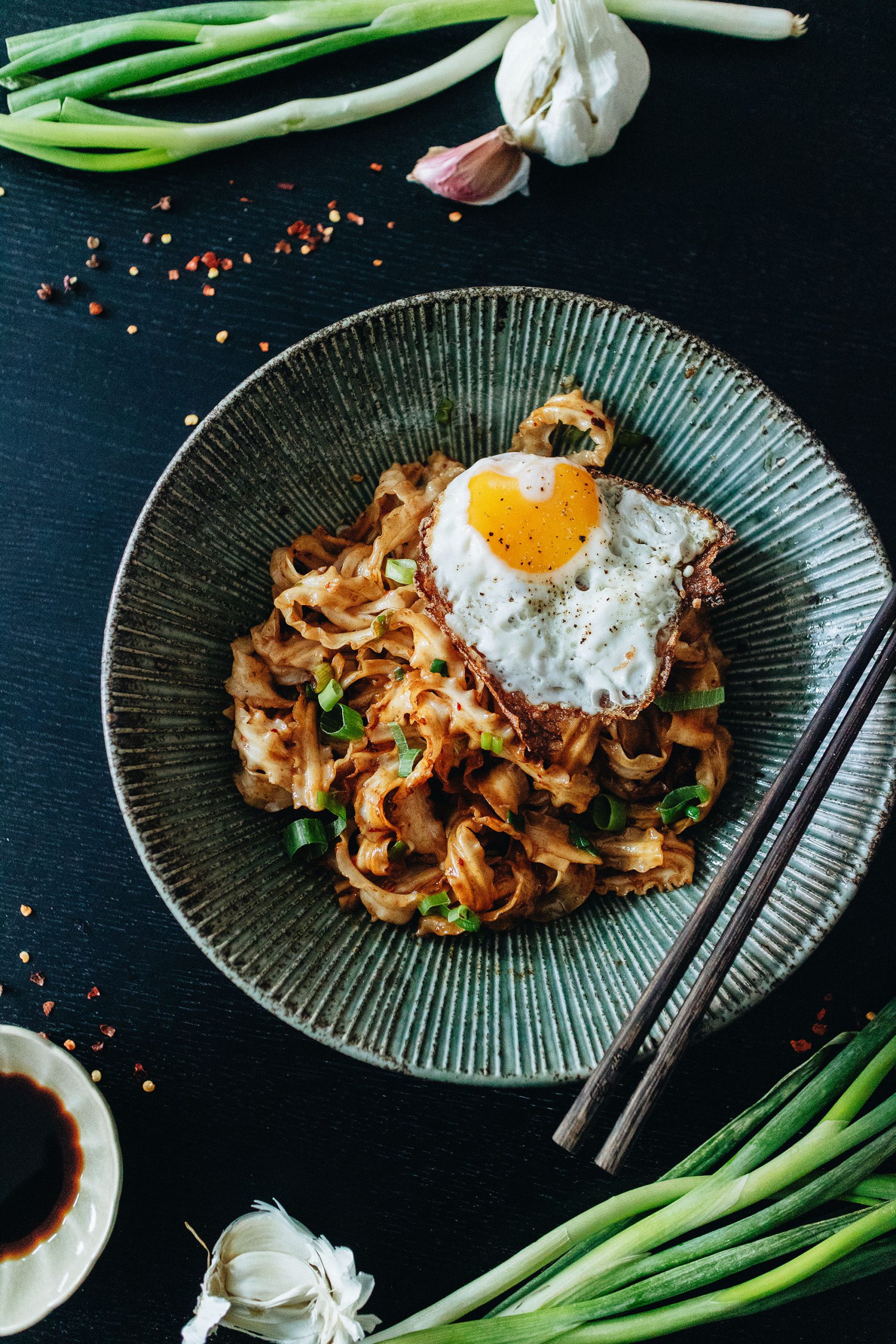 ---
Weitere Rezepte aus Asien auf dem Blog:
---
Photo / Alice M. Huynh
*The opinions expressed here represent, as always, my own.
Alle im Beitrag genannten Marken und Produkte wurden ohne Bezahlung und ausschließlich aus persönlicher Überzeugung genannt. Markennennungen und Produktempfehlungen sind aktuell laut dem Gesetz als werblicher Inhalt zu kennzeichnen.