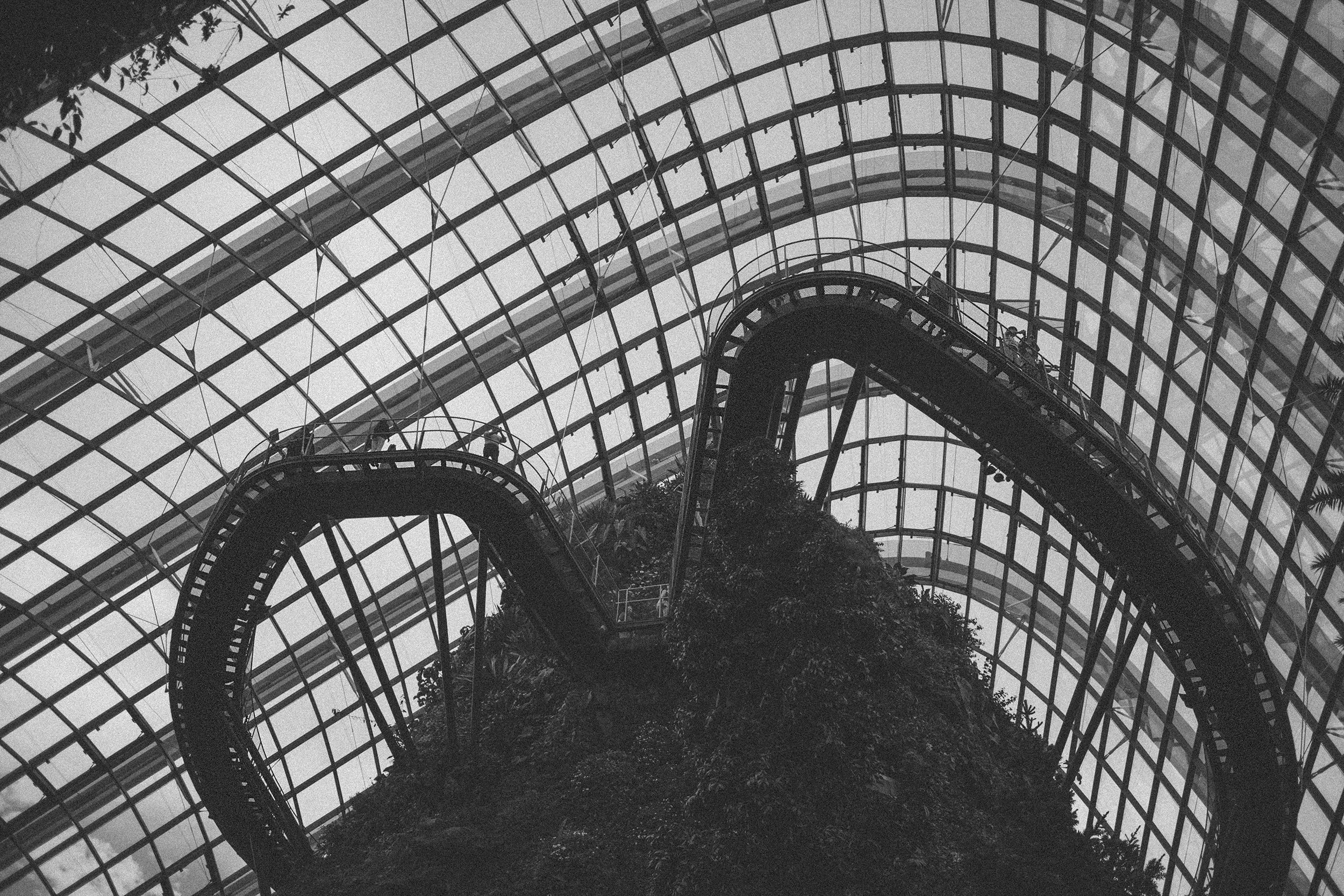 Der erste Gedanke, der mir durch den Kopf schießt, wenn ich an Singapur denke, ist natürlich das vielfältige Essen in dieser Stadt. Laksa, Chilli Crab oder Roti Prata, mir läuft jetzt schon das Wasser im Mund zusammen! Doch natürlich ist Singapur auch mehr, als nur sein leckeres Essen, denn die Stadt hat nicht nur kulinarisch etwas zu bieten, sondern ist für Architektur-Nerds und Urban Jungle Liebhaber ein wahres Paradies.
Von den Supertrees sowie Gardens By The Bay hatte ich schon einige Male gehört, doch wenn man vor diesem gigantischen Stahlbäumen und dem Garten steht, erschließt sich einem erst dann die Dimensionen und der Bedeutung dieses 101 Hektar grünen Refugiums mitten in Singapur. Exotische Pflanzen sowie grüne Ranken und farbenprächtige Orchideen ziehen sich an den stählernen Riesen hinauf. Diese "Supertrees" sind mit ihren baumförmigen, vertikalen Gärten, welche zwischen neun und 16 Etagen hoch sind, nicht zu übersehen. Für die Abenteuerlustigen und Instagramer ist der OCBC Skyway (eine Hängebrücke die zwei Bäume verbinden) ein absolutes Must-Do, mit einem phänomenalen Ausblick sowie einer Vogelperspektive über die Gärten.
Urban Jungle Diary – Gardens By The Bay,
Singapore's Supertrees & Cloud Forest
---
Gardens by the Bay
18 Marina Gardens Drive, Singapore 018953
www.gardensbythebay.com.sg
Bay South Außengärten
Täglich, 5 – 2 Uhr
(kostenloser Eintritt)
Klimatisierte Gewächshäuser (Cloud Forest)
Täglich, 9 – 21 Uhr
(Ticketverkauf endet um 20:00 Uhr)

Erwachsene: $28
Kinder (3-12): $15
OCBC Skyway (Supertrees)
Täglich, 9 – 21 Uhr
(Ticketverkauf endet um 20:00 Uhr)

Erwachsene: $28
Kinder (3-12): $15
Mein weiterer Streifzug durch die Einzigartigkeit der Gardens by the Bay führt mich weiter zu einen 35m hoher, in Nebel gehüllten Berg, der mit üppiger Vegetation nur so platzt. Der Cloud Forest (Nebenwald) mit seinen riesigen Farnen, geschmeidige Pfeilblätter und exotische Bromelien kämpfen hier um die Aufmerksamkeit des Betrachters. Es geht auf geschwungenen Hängebrücken durch saftig-grüne Wälder hindurch und an riesigen Wasserfällen vorbei, bis ich bemerke, dass ich schon das Ende dieses Gewächshauses angelangt bin.
Es lohnt sich für einige Stunden sich in diesem grünen Universum zu verlieren und einfach mal ein Stück Architektur sowie Natur zu genießen, die nicht nur einzigartig auf der Welt ist, sondern auch ein Schritt in die Zukunft ist. Eine spielerische Methode, Bewusstsein für das Zusammenspiel von Mensch und Natur zu fördern und diese zu erhalten.
Tipp: Nicht nur tagsüber sind die Supertrees ein Must-See, vor allem aber auch abends, wenn die Temperaturen etwas angenehmer sind und man die leuchtenden Bäume (welche übrigens durch Fotosynthese angetrieben werden), mit Ice-Tea und Snacks in aller Ruhe genießen kann.
Alle Singapur Beiträge sowie Travel Guides findet ihr hier.
---
Photo / Alice M. Huynh
*This trip was made possible thanks to Visit Singapore & Singapore Airlines.
*The opinions expressed here represent, as always, my own.