In meinem Food Guide to Singapore hatte ich euch schon einen kulinarischen Einblick in Singapurs Esskultur gegeben und dennoch habe ich noch so viele Bilder und Geschichten aus dieser Metropole, die ich euch alle noch erzählen möchte. Ein weiteres Erlebnis während meiner Zeit in Singapur, welches mich sehr beeindruckt hat, waren die Minikosmen namens Hawker Centres, welche nicht nur meine persönlichen Foodie Hotspots in Singapur waren, sondern mir auch einen intimen Einblick in den Alltag der Locals gab.
In jedem Viertel gibt es diese Hawker Centres, ein Treffpunkt für Jung und Alt, Muslime, Buddhisten sowie Touristen. Neben den farbenfrohen Geschäften mit allerlei regionalen Spezialitäten erfreue ich mich vor allem an den farbigen Marktständen und dem Gewusel drum herum. Hier gibt es frische Blaukrabben, auf der anderen Seite leuchtend rote Chilischoten, dort drüben duftender Zuckerrohr und aromatischer Ingwer. Ein wahres Spektakel für alle meine Sinne, während ich mich durch das Menschengetümmel mit sanften Bewegungen hindurch navigiere.
Singapore's Hawker Center Life
---
Ein Gefühl von zu Hause
Es ist immer wieder faszinierend für mich, Menschen in ihrem alltäglichen Situationen zu sehen. Es gibt mir ein Gefühl, ein stiller Beobachter zu sein und Teil an ihrem Alltag zu haben. Das Hawker Centre in dem ich mich trieben lies war etwas außerhalb vom hippen Trendviertel Tiong Bahru. Ältere Frauen mit farbigen Kopftüchern saßen an einen der vielen Hawker Tischen und unterhielten sich, während sie ihren Cheng Tng, einer sehr beliebten Nachspeise in Singapur mit getrockneten und gesunden Zutaten in einer kalten süßen "Suppe", aßen. Hier waren Familien, die sich an den Meeresfrüchteständen Einkäufe erledigten und Kinder, die gerade aus der Schule kamen und sich einen Shaved Ice teilten.
Auch wenn wir in einer sehr schnelllebigen Zeit leben und unsere Jobs, Smartphones und Gesellschaft sehr viel von uns abverlangt, genieße ich Momente wie diese, die so langsam und kostbar sind. Für manch andere mag das vielleicht sehr banal erscheinen, doch dieser kurze Moment der Ruhe um sich wie ein Teil eines Großen zu fühlen, umschlingt mich einem warmen Gefühl und gibt mir etwas zu Hause in einem fremden Land.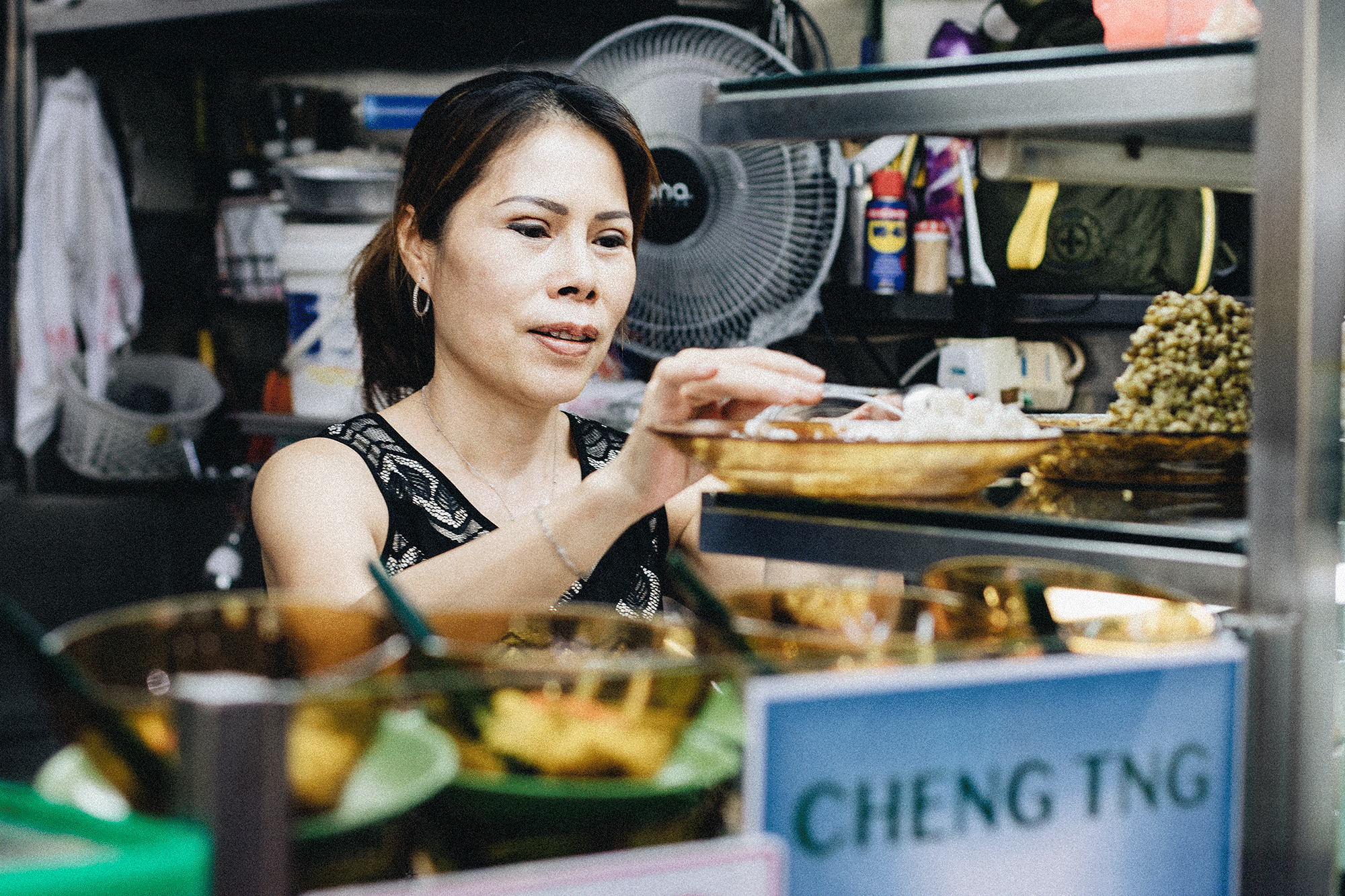 ---
Photo / Alice M. Huynh
*This trip was made possible thanks to Singapore Airlines & Visit Singapore.
*The opinions expressed here represent, as always, my own.