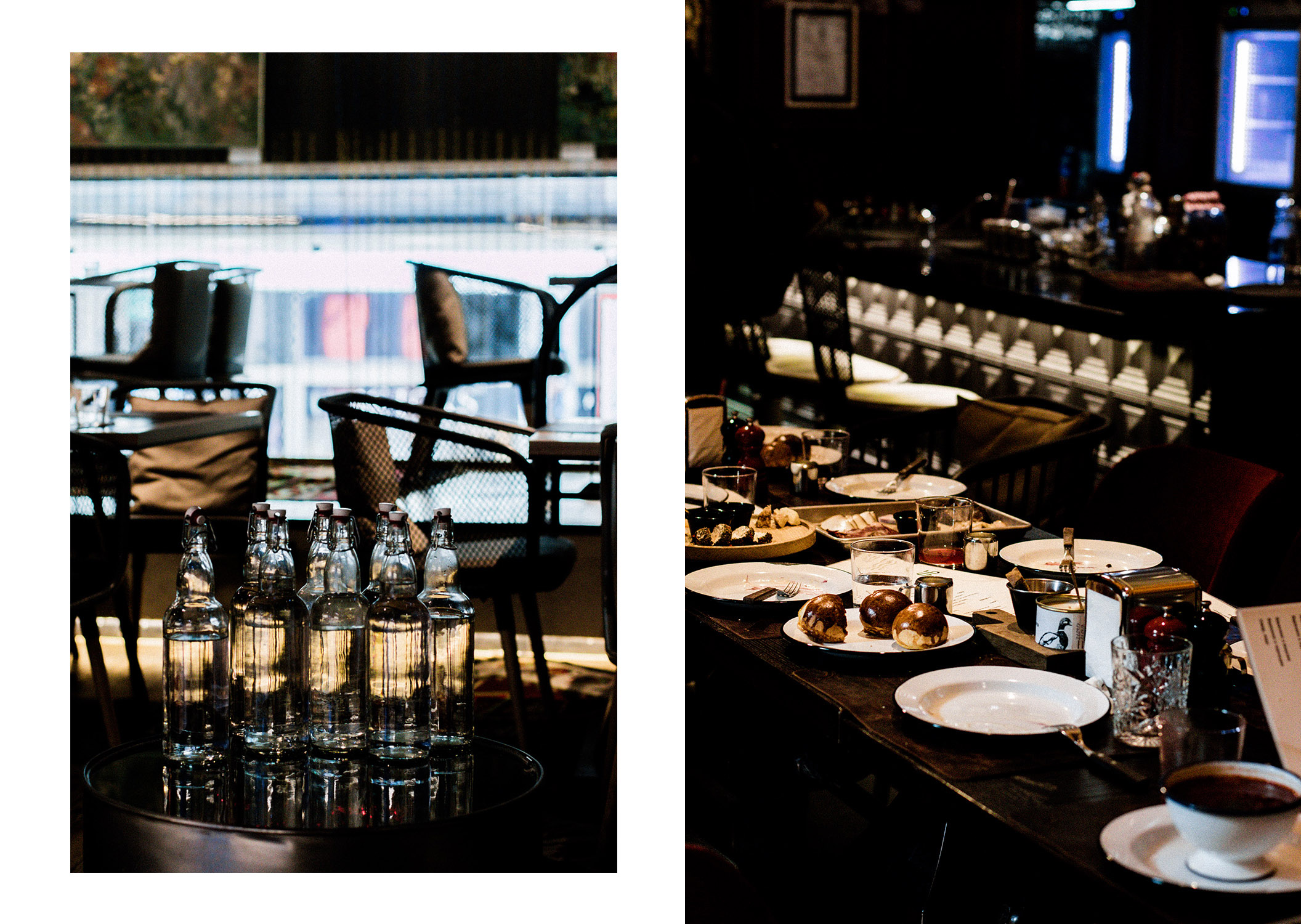 Eine versteckte Perle mitten auf dem Unabhängigkeitsplatz, einem geschichtsträchtigen Ort für die Menschen der Ukraine und vor allem den Menschen der Hauptstadt Kiew. In einem unscheinbaren Einkaufszentrum gelegen, findet man sich in der Ostannya Barykada wieder.
Es heißt, dass das Ostanniya Barykada ein Ort ist, an denen sich freie Menschen treffen. Die neue Generation, geboren während der drei wichtigsten ukrainischen Revolutionen: die "Student Revolution on the Granite" (1990), die "Orange Revolution" (2004) und die "Revolution of Dignity" (Euromaidan) in 2014, kommen in diesem Restaurant zusammen.
Der Eingang ist versteckt und führt über den unscheinbaren Kaufhausfahrstuhl oder einer Tür, mit Anschluss zur U-Bahn. Ein wahres kreatives Versteck, mitten in Kiew. Ich stehe nun vor einer schwarzen Wand mit versilberten Händen. Jede dieser einzelnen Hände unterscheiden sich und vielleicht, genau dass, möchte das Ostanniya Barykada damit ausdrücken: Wir sind alle individuell, aber irgendwo gleich und willkommen. Die Hände werden mit blauem Licht angestrahlt und gestikulieren ein familiäres Hineinwinken, denn auch hier scheint nichts, wie es ist. Eine versteckte Tür öffnet sich und man bittet uns hinein.
Kyiv's Hidden Food Gem:
Ostannya Barykada
---
Ostannya Barykada
Maidan Nezalezhnosti, 1
Kyiv, Ukraine
+380 68 907 1991
–
10:00 – 00:00
Es kam mir vor, als würde ich einen geheimen Raum betreten, die Stimmung ist gelassen, das Restaurant ist zur späten Mittagszeit nicht mehr so voll und die große Glasfront auf der rechten Seite gibt einen intimen Überblick auf das Innenleben des Einkaufszentrums. Es ist liebevoll gestaltet, sei es die einfachen Blumen auf den dunklen Holztischen, oder die versteckte Unisex Toilette sowie der Wintergarten mit unzähligen Zimmerpflanzen.
"Ostannya Barykada is a place for people who are ready to defend their values,
take responsibility and change the country. (…)
[It] is a new platform for the implementation of social and cultural ideas,
brainstorming, development and promotion of modern values.
It is our "front line" for civil society to discuss long-term strategy for the country."
Auch die Küche ist so überraschend und wunderbar wie das Interieur. Das Ostannya Barykada bietet allerlei ukrainische Spezialitäten an: Von einer gemischten Fleischplatte für 698 UAH (ca. 23,50 €) mit Pulled Pork, Rippchen, traditionelle ukrainische Wurst ('zenkivska sausage') serviert mit Pilzen, eingelegte Gurken und Soße bis hin zur Borsch Suppe, (ein Traum!) oder auch die Pelmeni, in den unterschiedlichsten Sorten. Der Kyiv Cake, eine Spezialität aus Kiew, bestehend aus mehreren Schichten Meringue, mit Cashew Nüssen, Schokoglasur und Buttercreme-Füllung ist natürlich ein Muss!
Nicht umsonst bedeutet Ostannya Barykada soviel wie "Die Letzte Barrikade" – Standhaft, für Demokratie, Freiheit, Toleranz und wunderbarem Essen, mitten in Kiew.
---
Photo: I heart Alice / Alice M. Huynh
*This trip was made possible thanks to Google Germany.
*The opinions expressed here represent, as always, my own.

Merken
Merken
Merken
Merken
Merken
Merken