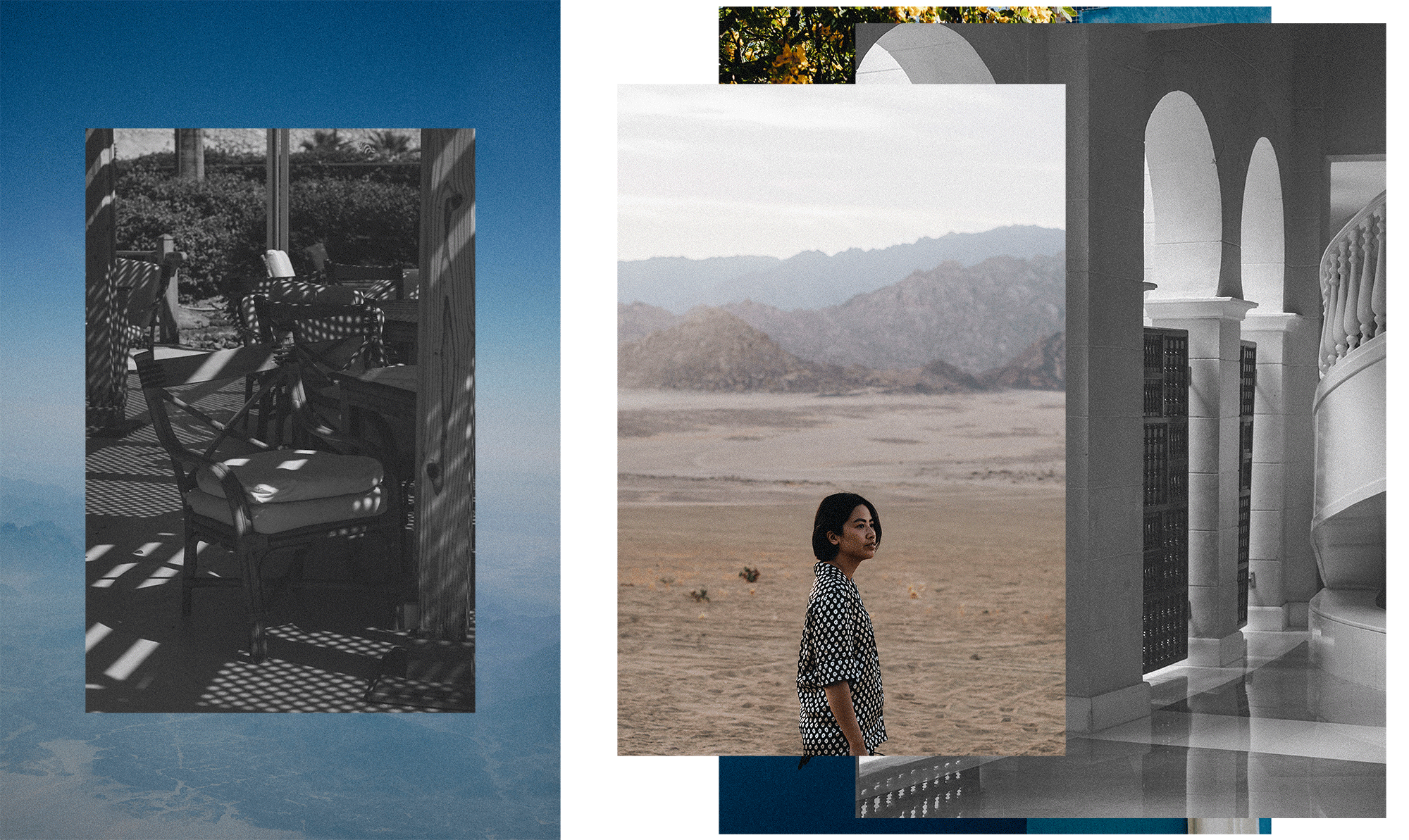 Totale Stille ist etwas, was heutzutage schon eine Seltenheit geworden ist. Wir leben in Städten, die nur so von Geräuschen an jeder Ecke wimmeln und auch wenn man abseits von aller Zivilisation ist, gibt es nur wenige Orte auf unserer Erde, an denen vollkommen Stille herrscht. Als ich nun in der endlosen Wüste der Sinai Halbinsel stand und in die Ferne die Sonne den Horizont hinter den Bergen in den schönsten Rottönen färbt, bemerkte ich für einen Moment die Stille um mich herum. Kein knacken, kein Geräusch, kein murmeln – nur vollkommene Stille, als ob die kahlen Berge und der raue Sand alles verschlucken würde.
Mein heutiges Travel Diary entführe ich euch nach Ägypten, um genauer zu sein nach Sharm el-Sheikh, direkt an der Spitze im Süden der ägyptischen Halbinsel am Roten Meer. Zusammen mit dem Royal Savoy Hotel wurde dies nicht nur mein allererster Besuch auf dem afrikanischen Kontinent, sondern auch in Ägypten sowie einem muslimischen Land. Ich war einfach auf alles gespannt, auf die Menschen, auf die Sprache, die Kultur, das Essen sowie die Abenteuer und Geschichten, die ich dort erleben werde.
Sharm el-Sheikh Travel Diary & Video
with Royal Savoy Hotel
---
Im Royal Savoy die Seele baumeln lassen
In den letzten Jahren entwickelte sich Sharm el-Sheikh zu einem spektakulären Bade- und Tauchorte in Ägypten, welches vor allem an den wunderschönen Korallenriffen in der Umgebung liegt. Ich war in der Vergangenheit schon einige Male schnorcheln, doch erst in Sharm el-Sheikh, habe ich erst die wunderbaren Farben sowie die Vielfalt der Fische hautnah erleben können. In der ersten Sekunde, in der ich in das Wasser des Roten Meeres eingetaucht bin, befand ich mich inmitten einer Szene, die direkt aus der BBC-Dokumentation "Blue Planet" stammen könnte.
Wie ihr vielleicht schon in meinem Travel Video aus Sharm el-Sheikh gesehen habt, bietet das Royal Savoy nicht nur eine Menge Platz um die Seele baumeln zu lassen, sondern auch einige spannende Aktivitäten. Das hauseigene Korallenriff liegt direkt vor dem Hotel und hier kann man nicht nur die leuchtenden Farben bestaunen, sondern auch die vielfältige Unterwasserwelt voller Papageienfische, Rochen bis hinzu majestätischen Feuerfischen – direkt vor der Haustür.
Das Royal Savoy Hotel war für eine Woche mein luxuriöses Zuhause, nur eben mir viel mehr Palmen, unglaublichen 32° C, blauem Himmel ohne eine einzige Wolke und dem Roten Meer, wohin ich auch blickte. Ägyptische Gastfreundschaft und Detailverliebtheit treffen hier aufeinander. Das Luxus-Resort verfügt nicht nur über 3 exklusive Swimmingpools, unzähligen Restaurants sowie einem privaten Strandabschnitt, sondern liegt direkt in Fußweite vom Soho Square, dem Mittelpunkt an lauen Abenden in Sharm el-Sheikh.
Für Foodies und Liebhaber internationaler Küche gibt es genügend Auswahl: das 'Caligula Hot Rock' Restaurant kreiert ein einzigartiges Essenserlebnis auf dem man, wie schon der Name sagt, sein Essen selber auf einen heißen Stein kocht. Mein Favorit dennoch war das Restaurant 'Luxor' inmitten dem Soho Square, mit authentischen ägyptischen Speisen für ein Abendessen wie ein Pharao.
---
Vom Tauchparadies in die Wüste
Ein besonderes Highlight auf dieser Reise war vor allem die Tour durch die feuerroten Canyons und der Quadbike-Tour durch die Wüste. Ein pures Erlebnis, welches mich vor Aufregung immer noch ganz nervös macht. Es ist beeindruckend, wenn man in der unendlichen Wüste fährt, der Sand einen nur so um die Ohren haut und die pralle Sonne auf den Rücken prallt, während in der Ferne zwei riesige Kamele wie eine Fata Morgana auftauchen und im gleichen Galopp an einem vorbeirennen.
Für Naturliebhaber und Wassernixen die perfekte Destination die Seele baumeln zu lassen und die farbenfrohe Unterwasserwelt zu genießen, egal ob alleine, mit dem Liebsten oder der Familie.
// Die Savoy Group hat ihren Sitz in Sharm El Sheikh – Hotels, die keine Wünsche offen lassen. Zwischen High-End-Luxusresorts und Hotels für den Urlaub in Ägypten, direkt am Roten Meer. Gastfreundschaft wird nicht nur bei der Unterkunft, sondern auch bei der Unterhaltung und Fine Dining erlebbar.
Mehr Informationen zu den Royal Savoy Hotels sowie der Savoy Gruppe gibt es hier. //
---
Photo / Alice M. Huynh
*This trip was made possible thanks to Royal Savoy Hotel & Germania.
*The opinions expressed here represent, as always, my own.