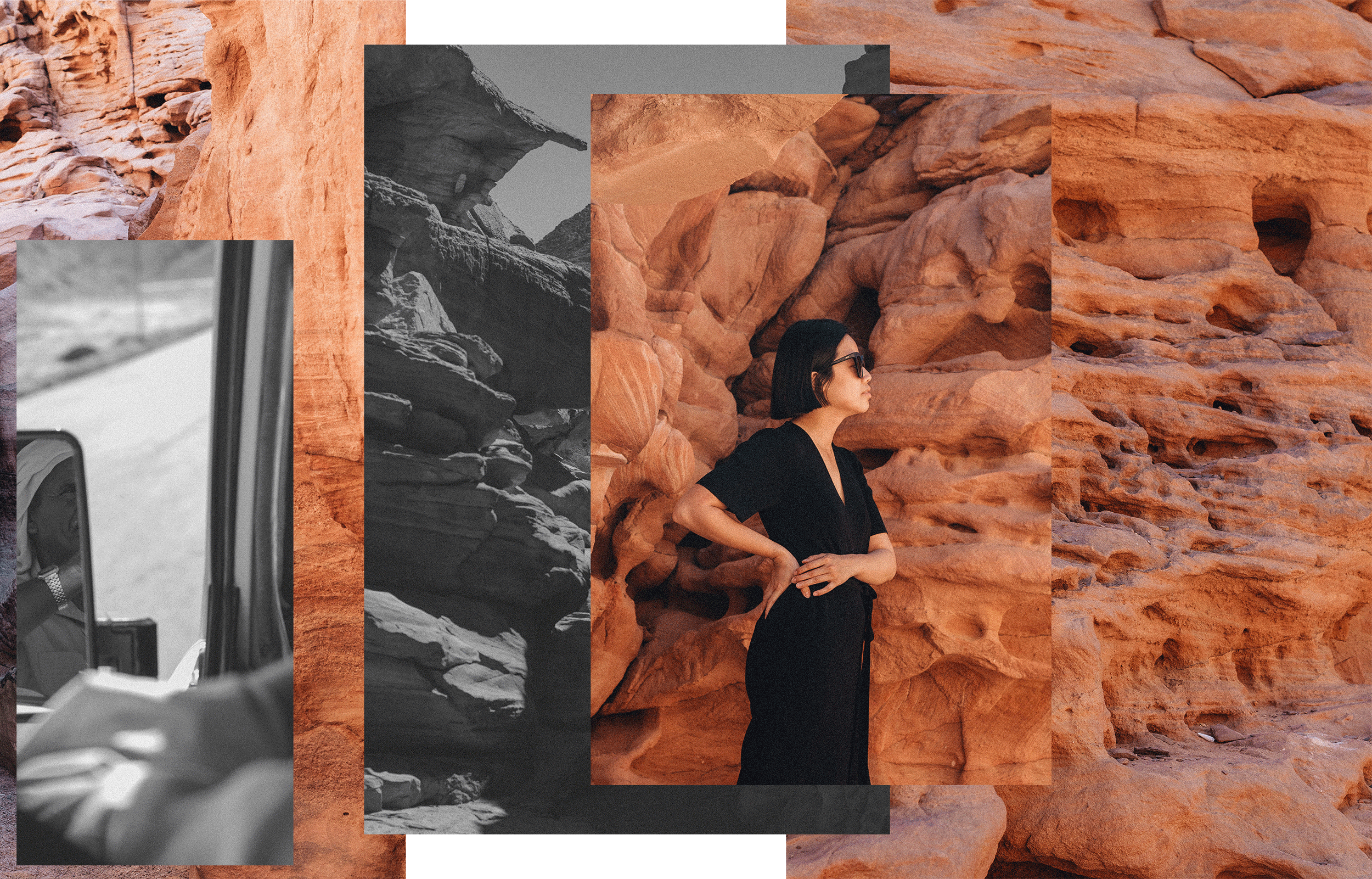 Die Sonne steht im Zenit und die trockene Luft macht mir zu schaffen, während ich in meinem langen schwarzen Kleid durch die steilen Abhänge des Canyons in Süd Sinai wanderte. "Was man nicht alles für seine Lieblingsfarbe macht?!", denke ich mir jedes Mal, wenn ich irgendwo in der Sonne stehe. Für solche Situationen bin ich dennoch gewappnet, denn mein – ebenso – schwarzer Fächer, spendet mir nicht nur Schatten, sondern auch eine angenehme kühle Brise.
Während ich mich durch den schmalen Krater schlängel, habe ich eine Minute für mich selber – um zu verschnaufen, aber auch um die Schönheit der Red Canyons zu genießen. Jahrtausend alte Geschichten unserer Erde in warmen Rottönen, die mich nur so umarmen und mich immer noch zum Staunen bringt. Auf der Schattenseite fühlt sich der Krater angenehm kühl an, während ich meine Hände über das trockene Gestein streiche.
A Daytrip to the Red Canyons in South Sinai
---
Schotterwege, Beduinen & leere Plastikflaschen
Nicht allzu weit weg von Dahab, liegen die Red Canyons, die kleine Schwester der Coloured Canyon. Der Trip dorthin führt durch die kahle Wüste mit mehreren Stützpunkten und abenteuerlicher Route durch Schotterwege und Wüstenabschnitte. Gut durchgeschüttelt kamen wir an und machten uns auf dem Weg in den Canyon rein. Vor uns, eine Gruppe anderer Touristen, die aber mit einem guten Tempo unterwegs waren, sodass wir in nur wenigen Minuten schon wieder ganz alleine waren.
An einem breiteren Teil des Canyons trafen wir auf Beduinenfrauen, Wüstennomaden, die schon seit Anbeginn auf der Sinai Halbinsel leben. Sie verkauften kleine handgemachte Taschen, aus Holz geschnitzte Kamele sowie Ketten und Armbänder. Während die Kinder um mich herumhüpften, boten mir die Frauen diverse Souvenirs zum Verkauf an, die Sonne macht es etwas schwer klar zu denken und die Gruppe eilte auch schon weiter. Souvenirs wurden natürlich mitgenommen und an diesen schönen Moment, denke ich bis heute noch, wenn ich den Kamel auf dem Schreibtisch betrachte.
Etwas, was mir aber auch noch im Gedächtnis geblieben ist, war leider der Müll, der überall im Canyon rumlag. Von Plastikflaschen, Tüchern, Verpackung und Co. fand man, leider, einiges. Und auch hier wird wieder einmal bewusst, wie wichtig es ist, sich selber an der Nase zu fassen und darauf zu achten, seinen Müll mitzunehmen (oder auch versuchen, weniger zu produzieren). Dies gilt nicht nur für zu Hause, sondern natürlich auch, wenn wir auf Reisen sind, andere Länder besuchen und die Schönheit unserer Erde bestaunen. Damit wir nicht nur einen kurzen Moment davon haben, sondern ein lebenslang und noch länger.
---
Photo / Alice M. Huynh
*This trip was made possible thanks to Roal Savoy Hotel & Germania.
*The opinions expressed here represent, as always, my own.