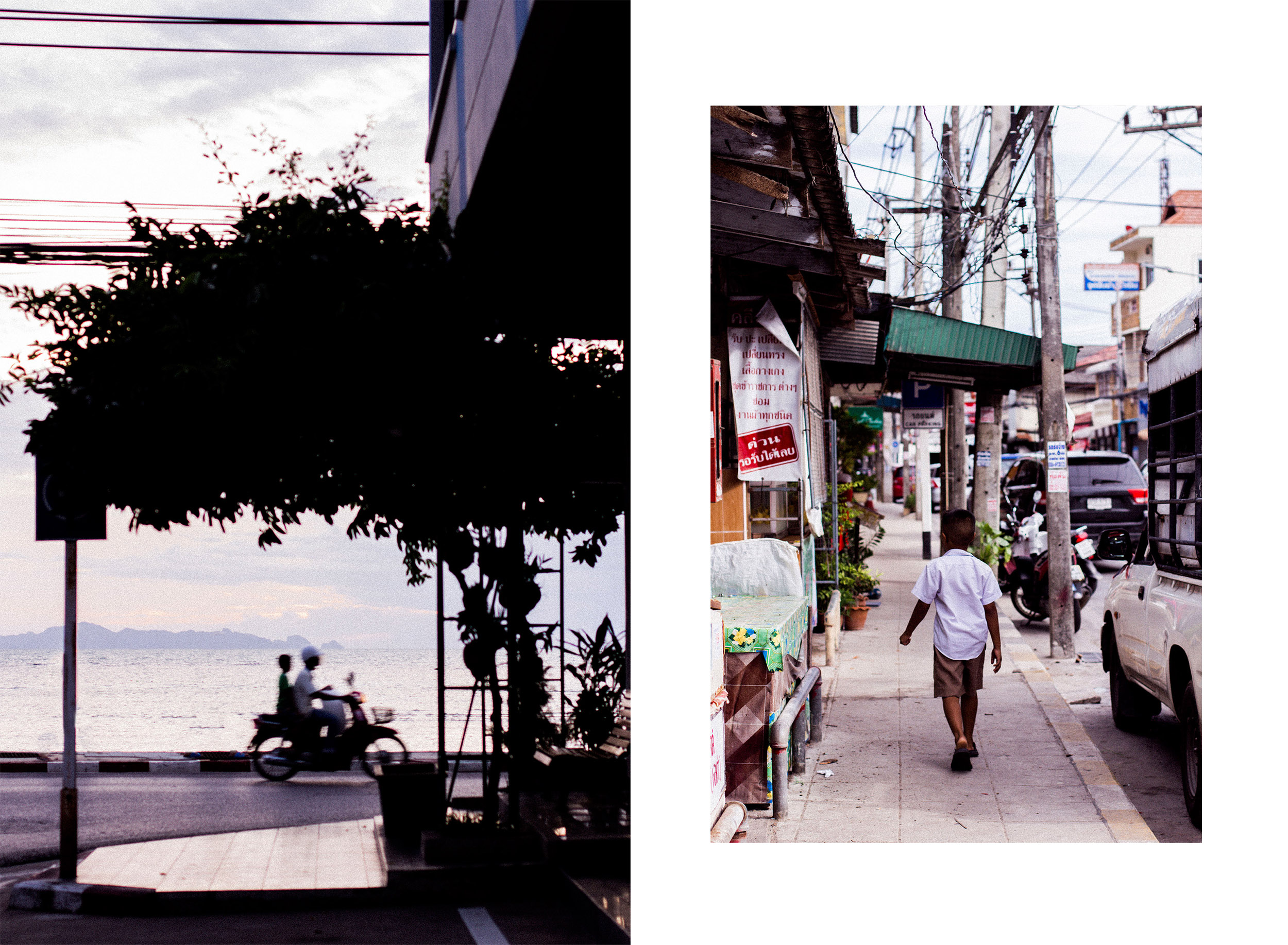 Nachdem ich euch schon meine liebsten Foodie-Spots in Koh Samui gezeigt habe, gibt es heute eher etwas zum Stöbern. Seit einigen Monaten beschäftige ich mich damit, mehr hinter der Kamera zu sein, als vor der Kamera. Vor allem auf meinen Reisen werde ich durch die kleinsten Dinge inspiriert. Ungewöhnliche Schriftzeichen, das alltägliche Leben der Locals und sogar Straßenschilder finde ich, falls ihr es noch nicht bemerkt habt, sehr interessant!
Ich erinnere mich meinen letzten Urlaub auf Thailand zurück, dort war ich mit meinen besten Freunden unterwegs und habe zum ersten Mal Bangkok, die gute Thailändische Küche sowie die paradiesischen Strände erlebt. Für dieses Jahr stand Thailand eigentlich nicht auf dem Plan, doch ein spontaner Familienurlaub machte dies möglich und da sage ich natürlich nicht Nein!
---
Koh Samui Travel Diary
---
Wie immer gibt es jeden Sonntag ein spannendes Travel Diary von Koh Samui auf unserem Youtube-Kanal BUN BAO! Das Getümmel der Straßen mit den lauten Mopedgeräuschen. Verkäufer, die mit ihren Kunden ganz laut quasseln und ihre neusten Produkte anpreisen. Verführerische Gerüche auf dem Streetfood Market auf Nathon, wo sich vor allem Einheimische tummeln.
Und im Kontrast dazu die Natur auf und um Koh Samui herum: Weiße Traumstrände mit den sonnengierigen Touristen und vom Meer geformte Felsen zum Verweilen. In der Nähe ein Fischerpaar, das seine Angelruten auswirft und auf guten Fang wartet. Vom Weiten sieht man noch einige Fischerboote, die auf dem unruhigen Meer ihr Glück versuchen. Mein persönliches Highlight war der Schnorchelgang im Angthong Marine Nationalpark, sowie einen Einblick in die unberührte Natur Thailands.
Um aber vollkommen in die Kultur einzutauchen, muss man hierfür in die Städte gehen. Da Koh Samui Thailand's zweitgrößte Insel ist, gibt es hier nun einiges zu entdecken. Anders als auf Koh Chang gibt es hier mehrere Zentren sowie Hotspots für die Foodies unter euch.
---
On the streets of Koh Samui
Meine liebsten Aufnahmen auf meinen Reisen entstehen immer sehr zufällig und auf der Straße, mitten im Getümmel. Schon auf meiner Japan Reise, habe ich sehr gerne Leute in der Metro oder einfach nur auf der Straße fotografiert, ohne dass sie etwas davon wussten. Diesen magischen Moment einzufangen, in denen der Mensch einfach nur in sich gekehrt oder mit seiner täglichen Arbeit beschäftigt ist, versuche ich in den Fotos rüberzubringen.
"On the streets of…" handelt genau um diese Momente sowie Einblicke aus meinen Reisen von den Menschen aus den unterschiedlichsten Ecken der Erde. In dieser neuen Kategorie möchte ich alle meine Fotos von meinen Reisen zusammenfassen und euch die Menschen sowie die Umgebung näher bringen. In einer Welt in der oftmals nur noch auf oder durch das Smartphone schauen, alles arrangiert und kuratiert ist, möchte ich euch das "Echte" zeigen.
Da Koh Samui recht groß ist, ist es nicht ungewöhnlich viele Autos sowie Mopedfahrer anzutreffen. Das Überqueren von Straßen ohne Zebrastreifen kann sich dann auch mal auf mehrere Minuten und Anläufen bestehen. Die Menschen hier mögen es einfach und praktisch: Platz vor den Häusern werden direkt als Verkaufsfläche von Essen oder Früchten genutzt. Der Seitenstreifen von der Straße wird mal schnell zum Parkplatz für allerlei Dinge sowie den Pop-up-Essensständen. Stromkabel, die über der Erde hängen und dazu beitragen, dass die Häuser noch etwas mystischer aussehen. Die Kombination aus Beton, Natur, kleine farbenfrohe Schreine für die Götter und Geister geben Koh Samui die richtigen Farbtupfer.
Genießt nun mein "On the streets of Koh Samui" und hinterlässt mir doch gerne ein Feedback hierzu! Love, Alice.
Photo: I heart Alice / Alice M. Huynh

Merken
Merken
Merken
Merken
Merken