Mamacitas Café & Cantina at Indigo Hotel in Downtown El Paso
---
Wie ihr vielleicht wisst, gehört die mexikanische Küche zu einer meiner liebsten überhaupt. Nicht nur hat sie einfach eine vielfältige Geschmackspalette mit den unterschiedlichsten Nuancen, sondern auch Ähnlichkeit zu der vietnamesischen Küche; wenn auch nur ein wenig. Koriander ist z. B. eine essenzielle Zutat in beiden Küchen, die sie sehr von anderen Küchen auf der Welt unterscheidet. Zudem liegt es nicht nur an dem Koriander, aber auch daran, was Essen für die Menschen in beiden Ländern bedeutet: nämlich Familie, Beisammensein und Genuss.
Weshalb ich mich aber wirklich Hals über Kopf in dieses Land, seinen Menschen und der spannenden Küche, verliebt habe, war vor allem die Wärme die von den Menschen, die ich auf meinen Reisen traf, ausging als auch die feurigen Chilinoten, die in den unterschiedlichsten Variationen, Farben und Formen kommen und die Quintessenz mexikanischer Küche ist.
Küchen und Gerichte entwickeln sich von Zeit zu Zeit weiter, und da kommt vor allem die neue Generation an Mexikanern ins Spiel. Leidenschaft, die Diaspora, als auch die Liebe zu Tradition und ihren Wurzeln – all dies und die Erfahrungen in anderen Städten, Ländern und Kontinenten, fließen als neue Blickwinkel in die Küche mit ein.
---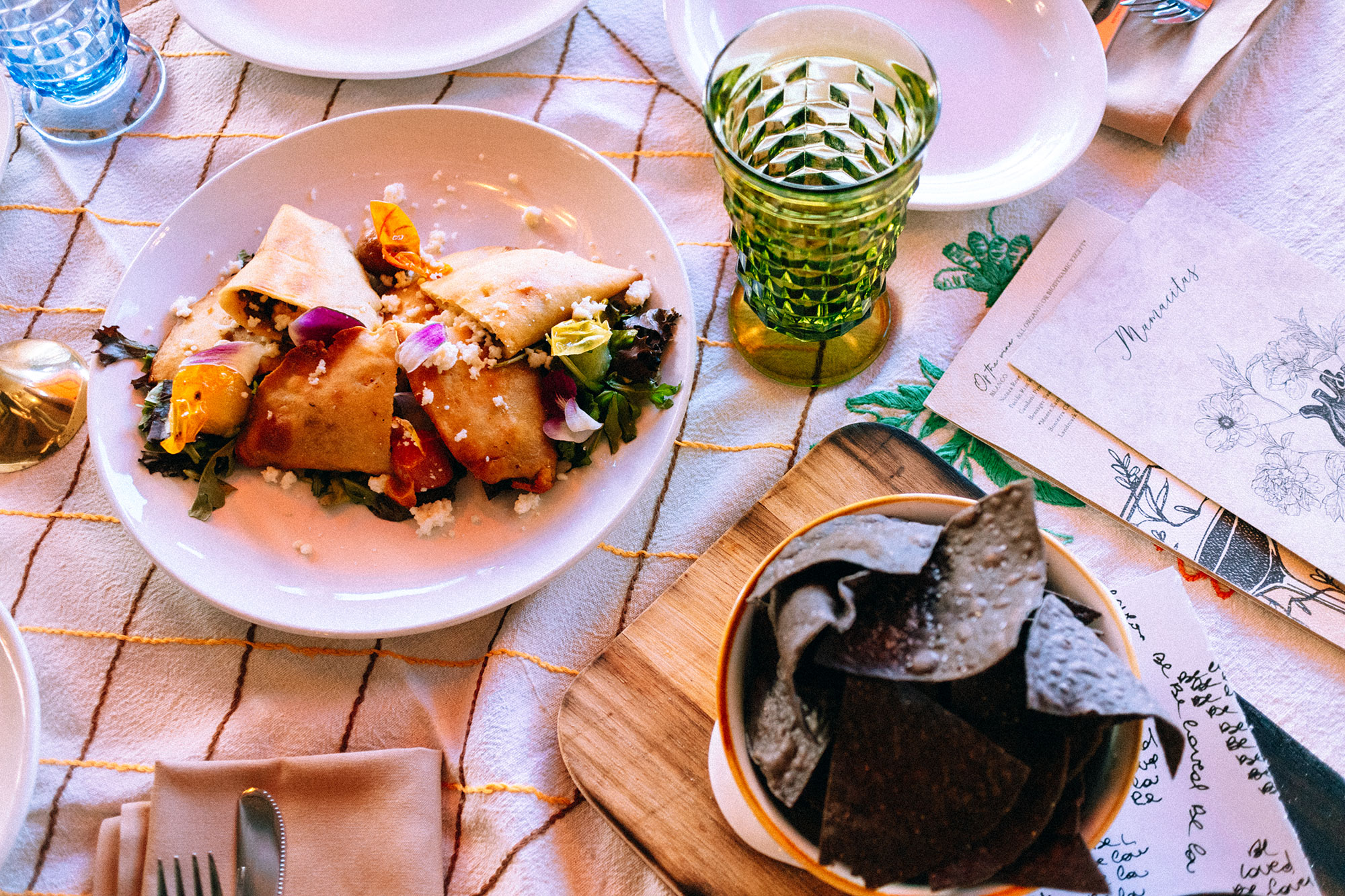 Mamacitas Café & Cantina at Indigo Hotel
in Downtown El Paso, Texas
---
Mamacitas Café & Cantina
(at Hotel Indigo El Paso)
325 N Kansas St
El Paso, TX 79901, USA
$$$$
Nicht umsonst wird El Paso als Epizentrum der mexikanischen Küche in der USA gehandelt, was aber auch an der geschichtsträchtigen Nähe zu Juarez sowie Mexiko liegt. In dieser texanischen Grenzstadt leben überwiegend Menschen mit mexikanischen & hispanischen Wurzeln, und die Geschmackspalette reicht von traditionell bis hinzu modern. Diese Fusion aus beidem sowie die dazugehörige Leidenschaft findet man vor allem im Mamacitas Café & Cantina im Indigo Hotel in Downtown El Paso wieder.
Durch die grafischen Muster und unzähliger Pflanzen und der rhythmischen Musik im Hintergrund, könnte man meinen, man sei zum Lunch schnell mal in den Urlaub nach Mexiko gefahren. Das Personal ist leidenschaftlich mit dabei, während sie uns Stück für Stück ihre Favoriten auf der Karte aufzählt. Von aromatischen Tacos mit frittierten Shrimps, Avocado und crispy Kale bis hinzu den leckeren Cocktails mit Mezcal und Tequila gibt es im Mamacitas einiges, was das Mexican-Foodie-Heart schneller und höher schlagen lässt. Meine absoluten Favoriten waren der Burger, die Tacos mit Shrimps, Die knusprigen Tostadas aus schwarzem Mais mit feuriger Salsa & Käsedip, sowie der Margarita, die Horchata und der Chocolate-Chip Cookie Ice Cream Sandwich.
Hach, da will man direkt wieder verreisen und schlemmen, nicht wahr?! Mehr zu El Paso, TX gibt es hier. Love, Alice.
---
Left / Apple Pie with ice cream – Right / Tacos de Cameron & Sweet Potato fries
Left / Black corn nachos & cheese dip – Center / Cocktails at Mamacitas – Right / Warm chocolate ice cream cookie & churros
---
Photo / Alice M. Huynh
*This trip was made possible thanks to Travel Texas.
*The opinions expressed here represent, as always, my own.