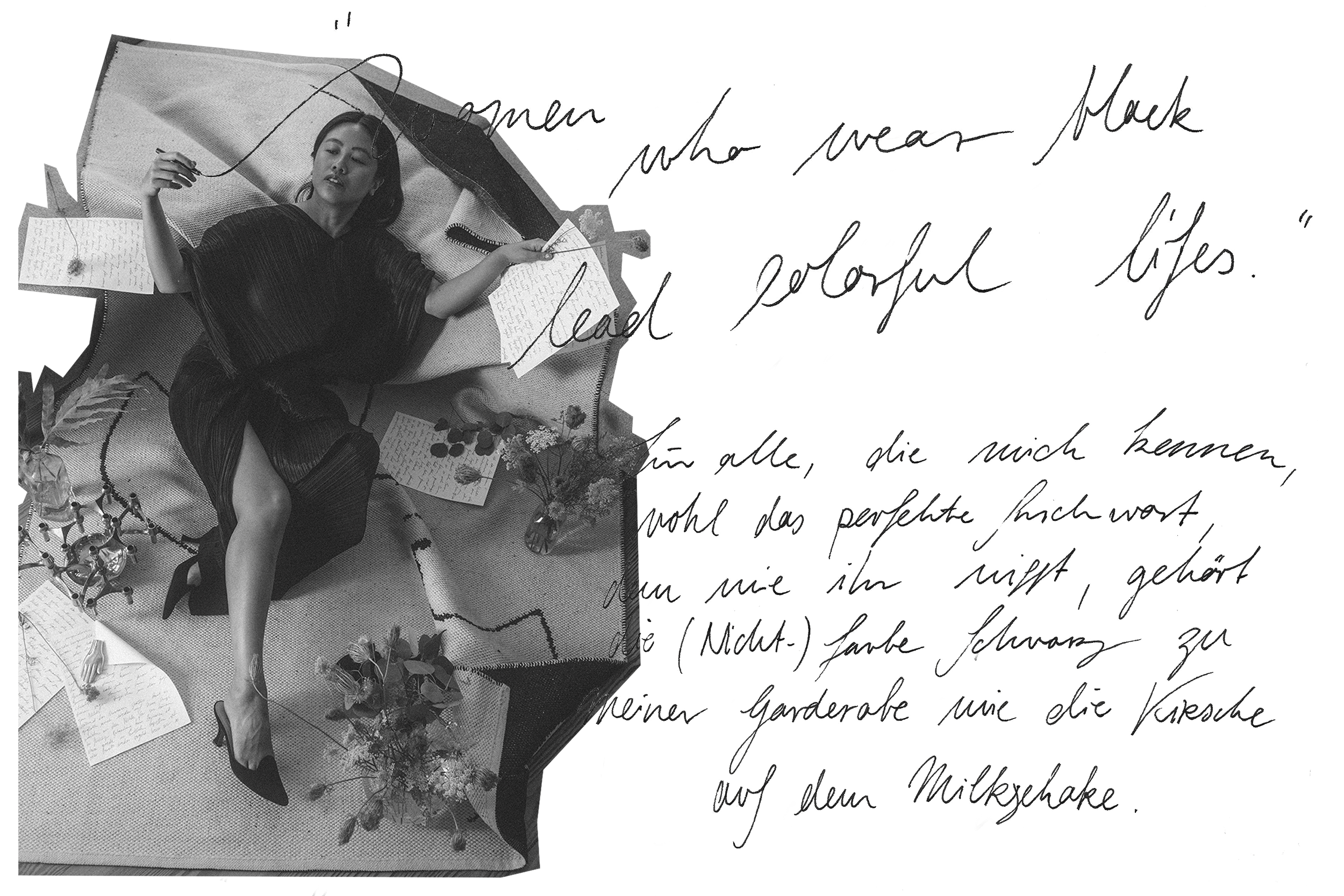 "Women who wear black lead colorful lifes" – Für alle, die mich kennen, wohl das perfekte Sprichwort, denn wie ihr wisst, gehört die (Nicht-) Farbe Schwarz zu meiner Garderobe wie die Kirsche auf dem Milkshake. Egal ob es 30 Grad in Italien, eine Geburtstagsfeier, Festival oder Dinner zu zweit ist – es ist wahrlich ein Wunder, mich mal nicht in Schwarz zu sehen.
Doch habt ihr euch schon einmal gefragt, wie die Wandlung kam? Wieso ich nun sehr mehr als 5 Jahren nur eine Farbe im Kleiderschrank habe und auch nur diese an meinen Körper lasse? Einmal meinte jemand zu mir, dass es eine sehr gute PR-Masche wäre, da könnt ihr euch vorstellen, wie herzlich ich gelacht habe, denn es steckt natürlich viel mehr dahinter, als nur das Bild, welches ich nach Außen hintrage. Für mich ist es nicht nur Selbstfindung und Stil, sondern Erholung, ein Statement und Komfort zugleich. All diese Punkte sind mir nicht nur im privaten Leben wichtig, sondern werden auch mit Kleidungsstücken und der Farbe Schwarz sichtbar.
In Kooperation mit LAMY und dem neuen safari all black Limited Edition Füllhalter erzähle ich euch nun die Geschichte für meine Leidenschaft zu der Farbe Schwarz. Ein visueller und doch analoger Liebesbrief in unserer heutigen digitalen Zeit.
Ein Liebesbrief an die Farbe Schwarz
– LAMY safari all black Limited Edition
---
Liebes Schwarz,
für mich bist du keine traurige und langweilige Farbe, wie manche böse Zungen über dich sagen. Für mich bist du mehr als dass, wenn nicht Alles.
Doch zunächst zum Anfang. Es fing eigentlich alles in meiner kleinen Heimat im Allgäu an. Kleidung und Mode war etwas, mit dem ich mich schon immer identifizieren konnte. Ich konnte nicht Skifahren und Sport war nicht wirklich meine Leidenschaft, war auch zudem nicht wirklich begabt mit Musikinstrumenten und so kam es, dass ich schon immer gern gelesen, gezeichnet und gebastelt habe. Ich wusste schon von klein auf, dass meine Kreativität mich später irgendwohin führen würde, was größer und weiter ist, als die wunderschönen Allgäuer Berge, die ich aus meinem Kinderzimmer gesehen habe.
Die Jahre gingen vorbei und ich betrat mit einem bebenden Herz und wachen Augen zum ersten Mal eine Stadt, die mich meinem Ziel etwas näher bringt. Dort beschäftigte ich mich mit Modetrends, der Geschichte und dem Handwerk. Ich begann mich darin zu verlieren, im positiven Sinne, denn ich liebte jeden einzelnen Faden, jede einzelne Nuance und jeden einzelnen Schritt. Für meine Kreationen nahm ich mich zurück und du, Schwarz, du warst für mich da.
Denn du bist eine Komposition bestehend aus allen Farben, ein Magnet für die Sonne, die dich, egal wo du bist, immer wieder findet und sich wie aus Zauberhand an dich ranheftet. Für mich bist du eine Oase, die Ruhe, die ich in meinem hektischen Leben brauche. Denn wenn es mir mal zu bunt wird, dann bringst du mich wieder auf den Boden der Tatsachen, ohne mich abzulenken, ohne mich zu werten.
Du wägst mich in deiner meditativen Stimmung und zeigst mir, was essenziell ist. Mit dir kann ich in der Masse untergehen, mich verstecken, wenn ich mich verstecken möchte; doch zur gleichen Zeit stichst du mich hervor, du unterstreichst meine Persönlichkeit und lässt all die Menschen mich mit den Augen sehen, mit denen ich gesehen werden möchte. Du bist mysteriös, provokant, aufreizend und doch strahlst du eine ruhige Eleganz zur gleichen Zeit aus. Und wenn wir schon über Zeit sprechen, so bist du, wie du vielleicht weißt, zeitlos. Nichts kann dich aus der Ruhe bringen: kein Modetrend, keine verflossene Liebe und auch kein Bolognesefleck.
Du zeigst mir, dass man auch nur mit einer einzigen Farbe so wandelbar und vielschichtig sein kann, wie die Welt um uns herum und dafür danke ich dir, mit meinem ganzen & farbenfrohen Herzen. Love, Alice.
---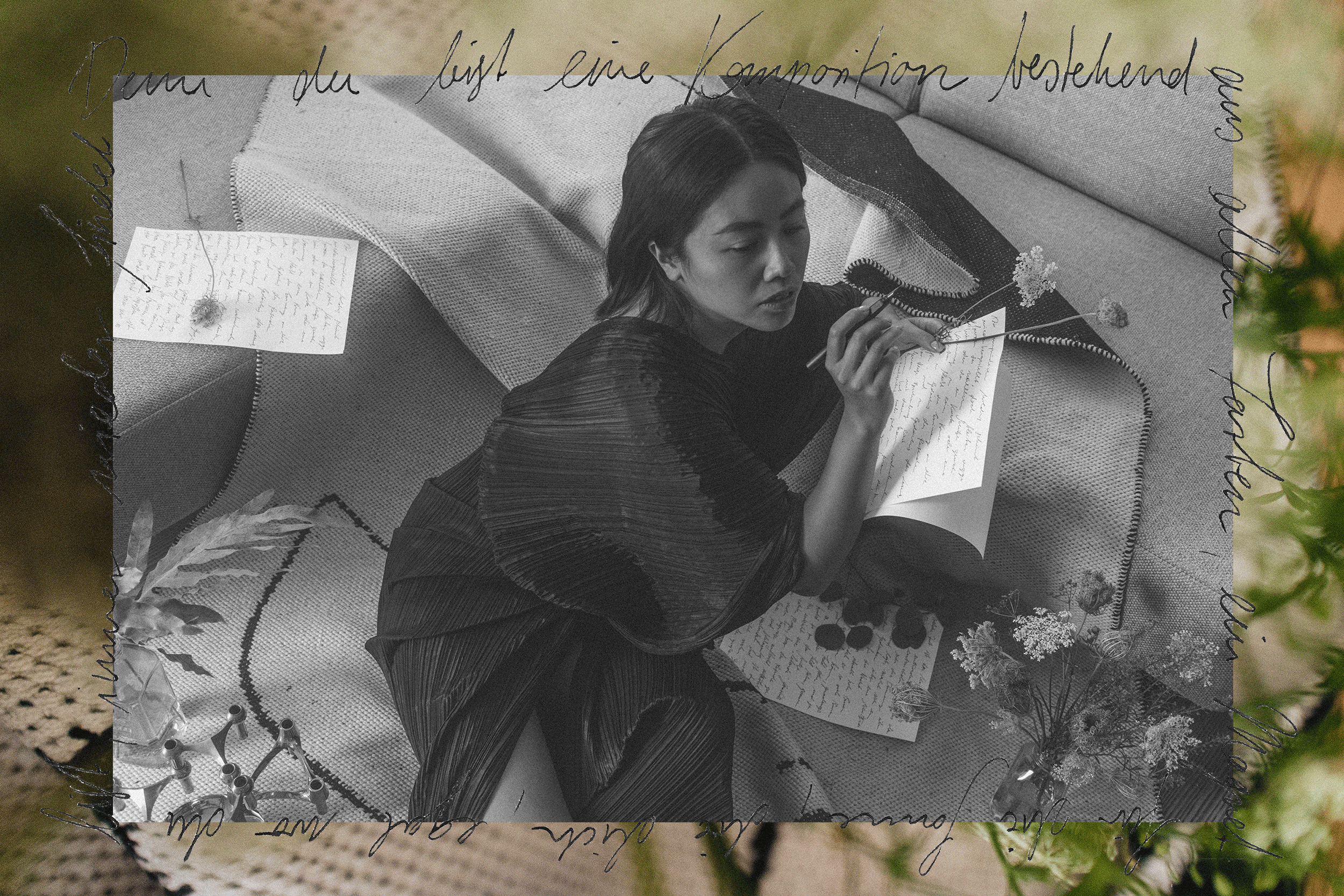 ---
Photo / Alice M. Huynh
Creative Direction / Alice M. Huynh
*Thanks to Joy for the help!
*In friendly cooperation with LAMY.
*The opinions expressed here represent, as always, my own.