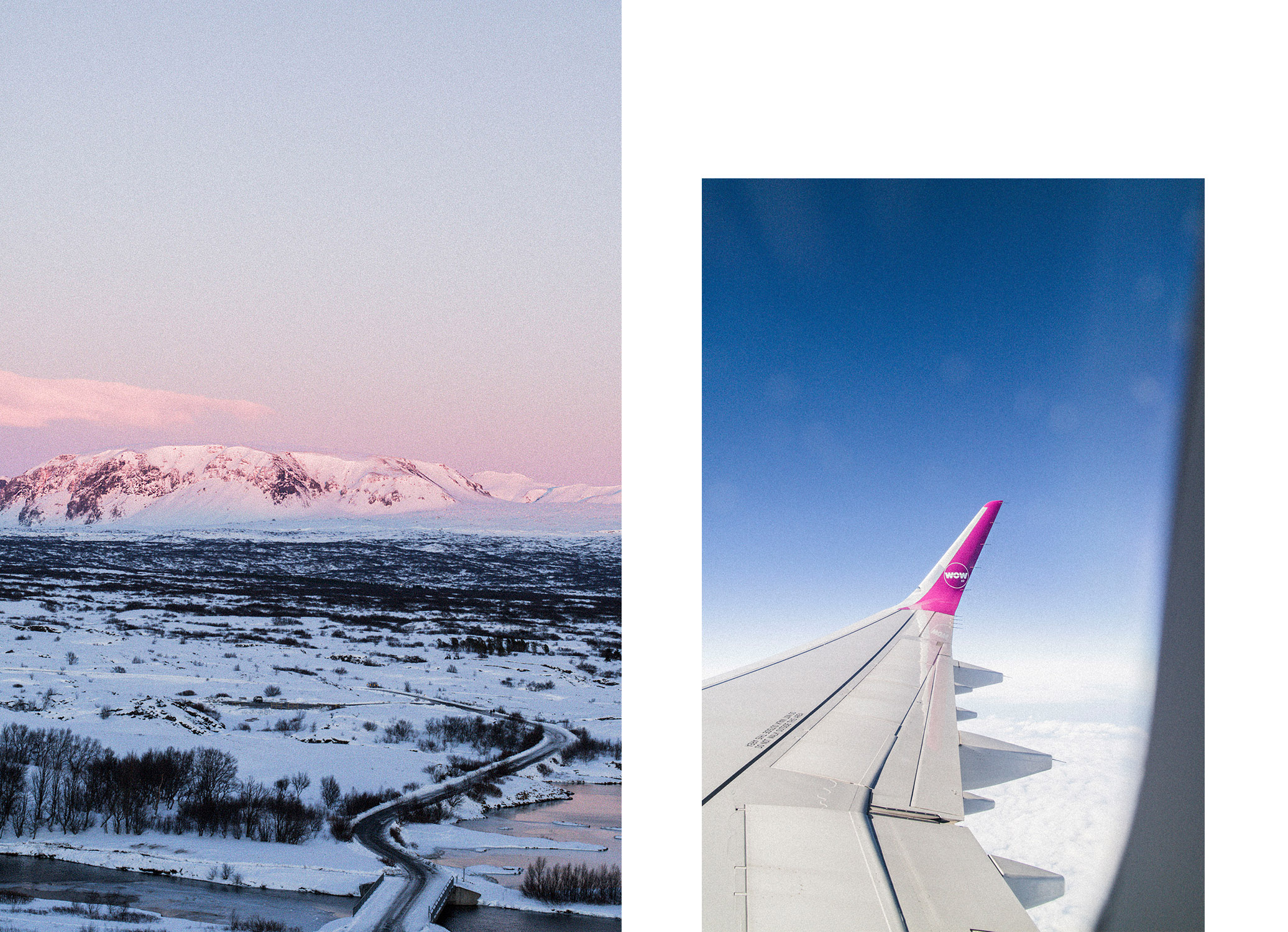 Island in Winter kann sehr unbarmherzig sein. Die eisige Luft, Schneestürme, Blizzards und Glatteis sind im Winter in Island keine Seltenheit, doch dafür wird man mit viel Reinheit und Schönheit beschenkt. Die gepuderten Gipfel der Vulkane, türkisleuchtende Gletscher, schwarze Traumstrände und die ungebändigte Natur.
Seit einigen Jahren zieht es viele Millionen Menschen nach Island und seit der WM ist es auch nicht verwunderlich, dass diese kleine Insel im Norden unserer Hemisphäre noch mehr ins Rampenlicht gerückt ist. Wie ihr vielleicht wisst, habe ich Island schon 2015 im späten Herbst besucht und hier die unglaubliche Landschaft gepriesen. Nun bin ich zurück, im tiefsten Winter, warm eingepackt und erzähle euch von kurzen Tagen, sternenklaren Nächten und die eiskalte Schönheit dieser Insel.
Icelandic Winter Travel Diary with WOWair
---
Mit WOW air nach Island
Zusammen mit WOW air hatte ich die Chance mit meinem Freund Island zu besuchen. Und für jemanden, der zum ersten Mal hier zu Besuch ist, gehört das Wort 'WOW' zum Standardrepertoire. Ich erinnere mich an seine großen leuchtenden Augen, die über die endlose eisige Ferne Islands schweift. Die unvergessliche Natur sowie die Berge und Vulkane, die unermüdlich aus dem Boden ragen. Heiße Quellen, die man aus der Ferne schon am qualmenden Rauch erkennt, während die letzten Wolken sich über den Horizont schieben. Wilde kuschelige Islandpferde, die einen gerne mal die Zunge entgegenstrecken und Bilderbuch Sonnenuntergänge, gefolgt von der Aurora borealis.
So nah aber doch so fern kommt es mir vor und da ist es nicht verwunderlich, dass Freunde und Bekannte gerne mal auf mich zukommen und mich fragen, wie es denn 'dort oben' sei? Und noch mehr 'WOW' bekomme ich, wenn ich Ihnen von den Flugpreisen erzähle. Spontane Islandbesuche mit WOW air ab Berlin kann man schon für nur 70 € haben. Innerhalb 4 Stunden landet man schon auf einen ganz anderen Planeten. Ein Auto ist hier ein Muss, doch ansonsten ist man so frei, wie die Möwen, die über den Klippen von Island ihre Bahnen ziehen.
Ab Berlin und Frankfurt startet der isländische Low-Cost-Carrier ganzjährig nach Reykjavík. Berlin verbindet WOW air drei bis vier Mal pro Woche und in den Sommermonaten von Juni bis August täglich mit der Inselhauptstadt Reykjavík. Von der Mainmetropole fliegt die Airline sechs Mal pro Woche, an jedem Wochentag außer Samstag, nach Island.
// WOW air ist Islands einzige Low-Cost-Airline und die pünktlichste Fluggesellschaft der Insel.
Darüber hinaus können WOW air Passagiere ganzjährig auch über Island nach Boston, Washington D.C.,
Los Angeles, San Francisco und New York in die USA fliegen sowie nach Montreal und Toronto in Kanada. //
---
Photo: I heart Alice / Alice M. Huynh
*This trip was made possible thanks to WOWair.
*The opinions expressed here represent, as always, my own.

Merken
Merken