This article is also available in Englisch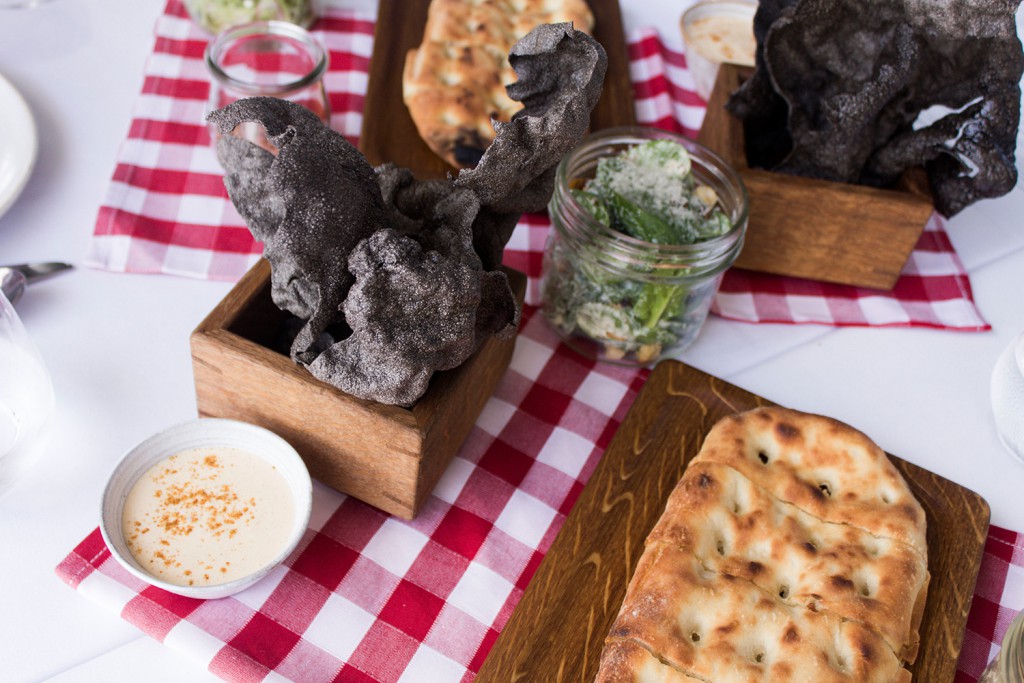 Dubai zeichnet sich durch seine vielfältig internationale Küche aus. So ist wirklich für jeden etwas dabei: Ob asiatisch, mediterran, arabisch… wirklich alles wird hier angeboten! So unterschiedlich die Kulturen sind, so unterschiedlich ist das Kulinarische, welches aufeinander prallt. Auch das diesjährige Dubai Food Festival ist ein Beweis dafür, dass man nie auslernt, vor allem wenn es um Essen und neue Kreationen geht. Wie ich das Dubai Food Festival erlebt habe, welche Restaurants ich neben dem Food Festival empfehlen kann und vor allem was ich während meines Aufenthalts so an Leckereien probieren durfte, möchte ich euch natürlich keineswegs vorenthalten! Im folgenden Dubai Food Guide gebe ich euch also einige Eindrücke! Hier findet ihr zudem mein Dubai Food Festival Travel Diary. Viel Spaß beim Lesen. Eure Yvi <3
Dubai Food Guide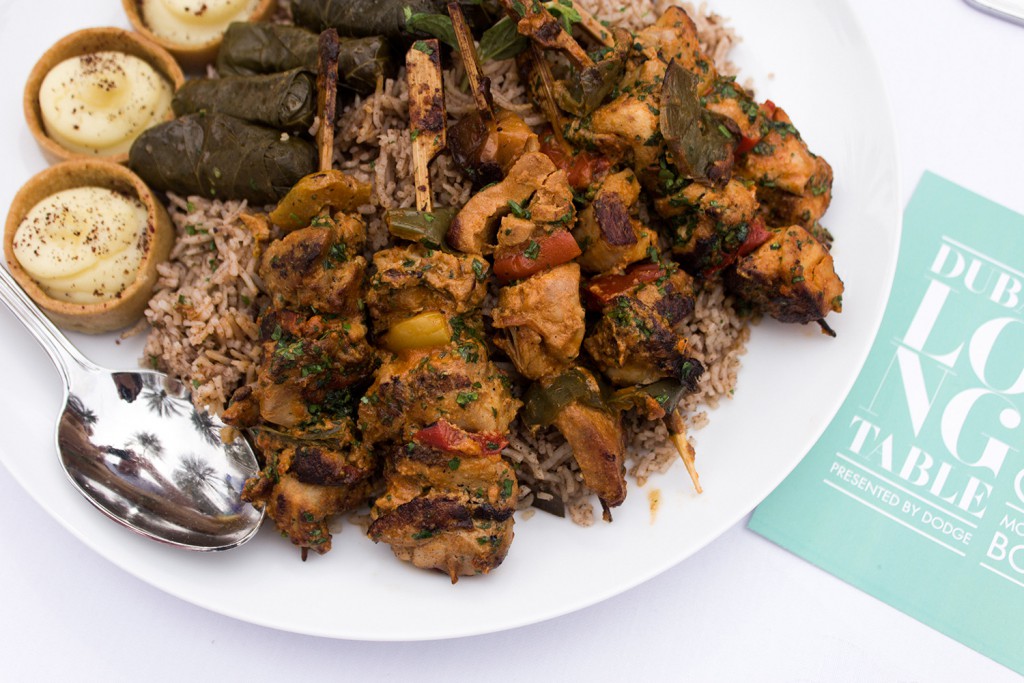 Dubai Food Festival 2016: Das Dubai Food Festival kennzeichnet sich durch ein vielfältiges Angebot verschiedener kulinarischen internationalen Speisen. So wurde beim diesjährigen Long Table Event beispielsweise gebratene Aubergine auf Kichererbsen und Granatapfel getoppt mit einem erfrischenden Feta-Joghurt Dressing als Vorspeise, serviert. Besonders begeistert hat mich aber das zarte Lachsfilet mit Zataar Aioli auf grünem und weißen Spargel, welches ich demnächts versuchen werde für euch nachzukochen! Also seid gespannt! Auch die Hauptspeisen konnten überzeugen: Spanische Slow-Cooked Lammschulter mit Gemüse sowie orientalischem Reis mit gegrilltem traditionellem Shish Taouk (Hühnchen Kebab Spieße), gefüllte Weinblätter & Mashed Potato. Yum!
Dubai Food Festival
only citywide food festival in Middle East
held every year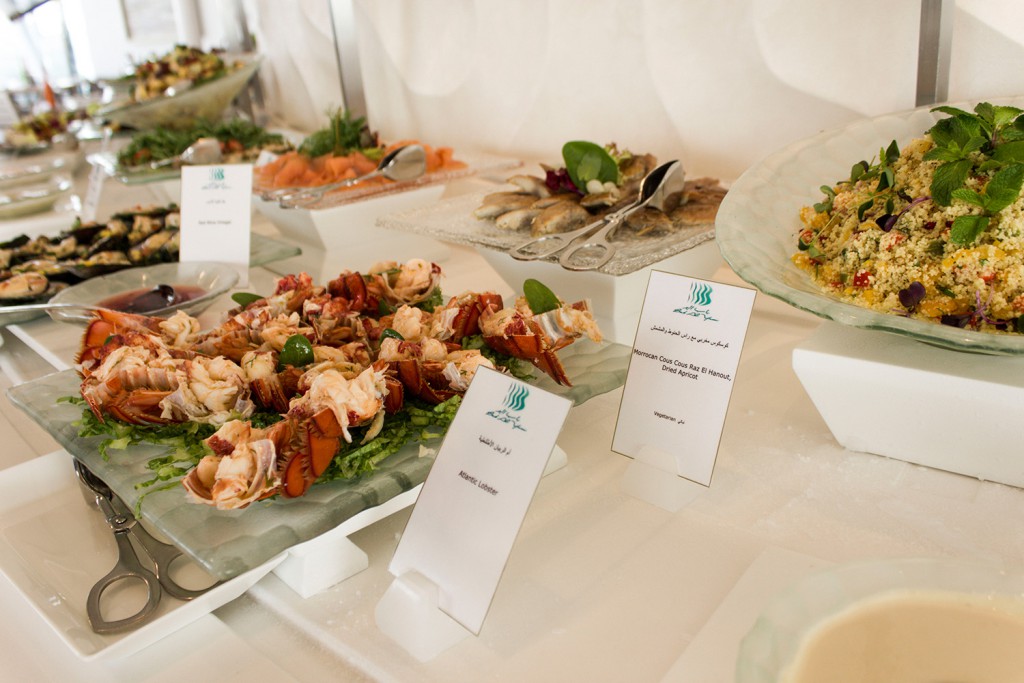 Bab Al Yam: Das Bab Al Yam, welches sich im Burj Al Arab befindet, bietet ein unglaublich vielfältiges Brunchangebot an. Das Buffet hat dabei eine enorm große Auswahl an internationaler Küche: von frischen Meeresfrüchten, verschiedenem Gemüse und Fleisch über frisch zubereiteter Pasta, selbst gebackenem Brot bis hin zu einer Vielzahl an süßem Gebäck und Kuchen, frischen Beeren und hausgemachtem Eis! Auch die frisch zubereiteten Smoothies, Detox-Säfte & non-alkoholischen Cocktails haben mich umgehauen!
Bab Al Yam, Burj Al Arab 
Jumeirah Beach Road – Um Suqeim
393080 DUBAI, UAE
Open all day from 7:00 to 11:30pm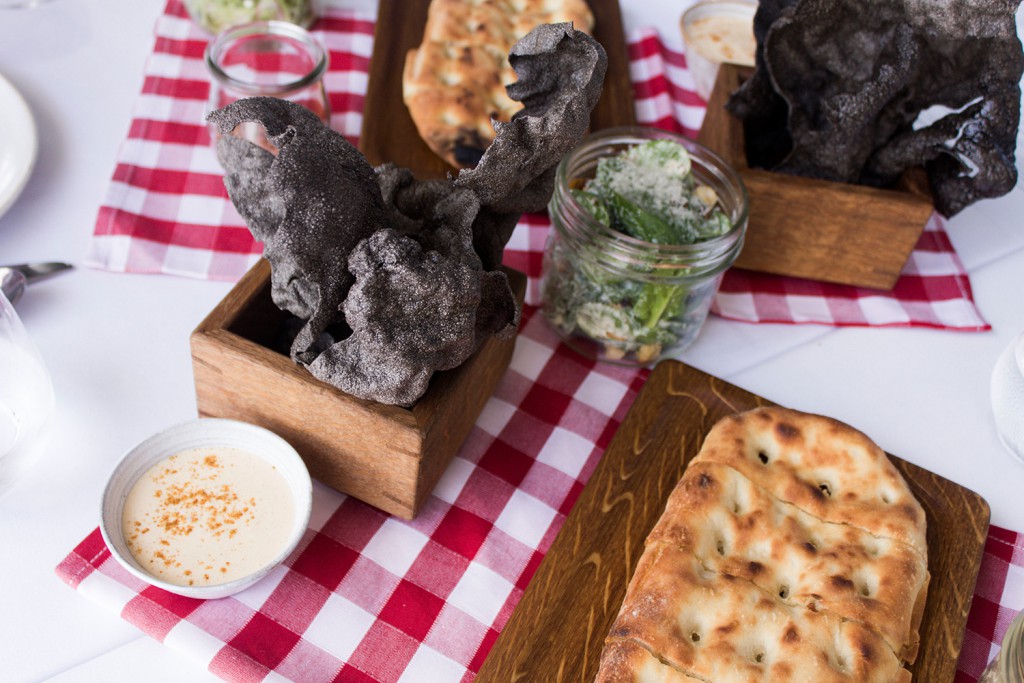 Marina Social: Bei einem Dubai Aufenthalt ist das Brunchen im Marina Social im Intercontinental Hotel definitiv ein Muss. Bei der atemberaubenden Aussicht auf Dubai, dem hippen Personal und dem modern eingerichteten Restaurant schmeckt das Britisch-Mediterran inspirierte Menü umso besser. Die Vorspeisen werden in kleinen süßen Weckgläsern à la Tapas-Style serviert. Wirklich empfehlenswert ist dabei das Beef Tartar auf eingelegtem Rotkohl sowie der frische & leichte Zuckerschoten Salat mit persischem Feta, Minze und Rettich. Auch toll, die Hauptspeisen: Shepherd´s Pie mit Lamm sowie die Pappardelle mit Taschenkrebs, Ricotta und Rucola.
Marina Social, InterContinental Dubai Marina
MARINA SOCIAL Bay Central Dubai Marina Al Sufouh Road
393080 DUBAI, UAE
Open Daily from 7pm to midnight
Brunch on Friday and Saturday from 12:30 – 3:30pm
Pacha Dubai: Das berühmte Pacha macht seinen Namen wirklich alle Ehre. Es handelt sich dabei nicht nur um einen Nachtclub, sondern ebenfalls um ein Restaurant, bei der man akrobatische Showeinlagen bestaunen kann. Die Showeinlagen werden von internationalen Akrobaten durchgeführt und das ständig wechselnde Programm lässt es den Besuchern nie langweilig werden. Das Restaurant überzeugt mit asiatisch inspirierter Küche, meine Empfehlung: der frische vietnamesische Mangosalat, dieser kann sich dabei wirklich blicken lassen und schmeckt wie bei Mutti Zuhause! Auch sehr lecker war das Wagyu Steak mit Austernsoße auf knackigen Zuckererbsen.
Pacha Ibiza Dubai
Al Sufouh 1, Souk Madinat Jumeirah
393080 DUBAI, UAE
Dinner Show Tue-Sat 8pm to 11pm
Nightclub Tue-Sun 10pm to 3am
Rooftop Tue-Sun 8pm to 3am
Frioul: Frioul ist ein gemütliches französisch angehauchtes Restaurant im Viertel Madinath Jumeirah, dass mit seinem leckeren Speisen sowie der Location eindeutig punkten kann. Besonders schmackhaft waren die kleinen Kaviar-Häppchen sowie der knusprig dünne Flammkuchen mit Trüffel. Mein Tipp an euch: Abends ist es hier besonders schön! Von hier hat man nämlich direkten Blick auf das Burj Al Arab. Funkelnde Lichter und Reflexionen des Wasser machen die Stimmung besonders romantisch.
Frioul Restaurant
Madinath Jumeirah, Souk Madinat
393080 DUBAI, UAE
Mon-Wed & Sat-Sun from 8am to 1am
Thu-Fri from 8am to 3am
L´Olivo Ristorante: Das L´Olivo Ristorante im Rixos The Palm, bietet bei einem ruhigen & gemütlichem Ambiente authentisch italienische Speisen an. Am letzten Abend meines Aufenthaltes hatte ich die Ehre ein 7-Gänge Menü zu kosten! Mein Fazit: die Topinambur Suppe war eine wahrliche Geschmacksexplosion. Sehr schmackhaft aber dennoch leicht. Auch das Risotto mit frischem Trüffel sowie das Wagyu Steak mit Gravy Soße konnten mich überzeugen. Hier wird eindeutig mit frischen Zutaten und ganz wichtig aber mit ganz viel Liebe gekocht.
L´Olivo Ristorante, Rixos the Palm Dubai
Palm Jumeirah
393080 DUBAI, UAE
Open Daily from 7pm to 11pm
Photo: I heart Alice / Yvi Huynh
This article is also available in Englisch