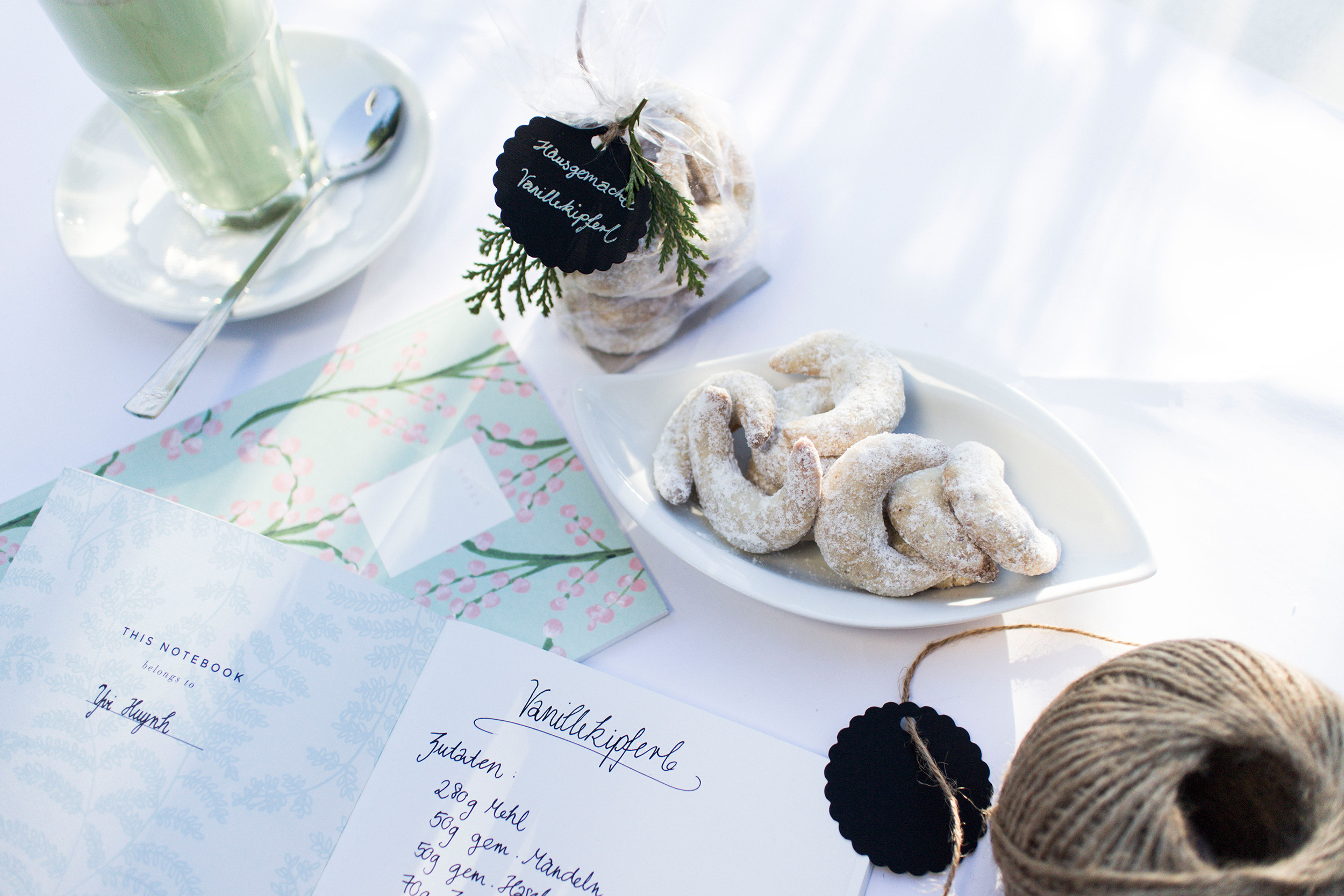 In der Weihnachtsbäckerei Teil 2…
Zwar ist die Weihnachtszeit im vollen Gange, aber von Plätzchen kann man ja bekanntlich nie genug bekommen. Vielleicht sind einige von euch, wie ich, heuer wiedermal relativ spät dran und backen ihre Plätzchen direkt um oder sogar nach Weihnachten. Für die Leute, denen es genau so ergeht wie mir, hier ein Last-Minute Vanillekipferl Rezept. Es handelt sich dabei um zarte Vanillekipferl. Ich finde diese kleinen Vanillekipferl schmecken sehr gut in Kombination mit einem warmen Soja-Matcha-Latte. Die Vanillekipferl machen auch als kleine Geschenke was her. Mein kleiner Tipp für die Verpackung der Plätzchen: Selbstgeschriebenes Etikett, ein Tannenzweig, Kordel und eine durchsichtige Plätzchentüte.
Für meine Rezeptsammlung verwende ich zudem die Notizbücher von The Aivy League, die mir vor allem durch ihre floralen Muster gefallen. Wusstet ihr, dass Aivy von The Aivy League ihre Muster selbst per Hand kreiert? Hier findet ihr ihren Online Shop.
Vanillekipferl Rezept

Zutaten (für ca. 60 Stück)
– 280 g Mehl
– 50 g gemahlene Mandeln
– 50 g gemahlene Haselnüsse
– 70 g Zucker
– 4-5 Pck. Vanillinzucker
– 1 Pck. Bourbon Vanillezucker
– 1/2 TL getrock. Vanillemark
– 1 Prise Salz
– 2 Eigelb
– 200 g Butter
– ca. 80 g Puderzucker
Zubereitung
Für die Vanillekipferl Mehl, Mandeln, Haselnüsse sowie Zucker, ein Päckchen Bourbon Vanillezucker, getrocknete Vanillemark und die Prise Salz in einer großen Schüssel vermengen. Nun die Eigelbe hinzufügen und mit den Händen verkneten. Nach und nach Butterwürfel beifügen. Die Masse wird nun so lange mit den Händen verknetet bis ein glatter Teig entsteht. Ich empfehle euch wirklich den Teig entweder in einer großen Schüssel oder auf einer sauberen Arbeitsfläche zu verkneten. Den Teig in Frischhaltefolie packen und für eine Stunde in den Kühlschrank geben. In der Zwischenzeit mischt ihr Puderzucker und 4-5 Packungen Vanillinzucker (Ich verwende 4 Packungen) in einem tiefen Teller.
Nach einer Stunde Wartezeit geht es los ans Formen. Dafür formt ihr immer gleichmäßig kleine Kugeln, die ihr dann mit euren Handflächen zu Würsten rollt. Achtet darauf, dass Anfang und Ende spitz rollt. So bekommt ihr die typischen Vanillekipferl Form hin. Die Vanillekipferl auf ein mit Backpapier ausgelegtes Backblech legen und bei vorgeheizten Ofen bei 200 Grad ca. 7-8 Minuten backen. Die äußeren Spitzen sollten dabei eine leicht goldbraune Färbung annehmen. Das Blech herausnehmen und die heißen Vanillekipferl kurz abkühlen lassen. Dann in der Zuckermischung wenden und auf ein Kuchengitter weiter auskühlen lassen. Bitte lasst die frisch aus den Ofen kommenden Vanillekipferl kurz abkühlen bevor ihr sie im Zucker wendet, da sie sonst super leicht zerbrechen können. Das nächste Blech Vanillekipferl in den Ofen schieben und so weiter verkehren bis der ganze Teig aufgebraucht ist.
In einer luftdichten Plätzchendose sind diese köstlichen Kipferl ca. 4 Wochen haltbar, wenn sie überhaupt solange überleben.
Viel Spaß beim Backen dieses Vanillekipferl Rezept! Ich wünsche euch  noch Frohe Weihnachten und eine schöne Zeit mit euren Liebsten.
Eure Yvi <3
P.S.: Schaut doch auch mal bei meinen anderen Rezepten vorbei.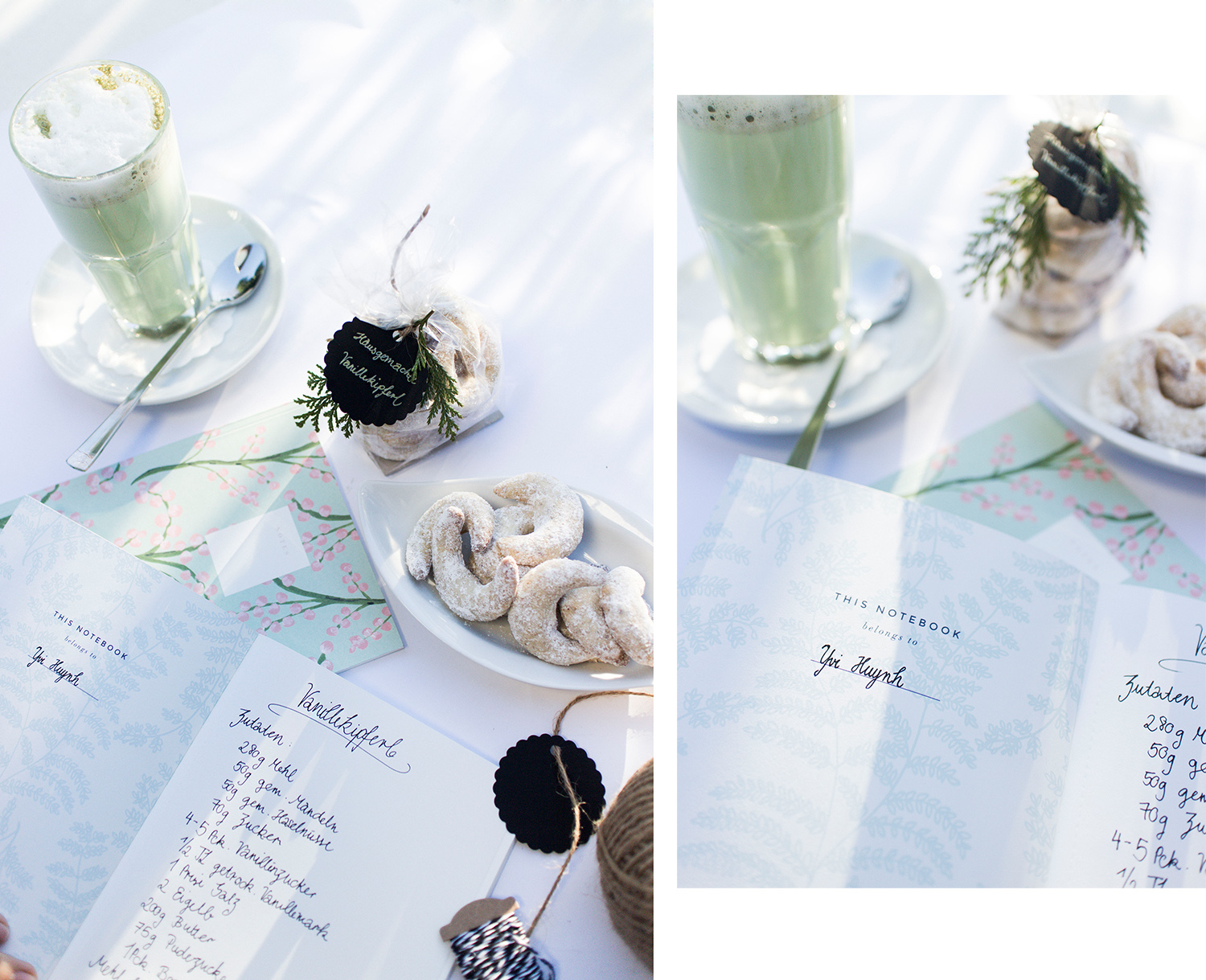 Photo: I heart Alice