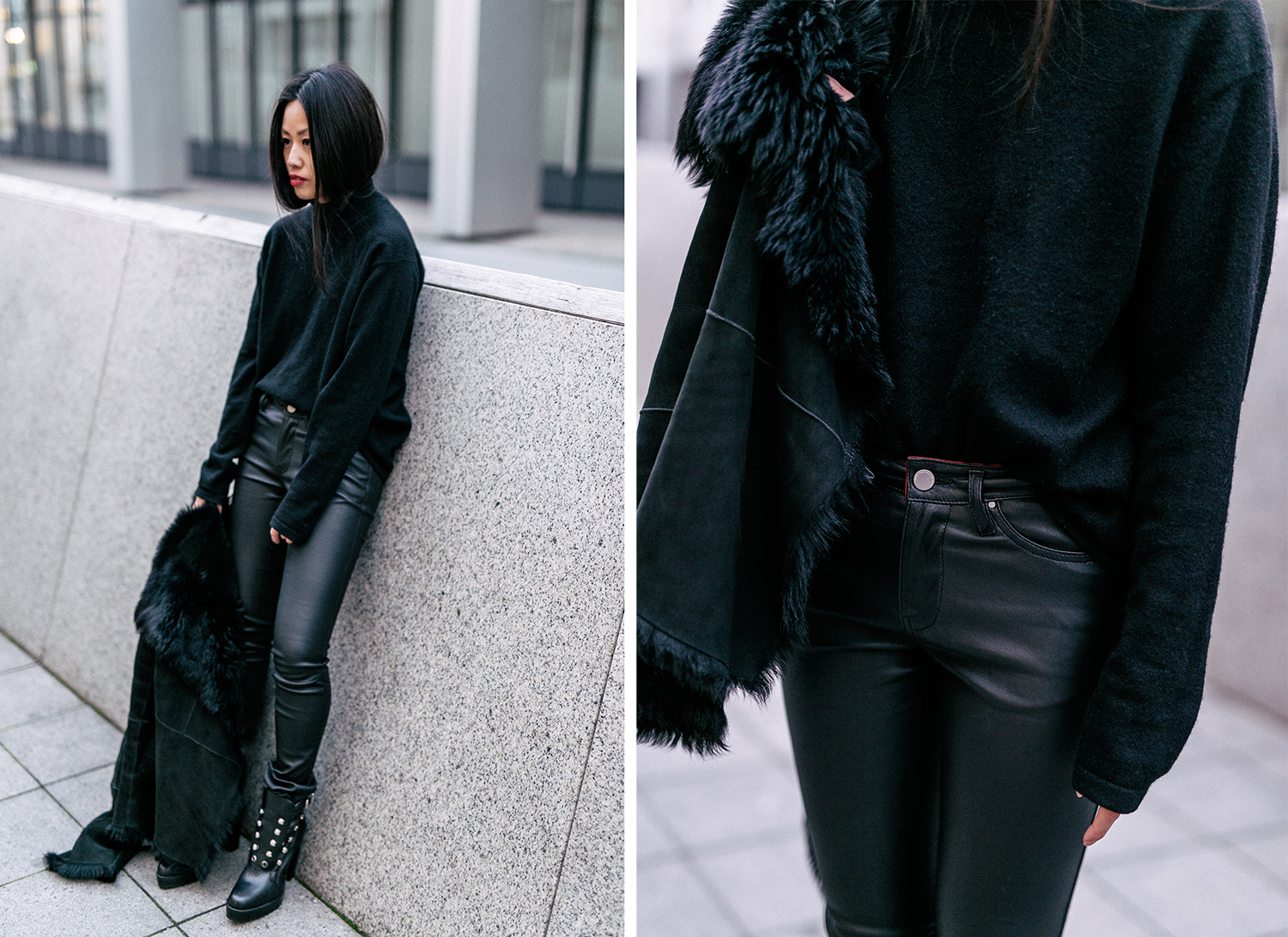 Die Suche nach der perfekten Lederhose hat ein Ende! Dank Diesel habe ich mir einen wirklich langen Shopping-Wunsch erfüllen können. Diese Diesel Leather Trousers ist aus 100 % butterweichem Leder und sitzt wie eine zweite Haut, die Verarbeitung ist großartig, genau wie das Leder selber.
Dazu kontrastiere ich mit meinem schwarzen Kaschmir Pullover, der bei kalten Tagen für den richtigen Kuscheleffekt sorgt. Für das gewisse Etwas sorgen die Creep-Deep Zana Boots, ebenfalls von Diesel, die durch ihre silbernen Details an den Boots, das all-black-everything Look auflockern. Um auch noch bei wirklich winterlichen Temperaturen nicht vollkommen auf sich alleine gestellt zu sein, trage ich die schwarze Kuscheljacke von Marc Cain (von der lieben Sara Bow ausgeliehen).
Turtleneck: Vintage
Leather Trousers: Diesel*
Coat: Marc Cain
Boots: Diesel*
Packt euch also warm ein, genießt die Feiertage und wir sehen uns mit tollen neuen Outfits im neuen Jahr wieder! Bis dahin seid gespannt auf mein Jahresrückblick von 2015! Love, Alice.
English: You can not imagine how long I have been looking for the perfect leather trousers – but now, here it is. Thanks Diesel's great new collection, my search is finally over. Say 'Hello' to my new leather trousers by Diesel. It has the perfect fit, just like a second skin as well as the smoothest leather ever. Wearing it makes me feel like a real rockstar and the craftmanship is perfect – just how I like it! I like material mixes – as you might know – so I thought my cozy vintage cashmere turtleneck and Sara Bow's fluffy coat makes this winter look perfect. To add some nice details, I am wearing the Creep-Deep Zana Boots from Diesel, since the silber studs and the smooth leather give this all-black-everything the perfect something. Now please enjoy the rest of your day and see you (with some new outfits) next year! Love, Alice.

Diesel Leather Trousers
Photo: Marina Scholze
*Samples or Gift
*The opinions expressed here represent my own