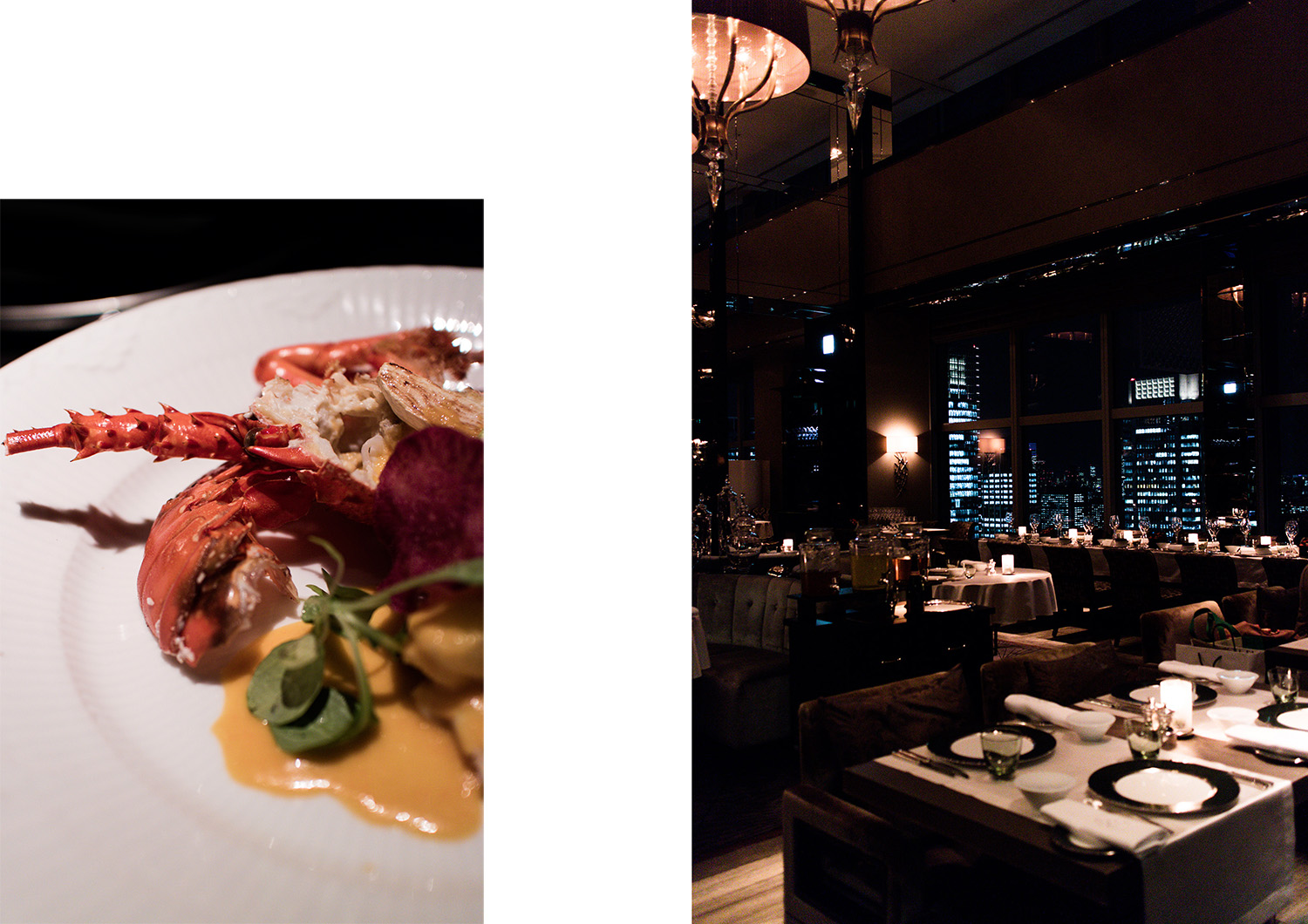 Nachdem ich euch schon das Travel & Eat vorgestellt habe, komme ich diesmal zu einem weiteren Travel & Eat! Das Nadanman im Shangri-La Tokyo* gehört wohl zu den besten Restaurants, wenn es um Fine-Dining und traditionelle japanische Küche geht. Dieses befindet sich im 29. Stock des 5-Sterne Hotels und bietet nicht nur ein schickes Ambiente und klasse Service, sondern auch einen prächtigen Blick über Tokyo an.
Die Reinheit im Geschmack, welche vor allem die Wurzeln in der traditionellen japanischen Küche wiederfindet, mit einem Hauch an moderner Küche wird hier im Nadaman perfektioniert. In der eleganten Atmosphäre des Restaurants bietet Nadaman's Chef Takehiko Yoshida neben Sushi und Teppanyaki aber auch Kaiseki (leichtes Menü im japanischen Stil) und private Dining Rooms an.
"Respecting tradition while highlighting the flavour of each individual ingredient
creates a cuisine that respects the past and looks to the future." – Nadaman's Chef Yoshida
Seit 1990 bereichert Chefkoch Takehiko Yoshida das Nadaman Restaurant im Shangri-La und verzaubert die Gäste vor allem mit einem unglaublichen reinen Geschmack der japanischen Küche. Sein Ziel: die Weiterentwicklung der japanischen Küche, mit persönlichen Erfahrungen und Geschmäckern aus aller Welt ohne die traditionellen Werte der japanischen Kochkünste aus den Augen zu verlieren.
Nadaman im Shangri-La Tokyo
Marunouchi Trust Tower Main
1-8-3 Marunouchi Chiyoda-ku
Tokyo, 100-8283, Japan
+81 3 6739 7888
Lunch / Mo-So: 11:30-14h
Dinner / Mo-Sa: 17:30-21:30h & So: 17:30-21h
Dress Code: Smart Casual
Preis: $$$
Aus meiner persönlichen Erfahrung kann ich sagen, dass das Nadaman im Shangri-La Tokyo, wohl eines der besten Essen servierte, die mein Gaumen je probieren durfte. Angefangen beim Wagyu Beef, bis hinzu den frischen Meeresfrüchten sowie die preziöse Auswahl der einzelnen Geschmäcker und Zutaten in den Gerichten. Die Ausführung der einzelnen Speisen ist sehr simpel gehalten ohne viel Schnickschnack und Dekoration. Umso größer ist der Genuss, den der Gaumen erleben darf.
Als Erstes wurde der Krabbenfleisch- und Tomatensalat bestellt und dieser zerging wahrlich auf der Zunge, denn das Krabbenfleisch erklang mit der Süße der frischen japanischen Tomaten wie eine Symphonie auf der Zunge. Auch der roh-marinierte Schleimkopffisch, Glasshrimp mit Kaviar war ein wahrer Genuss – hier schmeckt man das Meer auf der Zunge und vor allem die Frische der Meeresfrüchte und -tiere ist hervorragend.
Bei der Hauptspeise punktete das Nadaman im Shangri-La Tokyo mit einer hervorragenden Auswahl an verschiedenen Fleisch- sowie Fischsorten – somit ist für jeden etwas dabei. Egal ob zartes Wagyu Beef, Rip-eye oder die Abalone, jedes dieser Gerichte war wie schon am Anfang erwähnt, einfach in der Ausführung, aber spannend und prickelnd im Geschmack.
Für alle Meeresfrüchte-Liebhaber kann ich vor allem die japanische Abalone empfehlen. Die Abalone, auch als Seeohren bekannt, ist eine Muschel die vor allem in Japan roh, als auch gekocht sehr begehrt ist. Eine ganze Abalone, die nur einen Durchmesser von ca 4-5cm misst, ist teurer als ein ganzer Hummer. Wir bestellten uns die Abalone im Teppanyaki Style (auf einer heißen Platte angebraten) und wurden definitiv nicht enttäuscht: das Muskelfleisch dieses Meerestieres ist sehr bissfest, aber zart zugleich und der Geschmack erblühte vor allem in der dunklen Sojasoße – ein Traum!
Als nichtalkolisches Getränk empfehle ich euch den Honey Citron (Yuzu) Eistee für 1100 ¥ (ca. 8 €) und den Hauswein (Weißwein) zum Fisch/Hummer. Das Menü wechselt saisonal und die Preise variieren von 1200 ¥ (ca. 9 €) für eine Vorspeise und ab 2500 ¥ (ca. 20 €) für eine Hauptspeise.
Alice hearts:
Vorspeise: Krabbenfleisch & Tomatensalat; Marinierter Schleimkopffisch, Glassshrimp & Kaviar
Hauptspeise: japanische Abalone oder Hummer (Teppanyaki); Wagyu Beef Steak
Nachspeise: Mangopudding; frische saisonale Fruchtplatte
+ Ambiente
+ Service
+ Qualität der Speisen
+Weinkarte
+ Zeitmanagement
Falls ihr also Hunger bekommen habt, könnt ihr hier schon einmal vorab im Menü des Nadaman im Shangri-La Tokyo schnuppern und online reservieren. Folgt mir gerne weiterhin auf Instagram und Co. um meine kulinarischen Abenteuer aus Fernost mitzuerleben! Hier findet ihr alle Travel & Eat Beiträge. Stay hungry! Love, Alice.
Nadaman im Shangri-La Tokyo
Photo: I heart Alice
*Thank you Shangri-La Tokyo for this unforgettable dinner!
*The opinions expressed here represent my own