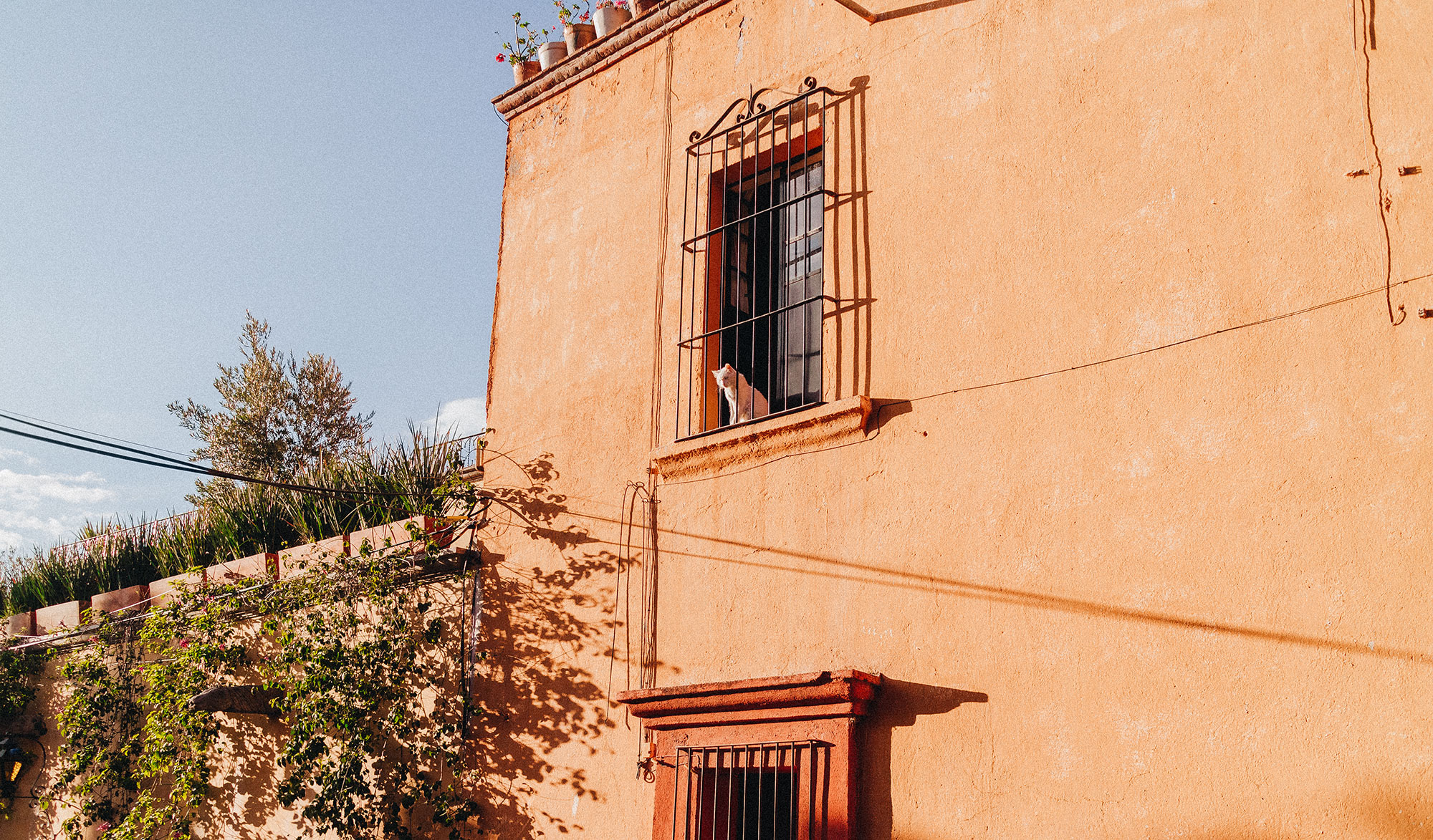 ---
Es ist kein Wunder, dass San Miguel de Allende zu einen der schönsten Städte der Welt von CN Traveler gewählt worden ist. Denn wenn man selber durch die engen mit Pflastersteinen bedeckten Gassen und leuchtend bunten Häusern entlang läuft, könnte man meinen, dass San Miguel de Allende aus einer Filmkulisse entsprungen ist.
Die Sonne steht im Winter tief am Himmel und erzeugt dadurch lange und gestreckte Schatten. Die Bäume, Blumentöpfe und Ranken werfen ein großes schwarzes Mosaik auf die warmen Farben der nicht allzu hohen Gebäude. Mal begegnet man einigen Einheimischen, die ihre Einkäufe vom Markt die gemäßigten Hügel hinauftragen, ansonsten hört man nur das Klappern von Blech eines alten Pick-up-Trucks und dessen Motor um die Ecke verschwinden. Eine weiße Katze beobachtet mich von ihrer Fensterbank aus, während ich ein Foto von der detailreichen Türklopfer mache, die eine elegante Hand formt und die simple Holztür den gewissen Charme gibt.
Nachdem ich durch die verwinkelten Gassen schlendere, komme ich letztendlich am großen Marktplatz an, wo sich Einheimische als auch Touristen tummeln. Unter dem bröckeligen Bogen eines Gebäudes sehe ich einen großen Blumenstand. Hinter den bunten Blumen in den unterschiedlichsten Größen sitzt eine ältere Dame, die ganz geschäftig die Blumen vorsichtig köpft, um aus ihnen bunte Kränze zu flechten. Die Bänder, die die Kränze zusammenhalten, tanzen ganz langsam im Wind während mehrere Blütenblätter einige Meter weitergetragen werden.
Ich könnte einfach nur stehen bleiben und an jeder Ecke ein Foto machen, doch den Charme und die liebliche Schönheit dieser Stadt kann ich wohl nicht wirklich genauso einfangen. Und solch eine Schönheit muss man einfach mit eigenen Augen erlebt haben. Ich hänge mir also meine Kamera wieder um den Hals und genieße den Spaziergang durch die Stadt, lasse mich einfach wie die Blütenblätter selber, vom Wind und der Magie dieser Stadt treiben.
---
On The Streets Of… San Miguel de Allende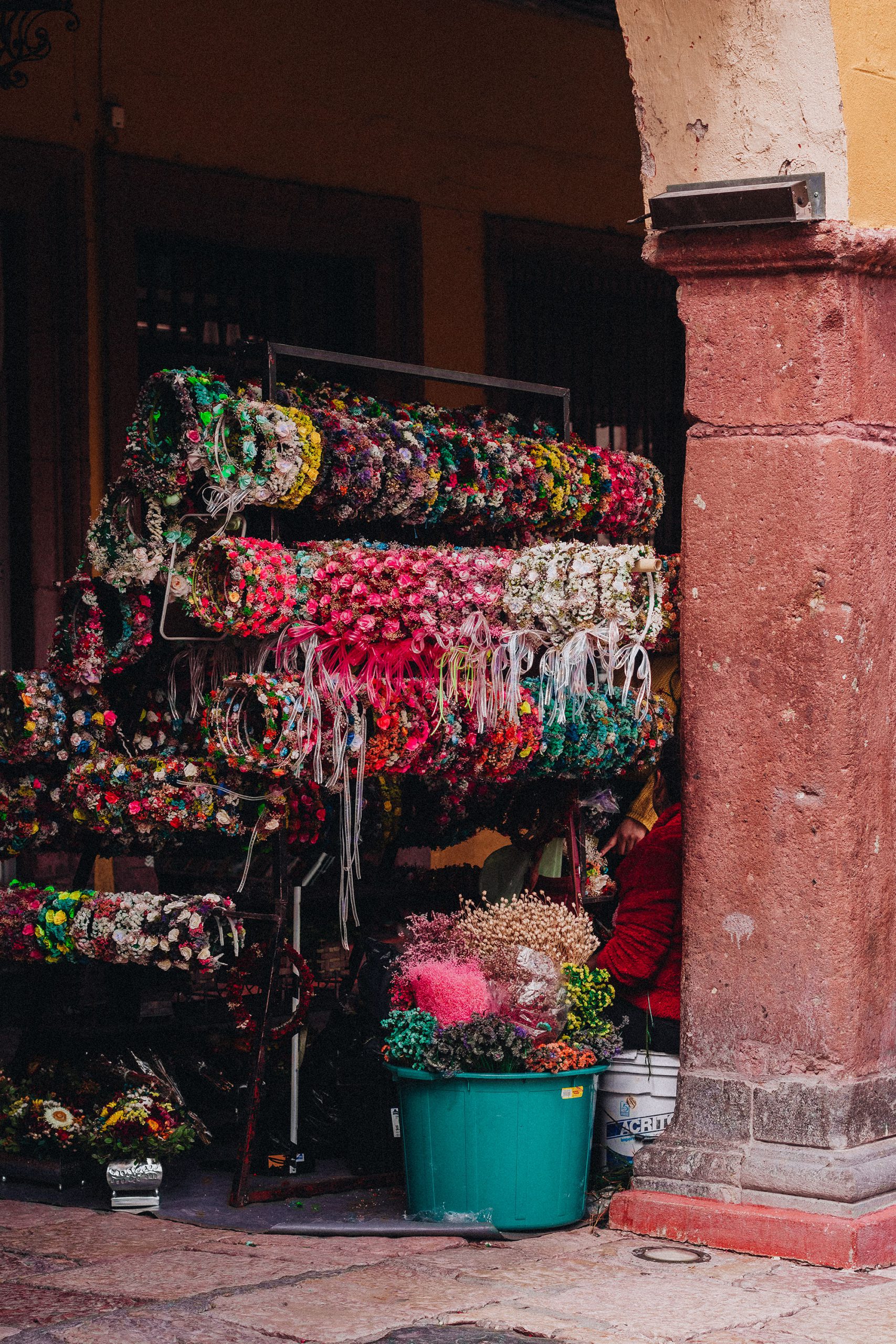 ---
More Travel Guides & Diaries
from Guanajuato, México
---
Photo / Alice M. Huynh
*This trip was made possible thanks to Guanajuato Tourismboard.
*The opinions expressed here represent, as always, my own.