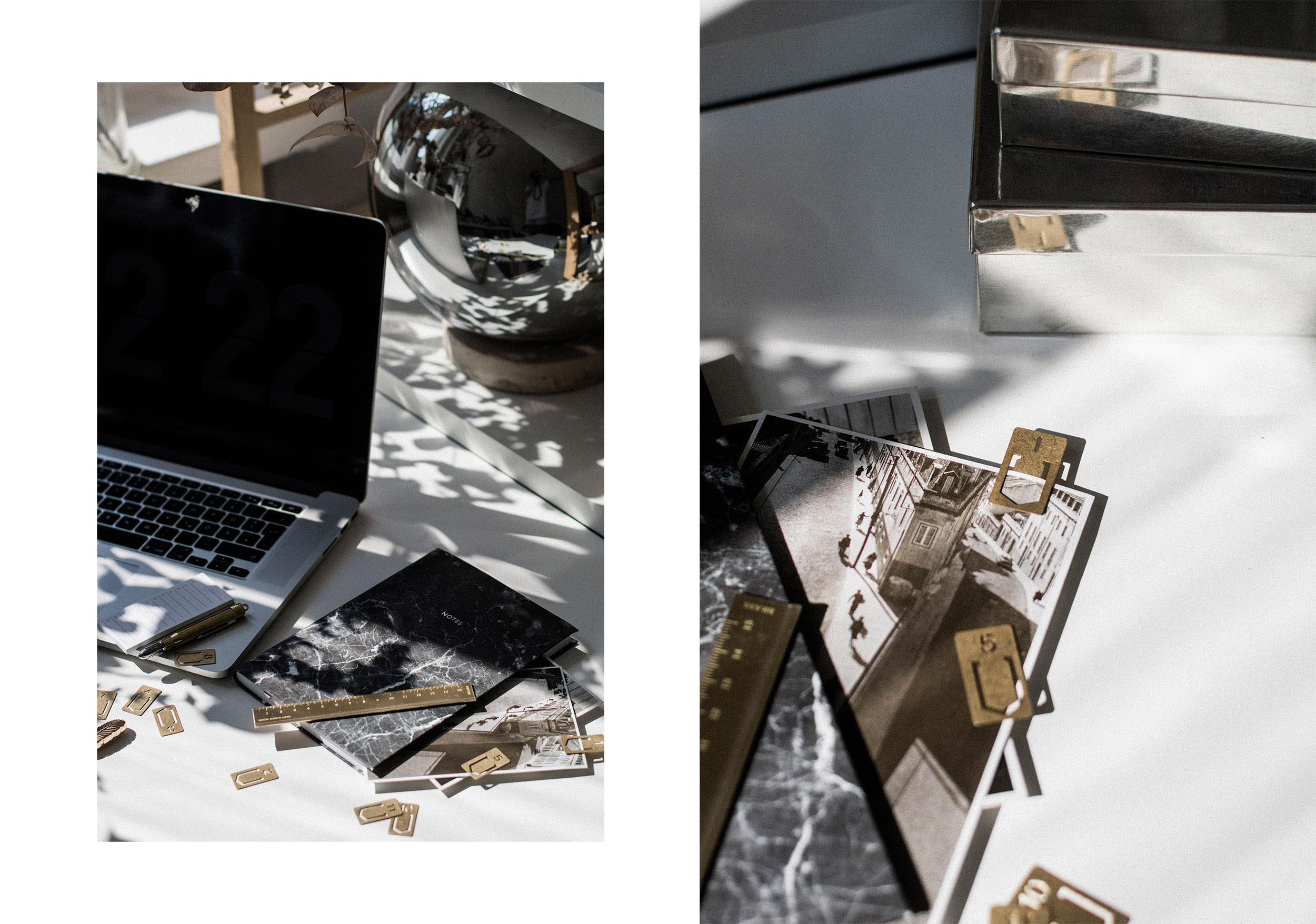 Auch wenn ich trotzdem schon die Schule bzw. die Uni abgeschlossen habe (hier ein Einblick in meine Bachelor Kollektion), freue ich mich immer wieder, wenn die Zeit so weit ist. Für einen Stationary Liebhaber wie mich kann es nie genug neue Stifte, Notizblöcke und Co geben. Zusammen mit Urban Outfitters habe ich also euch eine Auswahl aus dem Online-Shop für eine neue Homestory gestylt.
Der Minimalist Workspace / Back to School Look ist vor allem sehr clean gehalten. Viel Weiß, mit kleinen Akzenten, wie der großen silbernen Lampe oder den goldenen Clips aus Messing sowie den passenden Stift und Lineal von Midori.
Minimalist Workspace
---
Back to School
Ein organisierter Arbeitsplatz ist wie immer produktiver, und wenn man hier eine gewisse Ordnung gefunden hat, kommen die Ideen auch viel schneller und To-Do Listen werden immer kleiner. Mein persönlicher Favorit sind vor allem die goldenen Stationary Goodies von Midori, sowie der Globus aus Kork via Urban Outfitters. Wie ihr wisst, bin ich ein kleiner Globetrotter, dennoch fehlen mir einige Länder und Städte noch auf meiner Liste der Must-Sees! Um auch produktiver vorranzukommen, habe ich mein Ziel gerne vor mir, da hilft der Globus natürlich ungemein!
Big Silver Light: Urban Outfitters*
Kork Globe: Suck UK*
Picture Frame: Ikea
Shelf: Regalraum
Marble Notebook: Urban Outfitters*
Imposters Handbook: Urban Outfitters*
Messing Pen / Clips / Ruler: Midori*
Ein kleiner Buchtipp noch von mir: "The Imposter's Handbook: The Rules of Success for Those of Us Who Have No Idea How to Play The Game" ist ein ganz unterhaltsames Buch mit nützlichen Tipps, was man z.B. auf einem Bewerbungsgespräch oder beim Projektvorstellungen punkten kann, ohne eigentlich eine Ahnung zu haben! 😉
Vielleicht konnte ich euch ein wenig für den ersten Schul-, Uni- oder Arbeitstag ja inspirieren und ich würde mich über ein Feedback von eurer Seite freuen! Love, Alice.
---
Photo: I heart Alice / Alice M. Huynh
*Samples or Gift
*The opinions expressed here represent, as always, my own