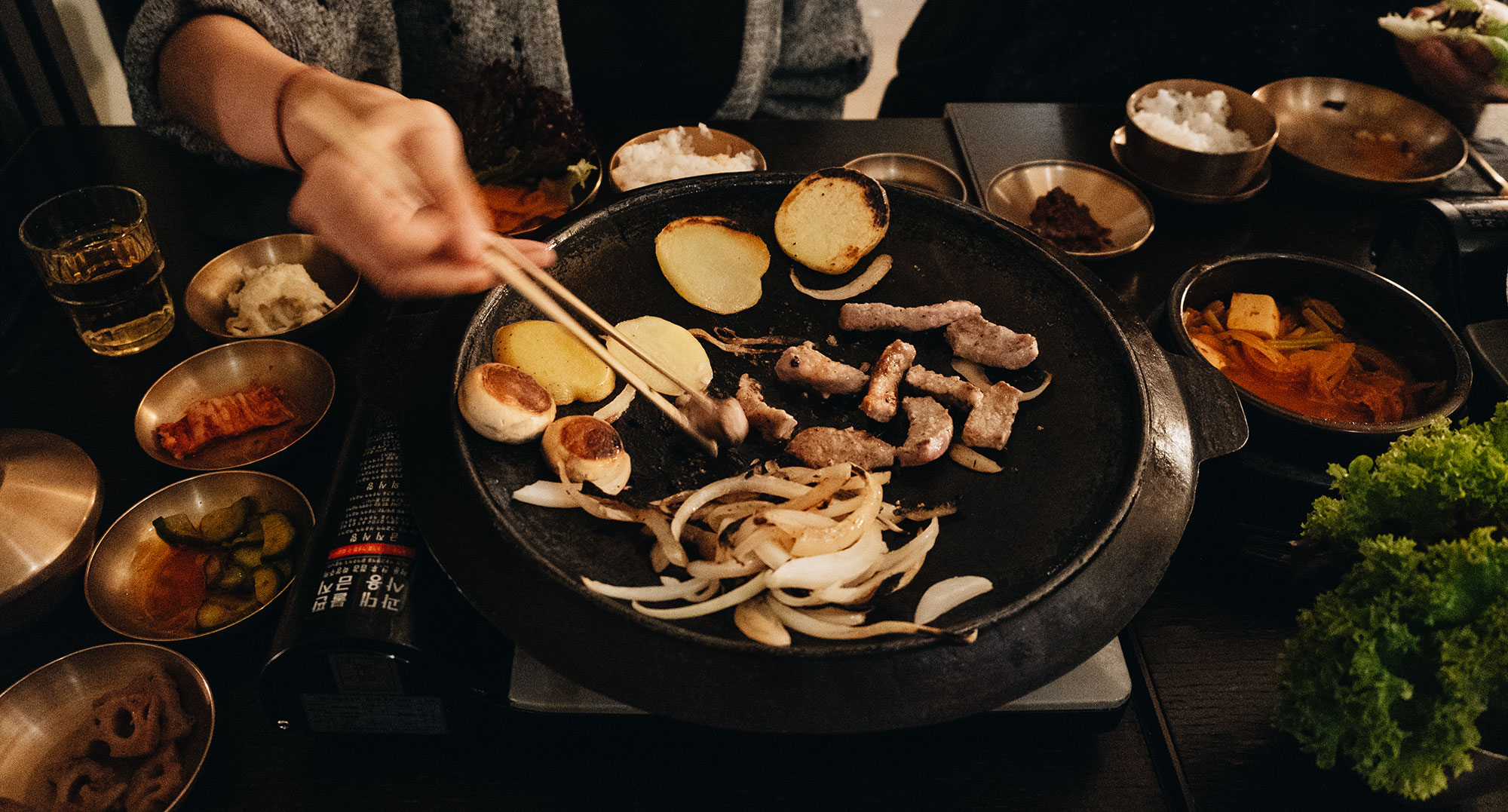 Mein all-time Favorite im Gokan: Hang-Jong-Sal BBQ (Ibérico Secreto Schweinefilet, leicht mariniert in Salz, Pfeffer, Sesam und Knoblauch)

---
Behold KBBQ Lovers! Wie ihr sicherlich schon auf Instagram gesehen habt, bin ich des Öfteren mal im Gokan und wenn ihr denkt, dass einmal die Woche KBBQ zu viel ist, dann seid ihr hier leider falsch (hihi)! Natürlich will ich euch diesen (noch) Geheimtipp in der Berliner Foodie Landschaft nicht zurückhalten, denn wenn es um gutes KBBQ geht, bin ich dann doch etwas picky.
Es gibt einige wunderbare Korean Barbecue Places in Berlin und in den letzten Jahren poppen diese ebenfalls vermehrt wie Pilze aus dem Boden heraus – zum Glück für KBBQ Lovers wie mich! Denn bei einem guten Stück Fleisch und dem heißen Gusseisenplatten als auch den verschiedensten Banchan (반찬), die unterschiedlichen Beilagen wie Kimchi, Lotuswurzeln etc. die es zum KBBQ gibt, kann ich einfach nicht Nein sagen. Und so schnell nach Korea komme ich in den nächsten Monaten leider auch nicht.
Das Gokan ist direkt in einer der Seitenstraßen an der Julius-Leber-Brücke eine halbe Weltreise für jemanden wie mich, die in Prenzlauer-Berg wohnt. Doch die Reise ist es wert – versprochen!
---
Gokan – My Favorite Korean BBQ in Berlin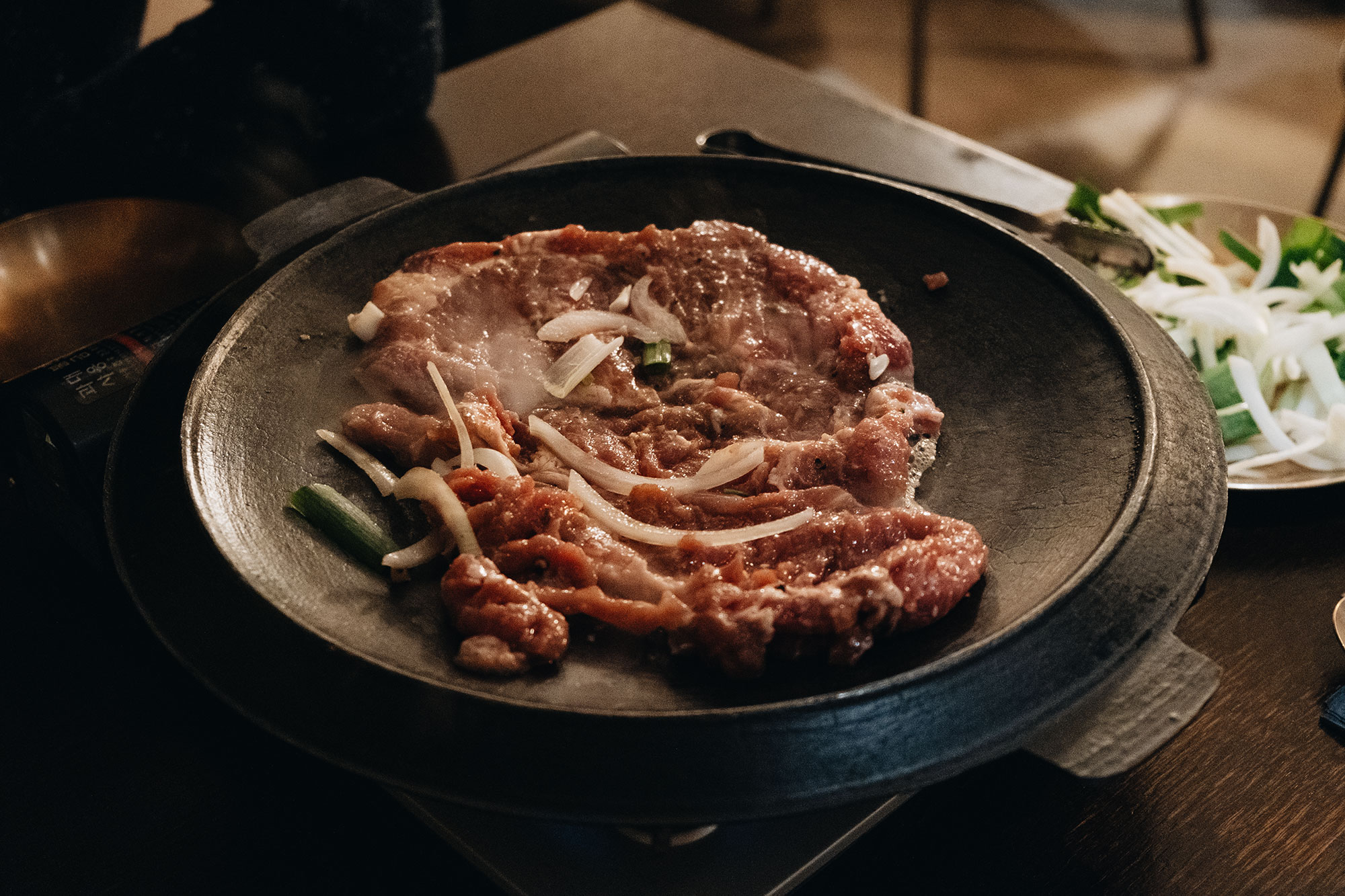 oben: Yuksu-Bulgogi BBQ (mariniertes Rindfleischscheiben in hausgemachter Anchovi-Gemüse-Brühe mit Lauchzwiebeln & Glasnudeln)

---
A well kept secret: The Ibérico Secreto at Gokan for KBBQ
Gokan
Leberstraße 9
10829 Berlin
/
Do-Di: 18-22 Uhr
(Mittwochs geschlossen)
$$$$
Wie ihr wisst, bin ich #1 Porkbelly Fan, doch auch wenn im Gokan es leider keinen Samgyeopsal (삼겹살 / Schweinebauch) gibt, habe ich mich dafür aber mächtig in das Hang-jong-sal (항정살) verliebt! Das zarte Schweinefilet, welches bei Gokan vom Ibérico Schwein kommt, ist einfach perfekt marmoriert und sorgt für die richtige Balance an Biss und Saftigkeit, dank dem Fett. Mehr als nur Salz und Pfeffer braucht das Filet auch nicht! Anfänger Tipp: Das Fleisch wird nach dem anbraten, in die rote Paste gedippt, kommt dann in das Salatblatt mit Kimchi, etwas Frühlingszwiebeln und je nach Gusto mit etwas Reis. Nun wird alles schön "zusammengeknüllt" und mit einem großen Happs verschlungen! Yum!
What else to eat & try at Gokan?!
Neben dem Hang-jong-sal liebe ich zudem das Jumullock (꽃갈비살), fein-geschnittene Rinder-Hochrippe, leicht mariniert in Salz, Pfeffer, Sesam und Knoblauch oder auch Yuksu-Bulgogi (육수 불고기), mariniertes Rindfleischscheiben in hausgemachter Anchovi-Gemüse-Brühe mit Lauchzwiebeln & Glasnudeln!
Und getreu nach dem Motto "the more, the merrier", empfehle ich euch noch die Kimchi-Jjigea (김치찌개 / scharfe Kimchi-Suppe), Dak Gangjeong (닭강정 / Fried Chicken in Süß-Scharfer Soße), Haemul-Pajeon (해물파전 / Meeresfrüchte Pfannkuchen) als auch zum krönenden Abschluss, welches nicht fehlen darf: Injeolmi-Bingsu (인절미 빙수)! Bingsu oder auch bekannt als Shaved Ice, ist in vielen anderen Ost-Asiatischen Ländern wie Japan, Taiwan oder China zu finden. Das Injeolmi-Bingsu wird aus geraspelten Milcheis hergestellt & mit Sojabohnenpulver und Krokant & ggf. Kondensmilch getoppt! Gokan bietet zudem noch zwei andere Sorten mit Matcha (grünem Tee) & Cold-Brew Coffee an.
Jal-meokgaetseubnida (잘 먹겠습니다 – Guten Appetit)! Love, Alice.

---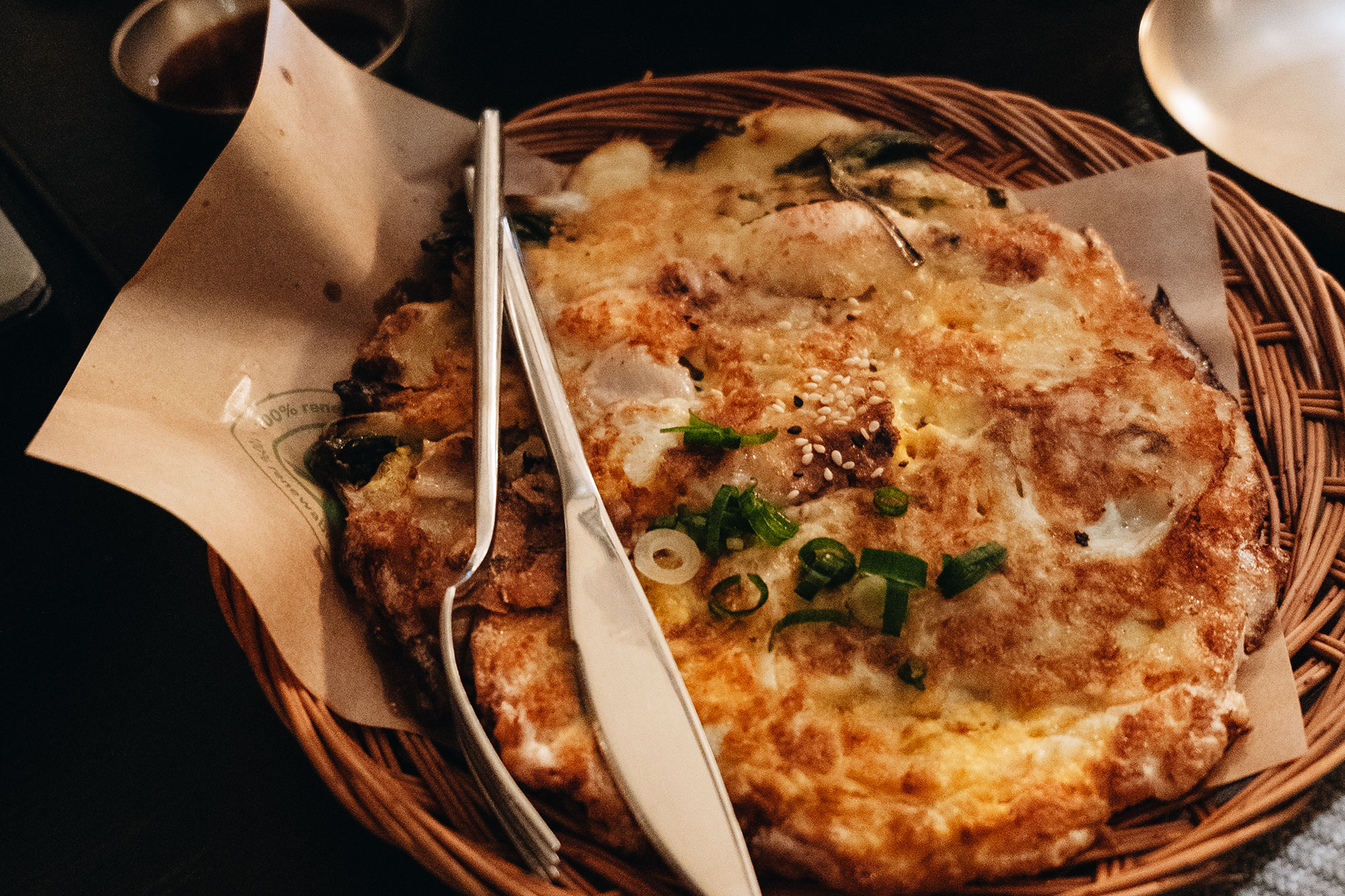 oben: Fluffy Meeresfrüchte Pajeon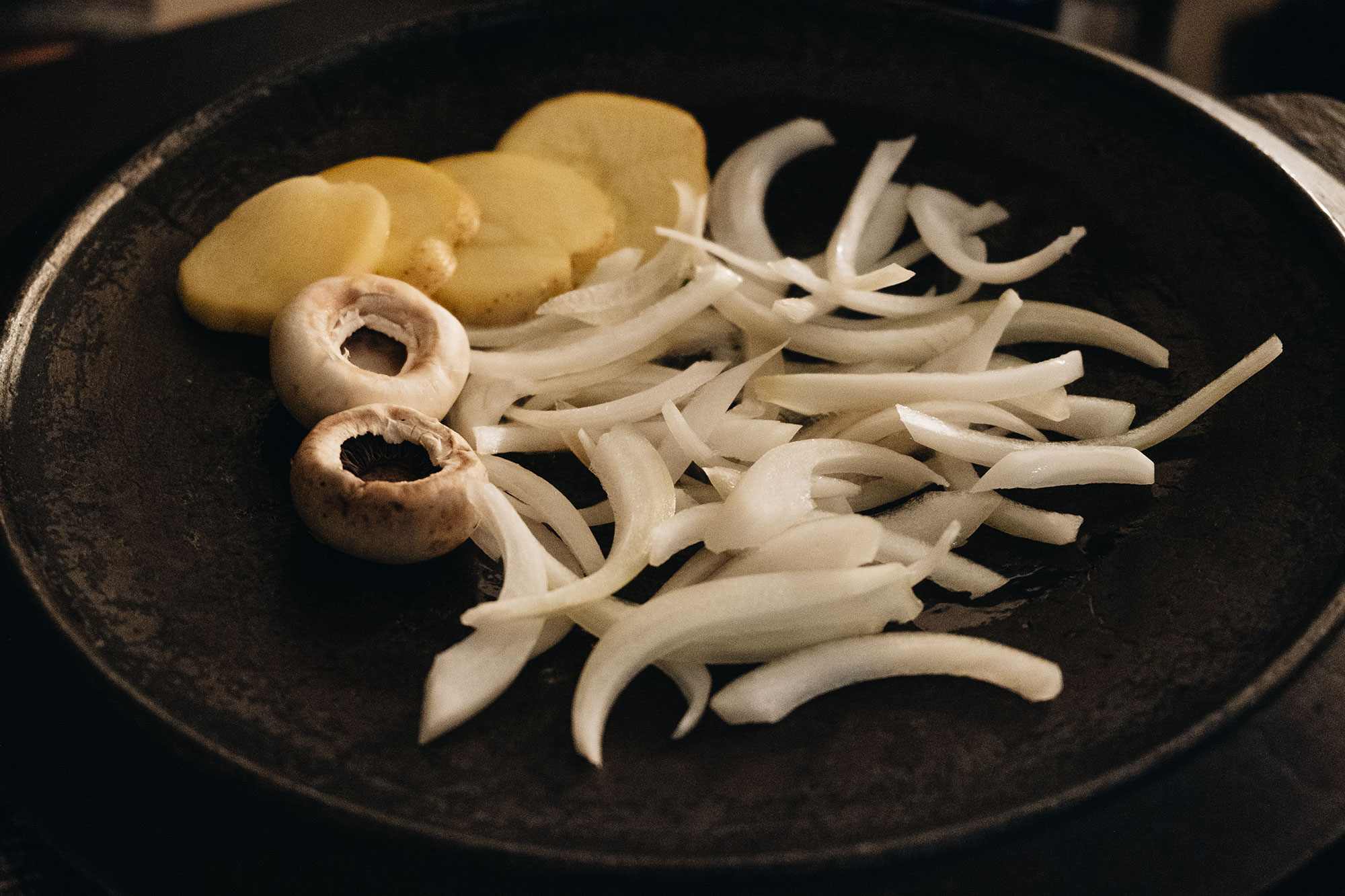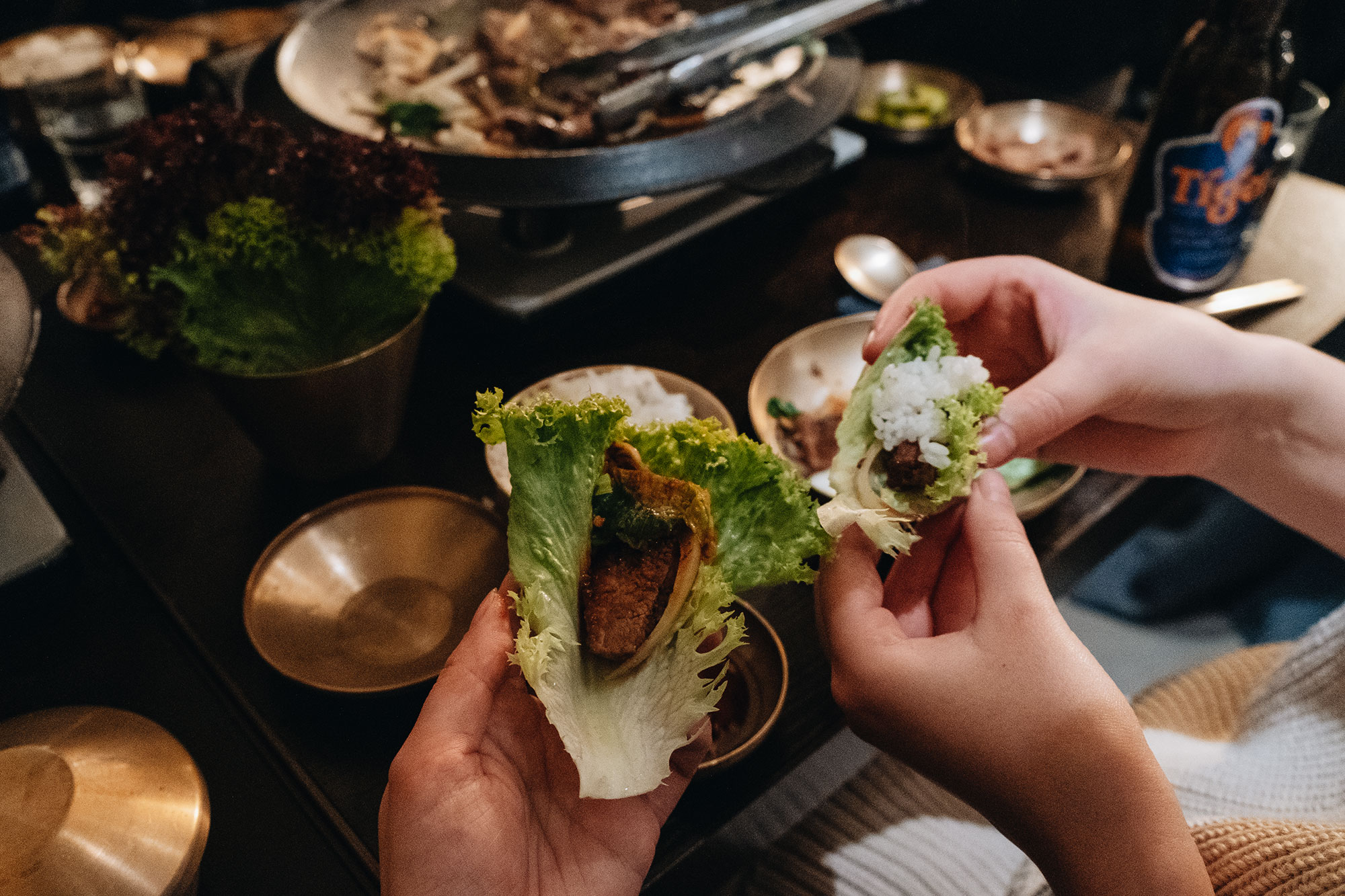 links: Dak Gangjong (닭강정 – Fried Chicken in Süß-Scharfer Soße) – rechts: Injeolmi-Bingsu (인절미 빙수 – Shaved Ice mit Sojanbohnenpulver & Krokrant)

---
Photo / Alice M. Huynh
*The opinions expressed here represent, as always, my own.