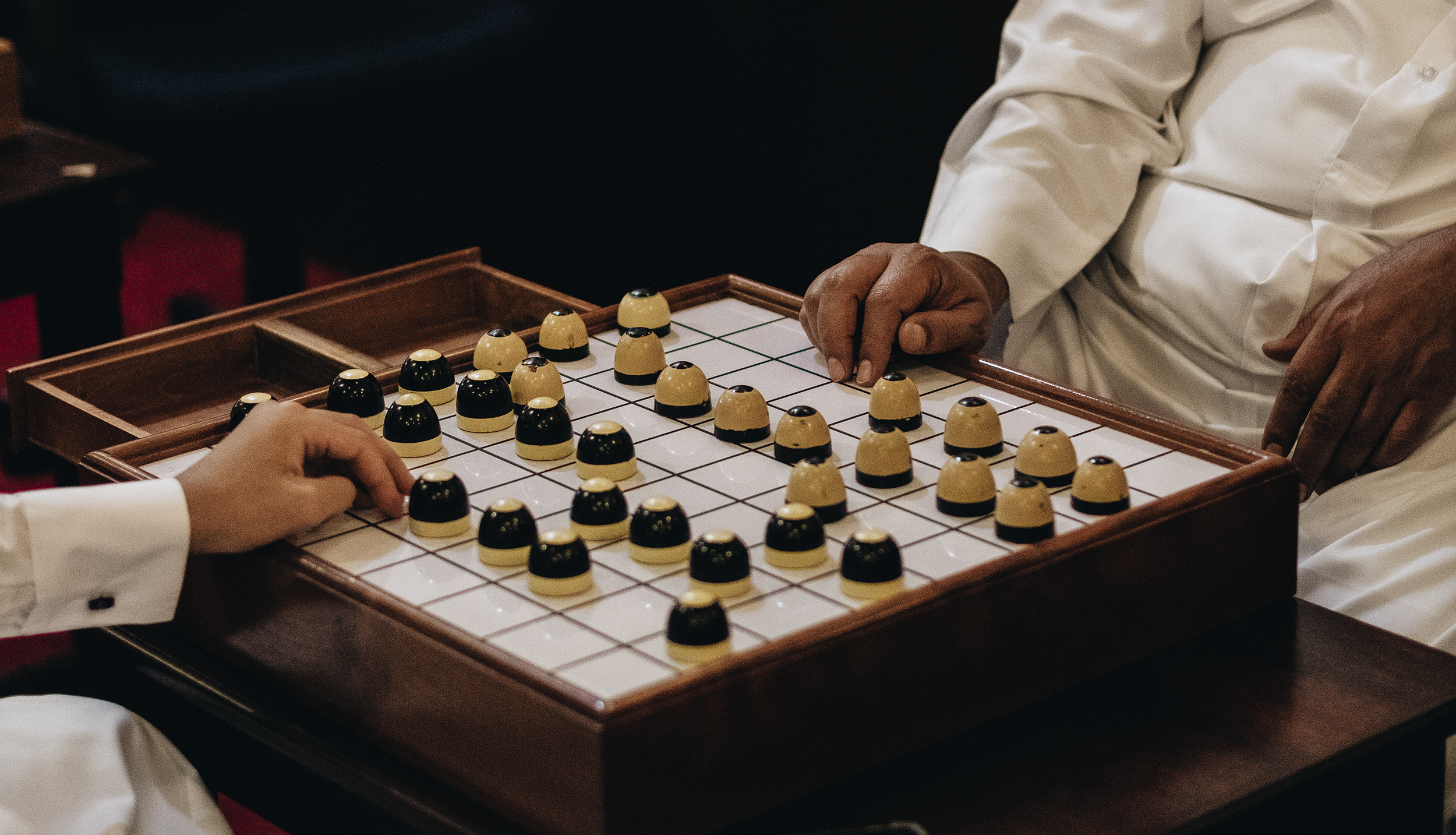 ---
Sobald die Sonne langsam unterging und die Straßen sich abkühlten, erwachen die Souks von Doha. Kinder rannten herum und zogen ihre Eltern zum nächsten Süßwarenladen, Einheimische machen ihre Geschäfte und handelten den besten Preis für ihre Einkäufe aus, während meine Augen durch die schmalen Fenster eines Cafés wanderten. "Majlis al Dama" stand auf dem großen Schild aus Holz, einmal in Arabisch und einmal in lateinischen Buchstaben. Das Majlis al Dama ist wohl das bekannteste Café für Dama im Souq Waqif.
In ihrem langen weißen Gewändern sitzen die Herren an den Tischen. Vor ihnen eine hölzerne Box mit weißem Spielfeld, welches etwas an Schach erinnert. "Dama" nennt sich das Spiel und während wir gespannt zu sehen wird uns dabei "Karak", ein landestypischer Schwarztee mit Milch und Zucker, serviert wurde. Die runden Steinchen in Beige und Schwarz erinnern mich an Schokoladenpralinen, während diese über die weiße Spielfläche gleiten. Das Klacken der springenden Dama-Figuren hallt mir an dem Abend immer noch im Ohr, wenn ich mir die Bilder vom Abend ansehe. Ich schwelge in Erinnerungen an den süßen Tee, während die Hintergrundgeräusche des Spiels und der Gespräche langsam aber allmählich verstummen.
---

Weitere Travel Diaries & Beiträge aus Qatar:

/

A Quick Guide to Qatar + Travel Video

The Museom of Islamic Art by I.M. Pei
---
Dama – A Traditional Board Game From Qatar
---
Photo / Alice M. Huynh
*This trip was made possible thanks to Visit Qatar!
*The opinions expressed here represent, as always, my own.