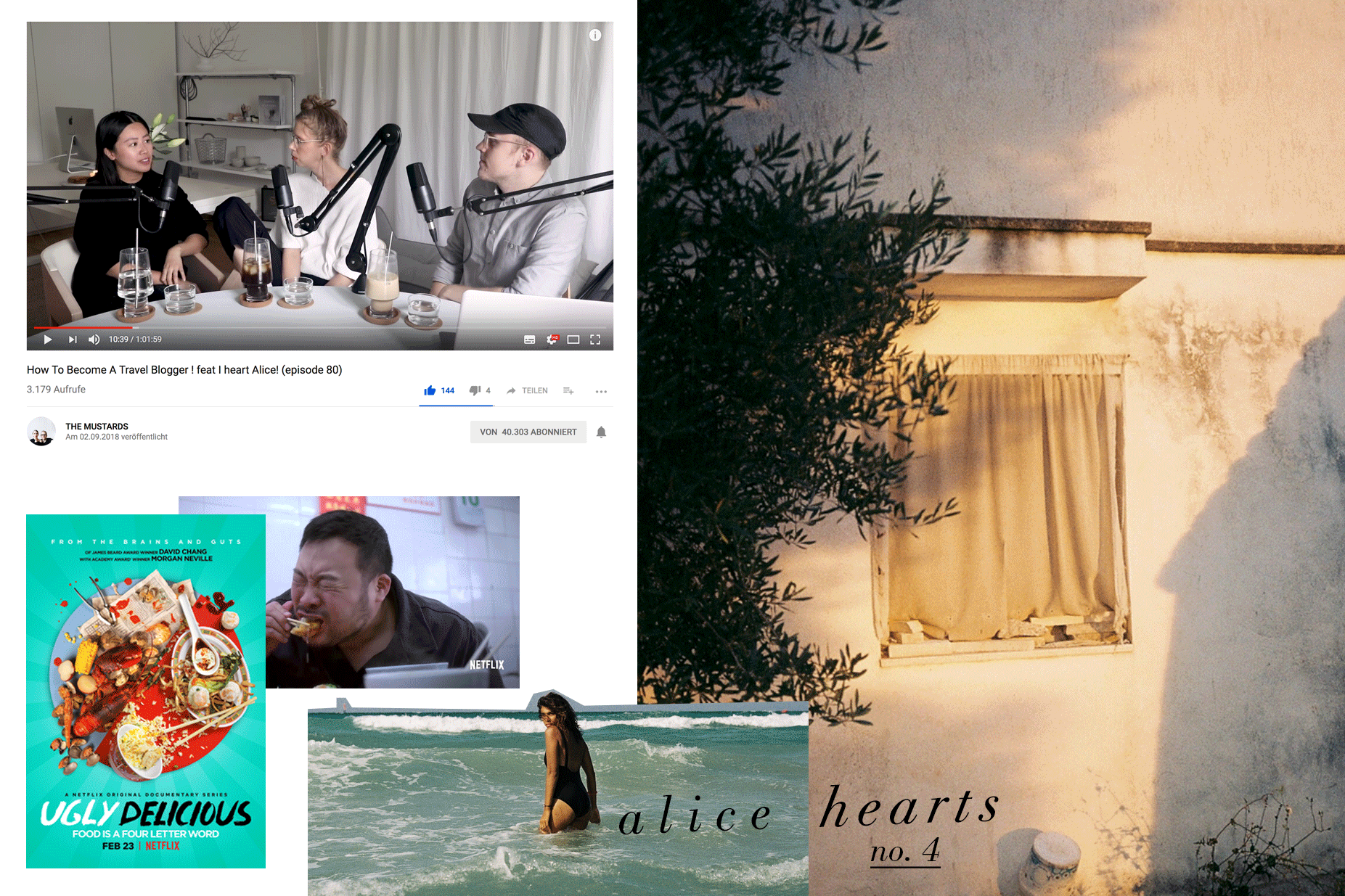 ---
So kurz vor meiner Reise ist mal wieder Aufbruchstimmung angesagt, und bevor ich euch nun mit ganz viel Reiseimpressionen auf Social Media zuspamme, hier drei Highlights von den vergangenen Wochen, die mich sehr beeindruckt, als auch berührt haben. In dieser heutigen Alice Hearts Folge, geht es vor allem um Reisen, sei es um die Welt, für Jobs, vor dem Fernseher oder klassisch nach Italien. Hier ist für jeden etwas dabei!
Zusammen mit meinen liebsten Berliner Schweden habe ich letzte Woche eine spannende Podcast-Folge für The Mustards aufgenommen. Mit Jenny & David Mustard spreche ich über Reisen, den Beruf eines Travel Bloggers als auch unsere liebsten Destinationen und Städte. Ich bin gespannt, was ihr dazu sagt, denn wie ihr wisst, bin ich noch etwas kamerascheu, vor allem wenn es um Videos geht, doch diese Podcast Erfahrung ist mal etwas ganz anderes. Hier könnt ihr das ganze Video sehen oder folgt den Mustards direkt auf iTunes.
Meine liebe Blogger-Kollegin und Freundin Storm Wes war mit ihrer Familie in Ostuni, Italien unterwegs und hat unglaublich Schöne Impressionen eingefangen. Türkisfarbenes Meer, ein Ferienhaus, welches direkt aus einer Filmkulisse stammen könnte und das la dolce far niente ("das süße Nichtstun") Gefühl, in nur wenigen Bildern. Das Schöne daran: alles in analog! Zum Beitrag geht es hier.
Als Foodie und Globetrotter reise ich nicht nur für die Kultur oder Menschen, sondern vor allem auch für das Essen. Es gibt kaum etwas, was ich nicht mag! Auf Netflix gibt es seit diesem Frühjahr eine neue Foodie Serie mit Koch & Entrepreneur David Chang (Momofuku Restaurant), der sich vor allem mit hässlichen Essen auseinandersetzt – hört sich jetzt erst mal komisch an, macht aber total Sinn, denn in "Ugly Delicous", geht es, wie der Name schon andeutet, um hässliches aber leckeres Essen. Tacos oder chinesisches Essen beispielsweise! Unterschätzten Leckereien von China, bis Mexiko und noch weiter, die die Welt zu bieten hat, in einem humorvollen TV-Format die sich nicht nur den Essensthemen annimmt, sondern auch dem Zuschauer, andere Kulturen und ihre Küche und Bräuche nahebringen. Eine wohlverdiente Anerkennung und einer der besten Food-Shows seit Langem.
---
Photo / Storm Wes; The Mustards; Ugly Delicous on Netflix via Wikipedia
*I do not own the pictures / The opinions expressed here represent, as always, my own.