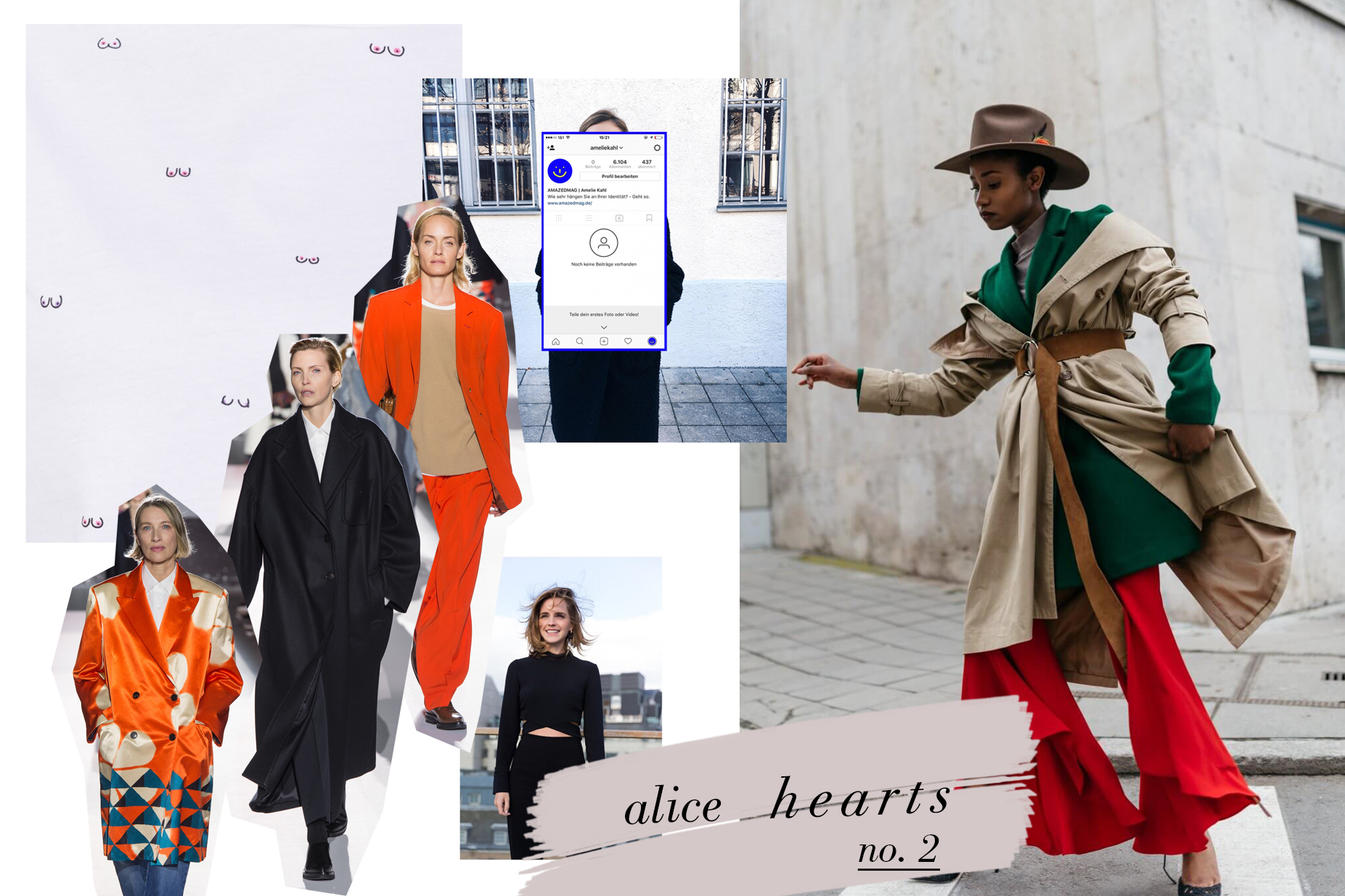 Noch immer sind Frauen benachteiligt, egal ob in der Politik, in der Bildung oder im alltäglichen Leben, jetzt ist die Zeit stärker denn je dafür zu kämpfen! Zum Weltfrauentag gibt es viel Girlpower von meinen Lieblingen der letzten Woche. Mode und das Internet stehe in meinem heutigen 'Alice hearts…' im Fokus, ganz vorne mit dabei: Emma Watson, Robyn RobynByn & The Jane Wayne. Was mich so fasziniert hat? Seht ihr selbst:
Emma Watson's "The Press Tour": Emma setzt sich nicht nur gekonnt gegen böse Kommentare bezüglich ihrer Brüsten durch, sondern zeigt auf ihrem neusten Instagram-Projekt 'The Press Tour' auch, dass nachhaltiges Make-up und Mode sehr gut aussehen können! Ein Account ganz und gar gewidmet für die Looks, die sie auf dem roten Teppich, in Interviews und Co. trägt gegen unseren Konsumwahn und Fast-Fashion.
Dries Van Noten 100th Showcast: Nicht nur die Hollywood-, sondern auch die Mode-Branche zwingt viele Frauen dazu, ihre jugendliche Schönheit zu bewahren, im Gegensatz zu Männern, die mit ihrem Alter immer attraktiver dargestellt werden. Bei der hundertsten Dries Van Noten Show in Paris, liefen Models in allen Altersstufen den Runway – meine Favoriten, die Damen ab 40! Reife Frauen, mit einer fabelhaften Ausstrahlung und einigen Schönheitsfältchen! Mehr davon bitte!
KDG x TJW: Mit 'Bonjour Simone' und noch anderen tollen Stücken gibt es jetzt bei Kauf Dich Glücklich in Kollaboration mit den Berliner-Powerbloggerinnen The Jane Wayne zu kaufen. Ihre Botschaft: GIRLPOWER & Feminismus. Mein ganz besonderer Liebling: das Boobshirt, mit den unterschiedlichsten Boob-Icons, bei dem auch ich mich wiedergefunden habe!
amazed Kolumne: Eine Kolumne von Amelie zum Nachdenken, mit der essenziellen Frage: 'Wer bin ich (im Internet)'? – Hier lesen!
Farbrausch mit RobynByn: Mein momentaner Style-Crush ist vielleicht kein internationaler Streetstyle Star, der in Paris, Mailand und Co. unterwegs ist, aber definitiv einer der Authentischsten. Robyn von RobynByn habe ich für meine Abschlusskollektion 'FRESH OFF THE BOAT' vor einigen Jahren ablichten lassen und liebe seither ihren unverkennbaren Stil. Dieser Farbrausch, diese Volumen und diese Attitüde in nur einem Bild ziehen mich magisch an und lassen mich staunen – Robyn, ich will mehr!
---
Photo: This is Jane Wayne / Robyn Byn / amazed / INDIGITAL / The Press Tour

Merken