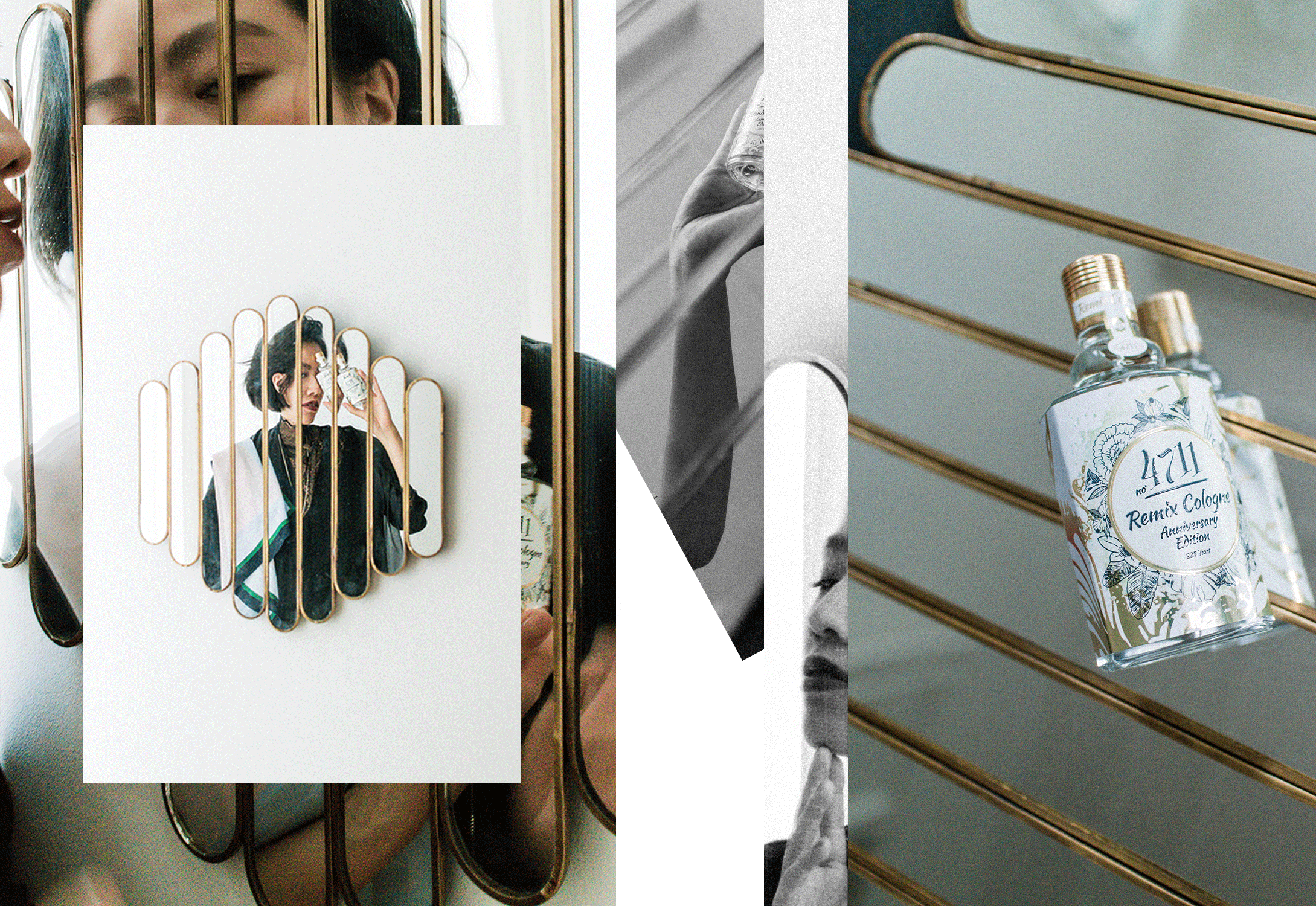 Elegante und sanfte Duftakkorde umschmeicheln meinen heutigen Look, der etwas an Grand Dame erinnert, aber trotzdem meinen eigenen Stil durch moderne Elemente unterstreicht. Ein Hauch von spritziger Zitrone und frischer Bergamotte sowie Orange kommen mir entgegen, während sich der zarte, gar zerbrechliche Duft der Lavendel und Rosmarin, sich wie ein zarter Schleier um meine Haut legt. Eine indirekte und weiche Frische umgibt meinen Körper und erinnert mich an die Welt von 4711 Echt Kölnisch Wasser.
Traditionelle Cologne-Duftelemente aus ätherischen und aromatherapeutischen Ölen vermischen sich in einer duftintensiven Konzentration und vereinen alt und neu. Tradition, die man aus den vertrauten Duftakkorden kennt spielen mit einem modernen Touch, ohne allzu aufdringlich zu wirken.
4711 Remix Cologne Anniversary Edition
---
225 Jahre zeitlose Düfte
4711 Echt Kölnisch Wasser feiert dieses Jahr sein 225. Jubiläum und steht für eine Marke, die Generationen hinweg Symbolkraft entwickelt hat und immer noch fasziniert. Zu diesem Anlass kreiert das Traditionshaus den limitierten 4711 Remix Cologne Anniversary Edition Duft, der auf 24.000 Stückzahl begrenzt ist. Die Verwendung von traditionellen Rohstoffen entfalten neue Facetten der lebendig sanften Neu-Interpretation, ohne seine Identität zu verlieren. Für den intensiven Moment und von anhaltender Dauer kreiert, ist 4711 Cologne im Jahre 2017 Frische, Weichheit, Zeitlosigkeit und Moderne zugleich.
Die altbekannte Molanusflasche wurde 1820 vom Destillateur Peter Heinrich Molanus entwickelt und kommt im künstlerischen Design mit Ornamentik-Ettikett und goldener Verzierung. Althergebrachte Verbindungen der gestalterischen Kunst mit der Parfümkunst von 4711 treffen in der Illustration aufeinander und verleihen der einzigartigen 4711 Remix Cologne Anniversary Edition ihren Charakter.
Die Unisex Jubiläums Edition des klassischen 4711 Echt Kölnisch Wassers unterstreicht mit seinen erfrischenden Noten meinen Charakter, ohne allzu einnehmend zu sein – perfekt für die schwülen Sommernächte nach einem warmen Gewitter.
// Die limitierte Edition von 24.000 Stück wird ab Mai 2017 exklusiv bei Müller Prestige Filialen,
im House of 4711 in der Kölner Glockengasse, im Domshop sowie in ausgewählten Geschäften im Ausland distribuiert. //
---
Photo: I heart Alice / Alice M. Huynh
Creative Direction: Alice M. Huynh
*In friendly & creative cooperation with 4711.
*The opinions expressed here represent, as always, my own.

Merken