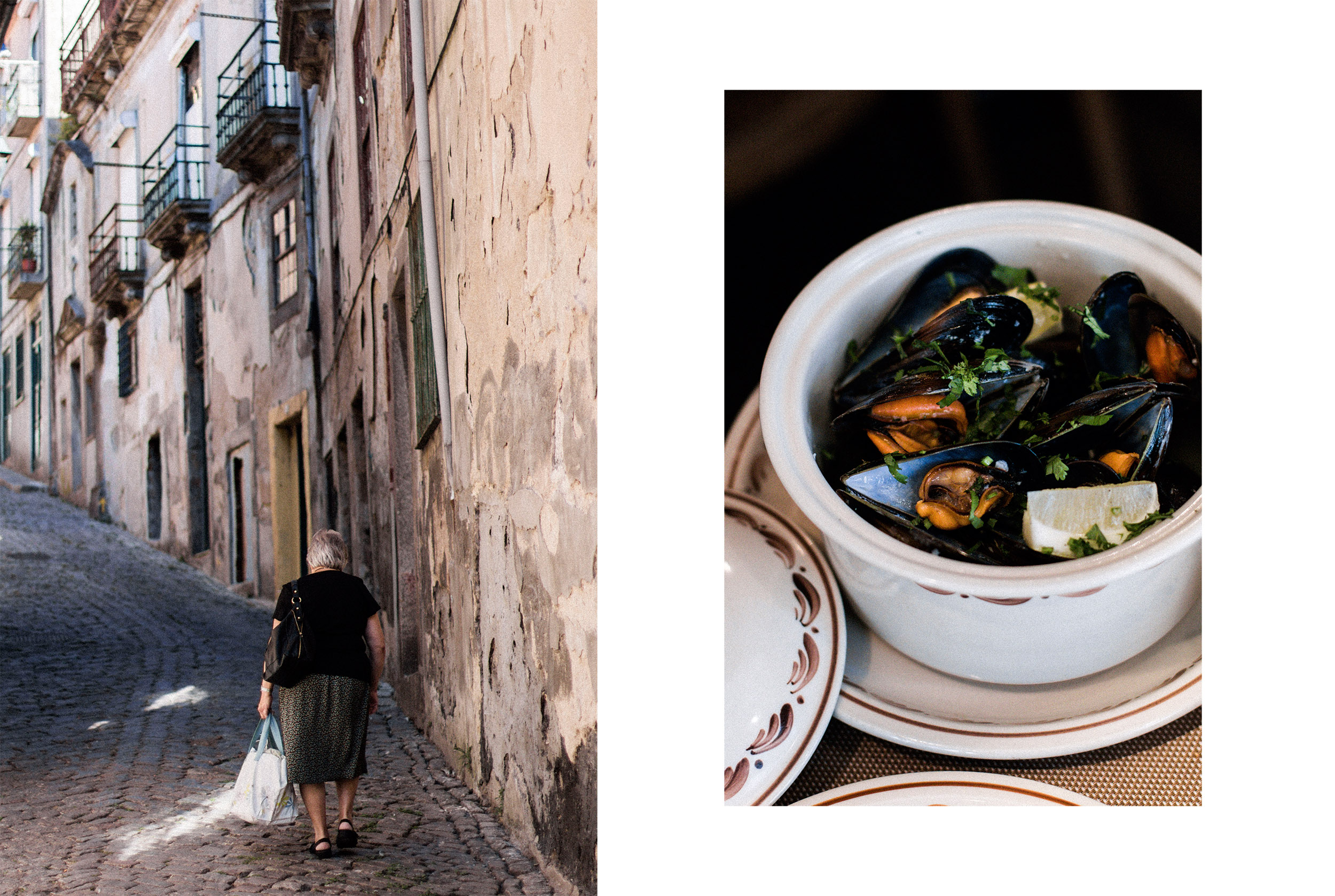 Was wäre eine Reise nach Portugal, wenn man nicht auch die kulinarische Seite dieses wunderschönen Landes entdecken würde?! Die Iberische Halbinsel hat einiges zu bieten. Von einer guten einheimischen Küche, frischen Meeresfrüchten bis hin zu ausgezeichneten Kaffee! In meinem Quick Foodie Guide to Porto gibt es deswegen einige Geheimtipps für euren nächsten Wochenendtrip in die zweitgrößte Stadt Portugals.
Die kleinen Straßen in dieser ausgesprochen wunderschönen Stadt gibt es allerlei zu entdecken. Märkte, an denen am Wochenende sich die Einheimischen treffen, um ihre Besorgungen zu erledigen, kleine Supermärkte, die mit Leckereien bis unter die Decke gefüllt sind und natürlich unzählige Geschäfte mit bunten Sardinendosen in den unterschiedlichsten Designs und Farben. Nun aber genug geredet, viel Spaß beim Stöbern durch meinen Quick Foodie Guide to Porto!
A Quick Foodie Guide to Porto
---
---
Cervejaria Brasao
Das Cervejaria Brasao empfängt seine Gäste in seinem gemütlichen Restaurant mit massiven Holztischen, warmes Licht und wunderbaren Fließböden. Während durch die feinen Jalousien einige Sonnenstrahlen auf unseren Tisch fallen, ging ich ganz aufgeregt durch die Karte und bestellte neben den Miesmuscheln mit Petersilie & Zitronen, der typischen Fischermann-Suppe auch das bekannte Francesinha.
Francesinha ist portugiesisch und bedeutet so viel wie "kleine Französin" – doch so klein kam sie uns letztendlich gar nicht vor! Diese Spezialität kommt aus Porto und ist ein Sandwich aus Toast, Kochschinken, Linguiça (ähnlich zu Chorizo), gebratenem Rindfleisch oder Beefsteak. Das "Sahnehäufchen" ist wahrscheinlich dann auch der geschmolzene Käse sowie einer heißen, typischerweise dickflüssigen Soße aus Tomaten, Bier und Senf, mit der die Francesinha übergossen wird. On Top gibt es in manchen Restaurants dann auch noch ein Spiegelei! Die Soße wird in vielen Fällen zudem mit Brandy und Weißwein (Vinho Verde) verfeinert.
Einheimische Küche zu guten Preisen und toller Atmosphäre? Dann seid ihr im Cervejaria Brasao genau richtig!
Cervejaria Brasao
R. de Ramalho Ortigão 28
4000-035 Porto, Portugal
+351 934 158 672
---
Adega S. Nicolau
Für alle Liebhaber von Meeresfrüchten und simpler Küche kann ich das Adega S. Nicolau nur so empfehlen. Dieses authentische kleine Restaurant am Ufer des Rio Duoro ist auf dem ersten Blick ganz unscheinbar und versteckt sich in der gleichnamigen Gasse São Nicolau. Ganz anders als die touristischen Restaurants direkt am Ufer, bietet die das Adega S. Nicolau authentische portugiesische Küche mit Fokus auf die Köstlichkeiten direkt aus dem Meer.
Gestartet wurde mit leckeren Fischkroketten, die beim ersten Bissen knusprig sich anfühlen um dann letztendlich auf der Zunge zerschmelzen. Der Hauptgang bestand aus frischem Lachsfilet mit Kartoffeln und einem wunderbaren Oktopus-Reis mit frittiertem Oktopus-Stücken. Aus dem Meer und direkt auf den Tisch! Genauso wie ich es mag! Falls ihr also noch einem passenden Restaurant mit authentischer Küche und Flair sucht, kann ich das Adega S. Nicolau wärmstens empfehlen! Kleiner Tipp: Am besten vorher reservieren!
Adega S. Nicolau
R. de São Nicolau 1
4050-561 Porto, Portugal
+351 22 200 8232
---
Snacks, Kaffee & mehr…
Natürlich darf man den kleinen Hunger sowie Kaffee-Stops nicht vergessen, denn da hat Porto natürlich auch einiges zu bieten. Hier eine kleine Auswahl meiner Lieblinge, während meines Aufenthaltes in Porto:
Congra – Casa das Bifanas / Das Mekka für jeden Liebhaber von leckeren Sandwiches und stundenlang gerösteten Fleisch! /

R. do Bonjardim 318, 4000-065 Porto, Portugal

Loja Das Conservas / Ein kleiner bunter Laden mit den wohl schönsten Sardinenbüchsen in ganz Porto – das perfekte Souvenir oder Präsent aus dem Urlaub. /

R. Mouzinho da Silveira 240-242, 4050-417 Porto, Portugal

Café Guarany / Mit einem cimbalino (Espresso) startet man doch am Besten in den Tag! Vor allem in einer der besten Röstereien in Porto seit 1933. Zudem ist dies auch einer der wenigen Hot-Spots um einen Fado (portugiesischer Musikstil & Vortragsgenre) live zu erleben. /

Av. dos Aliados 85/89, 4000-066 Porto, Portugal

Mercado do Bolhão / Portos schönste Markthalle mit beeindruckender Eisenfassade aus dem 19. Jahrhundert ist immer ein Besuch wert! /

R. Formosa 214, 4000 Porto, Portugal
Ich hoffe, ihr habt nun von meinem 'A Quick Food Guide to Porto' ein wenig Fernweh und Hunger zugleich bekommen und plant schon eure nächste Food-Tour durch diese sympathische Stadt! War denn einer von euch schon dort und hat noch superleckere Geheimtipps, den man unbedingt probieren und besuchen sollte? Lasst es mich gerne wissen, ich freue mich über jeden Tipp! Alle Portugal Travel-Beiträge findet ihr übrigens hier. Love, Alice.
---
---
Photo: I heart Alice / Alice M. Huynh
*This trip was powered by Hyundai Motors Germany.
*The opinions expressed here represent, as always, my own.

Merken
Merken
Merken