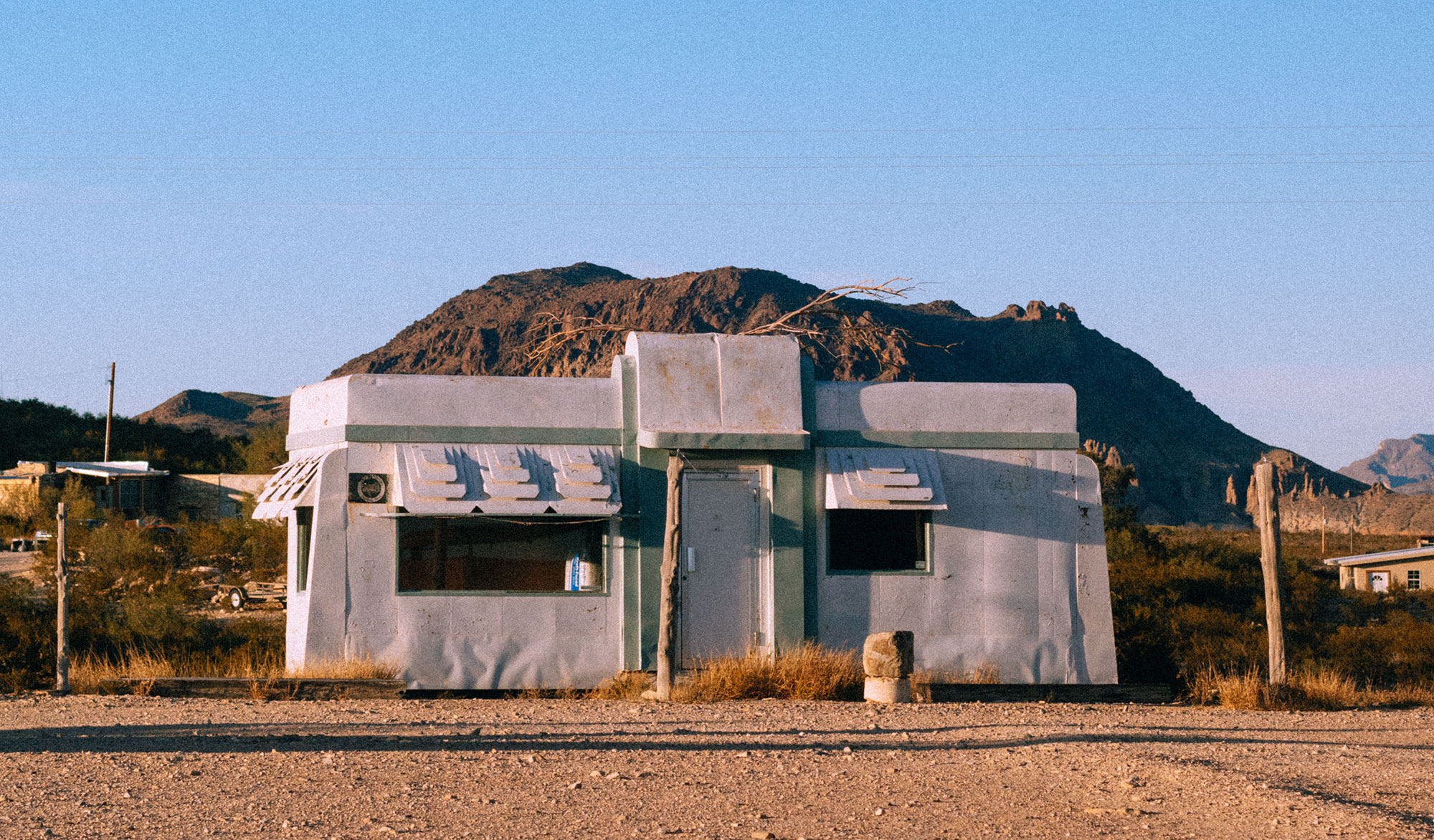 ---
Nach einigen Stunden im Auto erreichte ich pünktlich vor dem Sonnenuntergang Terlingua, eine 'Geisterstadt' am Rande des Big Bend Nationalparks im Westen Texas. Auch wenn Terlingua rund 58 Einwohnern besitzt, fühlte es sich ausgestorben an, was vielleicht auch daran lag, dass ich kaum jemanden antraf. Es reihen sich unbewohnte Häuser, Gerümpel, alte Autos und Sträucher aneinander. In der Ferne ragten einige Hügel und steinige Berge aus der Landschaft heraus und am Horizont konnte ich die leuchtende Sonne sehen, die Terlingua in ein warmes und goldenes Licht tauchte.Ich lief die einzige Straße entlang und kam am örtlichen Friedhof mit seinen skurrilen Gräbern und manch unbenannten Grabstein sowie hölzernen Kreuzen vorbei. Ein großes Holzschild, welches aussieht, als wäre es erst kürzlich aufgestellt worden, begrüßt in farbenfrohen Lettern Besucher: "Welcome Bienvenidos to Terlingua Ghosttown – Birthplace to all Chili Cookoffs Worldwide".
Welcome Bienvenidos to Terlingua Ghosttown – Birthplace to all Chili Cookoffs Worldwide
"Chili Cookoff", murmelte ich und dachte daran, wie skurril das doch ist, solch ein Wettbewerb in einer vermeintlichen Geisterstadt auszutragen. Bei meinem zweiten Gedanken aber, wundert es mich eigentlich nicht mehr und das (in-)offizielle Logo der Stadt, nämlich eine als Geist verkleidete Chilischote, rundete das Gesamtbild von einer eigensinnigen Geisterstadt mitten in Texas einfach ab. Die steinige Straße ist zwar nicht steil, doch trotzdem habe ich Mühe einen angenehmen Tritt zu finden, um zügig nach oben in den Stadtkern zu gelangen. Oben angekommen reihen sich Pick-Up Trucks als auch Kakteen aneinander. Zu meiner rechten Seite sehe ich in großen Buchstaben "Starlight Theatre" mit grafischen Sternen an jeder Seite im Sonnenlicht aufleuchten. Daneben auf der alten Holzveranda sitzen einige Männer mit zerrissenen Jeans, grauen Bärten und deren Cowboy Hut tief ins Gesicht gezogen. Das Knacken frisch geöffneter kalter Bierdosen ist zu hören, während in der Ferne Hunde bellten.
Die Sonne hat den Horizont erreicht und wenige Sekunden, bevor dieser komplett über die Berggipfel verschwindet, taucht diese Terlingua noch einmal blutrot. Die Lichter im Starlight Theatre wechseln sich mit dem Untergehen der Sonne ab und laute Musik ertönt aus der Doppeltür des Saloons. Man hört eine raue Männerstimme singen und der Ton des Banjo als auch der Gitarren füllten die einsame und kühle Nacht. Mitten im Nirgendwo sitze ich auf einer brüchigen Holzbank und lausche den Klängen und Geräuschen um mich herum. Ich genieße noch einen letzten Schluck des kalten Biers, bevor die Wüstennacht mir doch zu kalt wird und ich mich in meine Unterkunft zurückziehe.
---
On The Streets Of… Terlingua, TX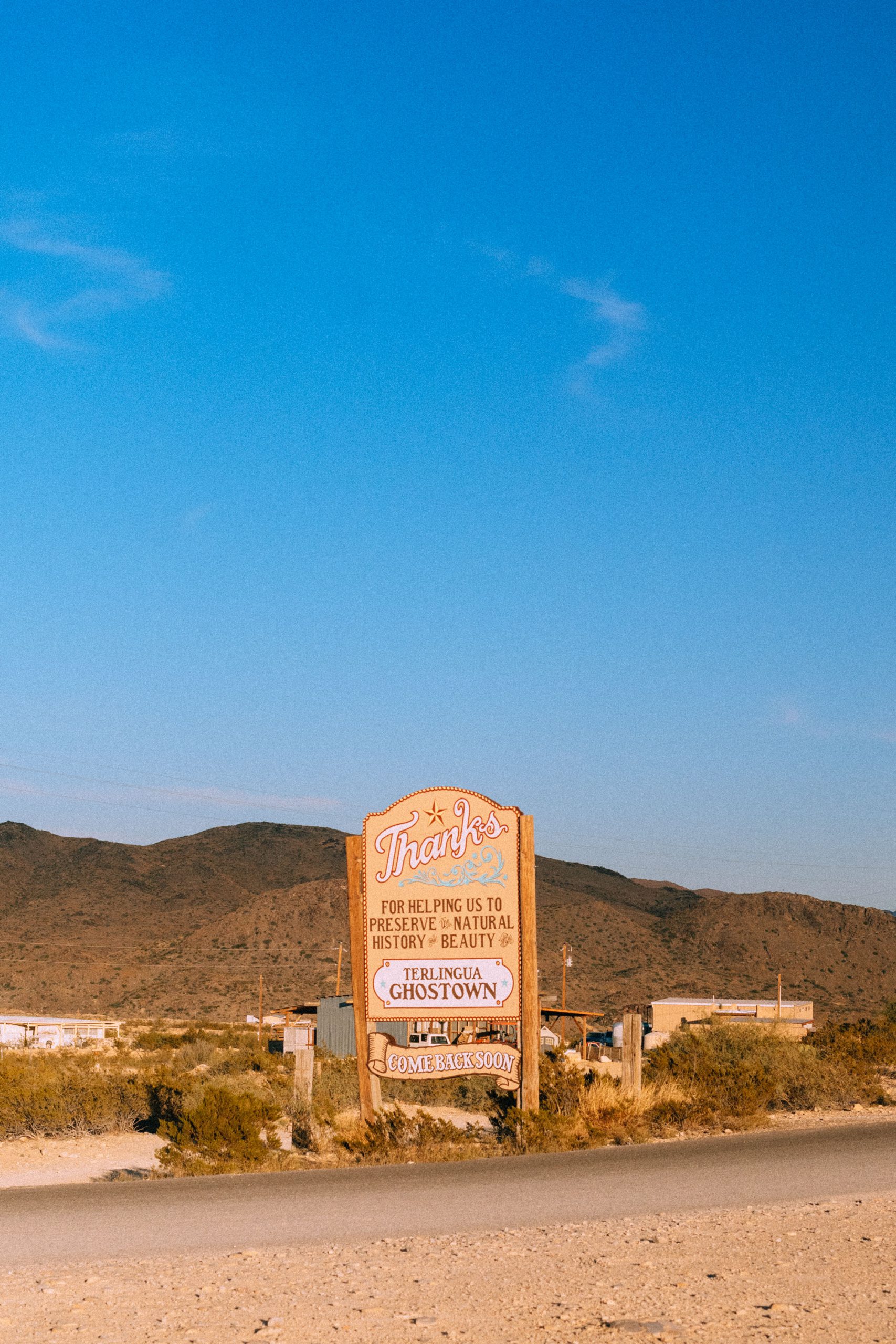 ---
Photo / Alice M. Huynh
*This trip was made possible thanks to Travel Texas.
*The opinions expressed here represent, as always, my own.