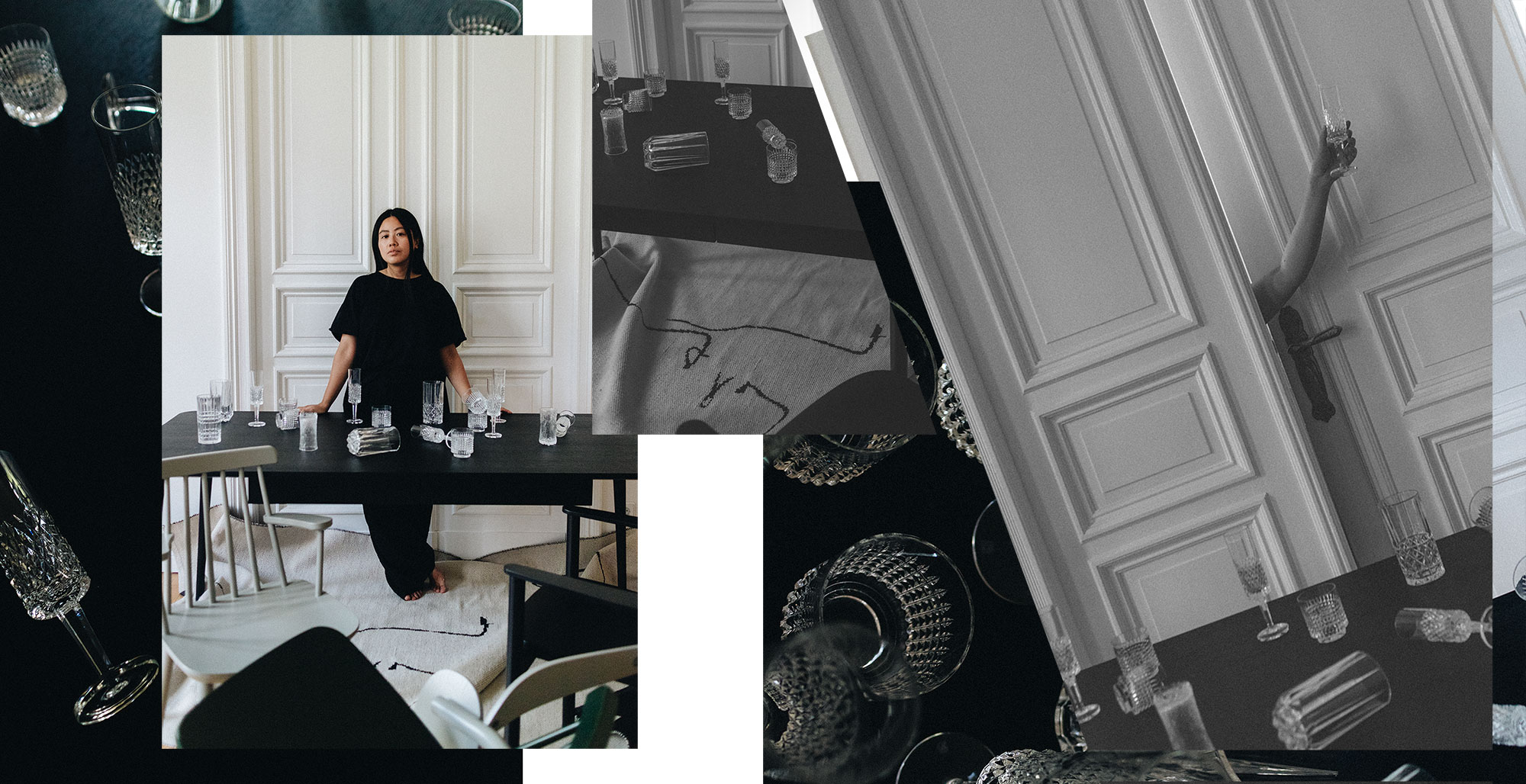 ---
TYMBER NORDIC Table / MYCS*
STYNG Chair / MYCS*
PRYME Chair / MYCS*
Crystal Glasses / Vintage
Carpet / Sissyboy
Wenn man mich fragt, welches wohl mein liebstes Zimmer in der Wohnung ist, dann würde ich, wie viele andere wohl auch, auf das Wohnzimmer tippen. In den meisten Fällen ist dieses Zimmer das Herz eines zu Hause. Hier kommen Freunde und Familie zusammen, man isst, man lacht & genießt die Zeit zusammen. Vor allem mein neuer Esstisch von MYCS ist wohl das wichtigste Herzstück in der Wohnung. Mir war es wichtig, einen Tisch zu haben, der einerseits praktisch und andererseits aber auch ganz und gar Charakter hat und zu mir sowie zu meinem Geschmack passt.
Schon in meiner vorherigen Wohnung hatte ich das Vergnügen, mit MYCS zusammenzuarbeiten und einen kleinen Tisch zu gestalten, der bis heute noch die Küche ziert. Für die große Wohnung aber, brauchte ich auch dementsprechend einen größeren Esstisch, denn Dinnerparties oder Co-Working Sessions mit Freunden kommen bei so viel Platz dann doch häufiger vor. Mit dem Konfigurator bei MYCS ist es möglich, sich nach Gusto den Tisch so zu entwerfen, wie man möchte. Hierbei kann man kinderleicht aus verschiedenen Maßen, Farben, Materialien sowie Tischbeinen und anderen Elementen wie Ansteckplatten wählen. Das spannende finde ich zudem auch die Auswahl an Echtholzfurnier aus Nussbaum, Eiche, Wenge und Buche sowie sieben matte Lacke. Da ich den skandinavischen Wohnstil liebe, habe ich mich für das NORDYC Modell & einer Massivholzplatte mit Eichenfurnier und gebeizter Wenge in schwarz entschieden. Die Oberfläche des Tisches ist durch das Eichenfurnier strukturiert und gibt zudem einen natürlichen Look, ohne allzu empfindlich zu sein. Vor allem bei meiner liebsten Farbe Schwarz, sollte man an Abdrucke & Co. auf der Oberfläche denken, weswegen ich mich zusätzlich gegen einen Lack auf der Tischplatte entschieden habe.
Da mein MYCS Dining Table nicht nur als Esstisch dient, sondern auch als Schreibtisch, habe ich zwei weitere Schubladen hinzugefügt, die mir das Organisieren leichter machen. So kann ich schnell kurz vor Dinner-Beginn noch alle wichtigen Utensilien wie Papier, Stifte und Co. aus der Sichtweite unter dem Tisch in den Schubladen verstauen & am nächsten Tag wieder einfach rausholen. Nun kann ich es kaum erwarten, die ersten Dinner-Parties zu hosten & meine Liebsten zu Tisch bitten! Love, Alice.
---
MYCS Dining Table TYMBER NORDYC
---
Photo / Alice M. Huynh
Creative Direction / Alice M. Huynh
*Thanks to Sophie for the help!
*This editorial was made possible thanks to MYCS.
*The opinions expressed here represent, as always, my own.