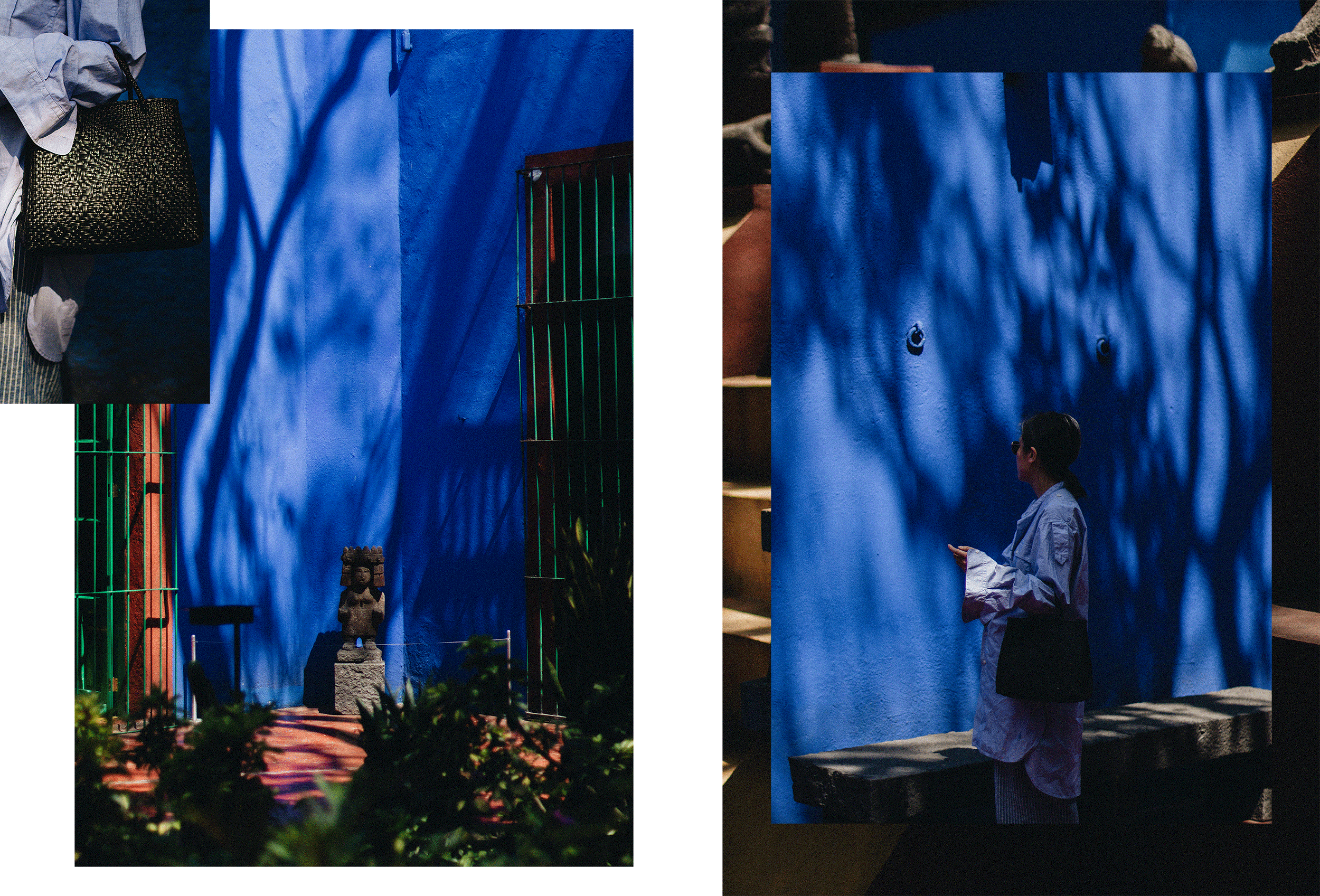 ---
Striped Men's Shirt / JW Anderson x Uniqlo
Striped Cotton Trousers / JW Anderson x Uniqlo
Shades / YUN*
Arizona Sandals / Birkenstock*
Braided Bag / Souvenir from Mexico
Wenn ich an meine Zeit in Mexiko denke, packt mich das Fernweh instinktiv. Dieses Land hat mich seit meinem ersten Besuch in 2018 so sehr berührt, dass ich in den darauffolgenden Jahren immer wieder zurückmusste. Es ist nicht nur das Essen, was ich so sehr liebe, sondern vor allem die Menschen, die Kultur und auch die Farben. Apropos Farben, ihr seid sicherlich etwas verwirrt, denn heute bin ich nicht in meinem typischen all-black Look unterwegs, sondern erstaunlicherweise mal in Farbe! Und was für eine sogar!
Die Farbe Blau ist Mexiko so präsent wie der Geruch von frischen Carnitas und Tacos am Straßenrand oder die Wärme und Gastfreundschaft der Einheimischen. Und wie man sieht, hat auch dieses Land einen ganz schön großen Einfluss auf meinen Kleiderschrank gehabt, denn Blau ist seit Neustem eine weitere Farbe in meinem doch so dunklen Kleiderschrank.
Wie findet ihr diesen erfrischenden Look in Blau? Weitere Beiträge aus Mexiko gibt es übrigens hier. Love, Alice.
---
JW Anderson x Uniqlo in Coyoacán
---
Photo / Alice M. Huynh
*Thanks to Farina for the help!
*PR Sample / Affiliate Link
*The opinions expressed here represent, as always, my own.