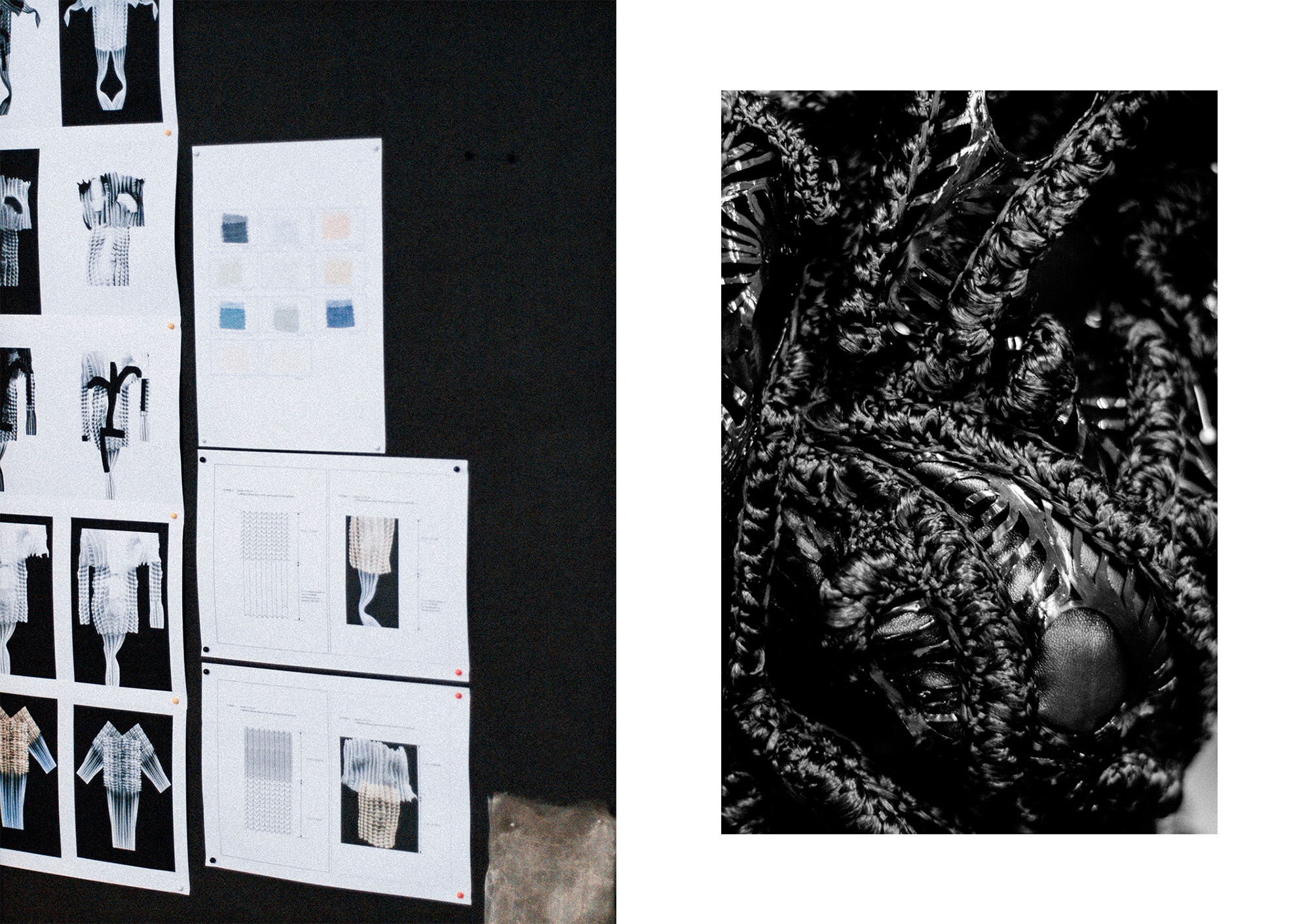 Als ich die große Loft-Werkstatt betrat, konnte man nur die Maschinen, leises Geflüster und konzertierte Ruhe wahrnehmen. Auf den großen Schnitttischen fand man verschiedene Probestoffe, Utensilien, Stifte, Maßbänder – ein geordnetes Chaos eben. Berlin war heute etwas betrübt und der Regen prasselte auf die großen Fenster, die der Werkstatt viel Licht gibt. Von Industrienähmaschinen und Overlocks, wie aus meiner Studentenzeit, bis hinzu modernen 3D Druckern, gab es alles, was das kreative Modeherz begehrt.
Inside Telekom Fashion Fusion Lab
Wenn ich an meine Studentenzeit sowie an mein Praktikum in New York zurückdenke, wird mir ganz warm ums Herz, auch wenn nicht immer alles einfach war, dennoch war die Zeit, in der man sich kreativ austoben und auch persönlichen sowie beruflichen Herausforderungen stellen musste, eine der wichtigen Momente in meinem Leben. Sie machten mich zu dem Menschen, der ich jetzt bin und diese Erinnerungen und Erfahrungen prägen mich immer noch.
Nicht anders ist es mit diesen kreativen Köpfen, die ins Telekom Fashion Fusion Lab Berlin einzogen. Sie arbeiteten an ihren Prachtstücken mit wunden Händen und angestrengten Augen, so wie ich damals. Junge Kreative wie diese 12 Finalisten sind die zukünftigen Designer von morgen und wie das aussehen wird? Spektakulär sage ich euch!
---
Telekom Fashion Fusion
Der Ideen-Wettbewerk Telekom Fashion Fusion bringt kreative Nachwuchsdesigner aus Mode und Technologie zusammen, welche die Modewelt mit wegweisenden Konzepten und Innovationen aufzurütteln versuchen. Bereits im Mai dieses Jahres initiierte die Deutsche Telekom die Fashion Fusion Challenge. Aus ganz Europa reichten kreative Köpfe alleine, oder im Team, ihre Ideen ein, die auch die Chance nutzten möchten, im Rahmen der Berliner Fashion Week / FASHIONTECH im Januar 2017 ihre Ideen vor einem Publikum vorzustellen.
"Unfolding the Future of Fashion and Technology" – Mit professionellem Equipment und die Hilfe von erfahrenen Experten und Coaches im Fashion Fusion Lab wurden sie unterstützt um das Marktpotenzial der Idee und die Verschmelzung von High Fashion, mit Augenmerkmal auf Funktionalität, zu kreieren. Designkurse zu 3D-Druck, Laser-Cutting und Produktentwicklung stehen auf dem Programm der Designer von Morgen. Eine Harmonie aus Mode, Technologie, visionären Konzepten in die Realität zu transportieren ist hier das Ziel.
Ich bin nun sehr gespannt, wie die Endergebnisse der verschiedenen Kandidaten aussehen werden und vor allem, wer den Hauptpreis von bis zu 20.000 € absahnt! Es bleibt bis zum 18. Januar 2017 spannend, aber ich drücke allen Finalisten jetzt schon einmal die Daumen, denn wie ich aus Erfahrung weiß, hat der Endspurt es wie immer noch in sich! Eine Übersicht über das Projekt sowie allen Finalisten findet ihr übrigens hier. Love, Alice.
---
Photo: I heart Alice / Alice M. Huynh
*In friendly cooperation with Telekom Fashion Fusion.
*The opinions expressed here represent, as always, my own.