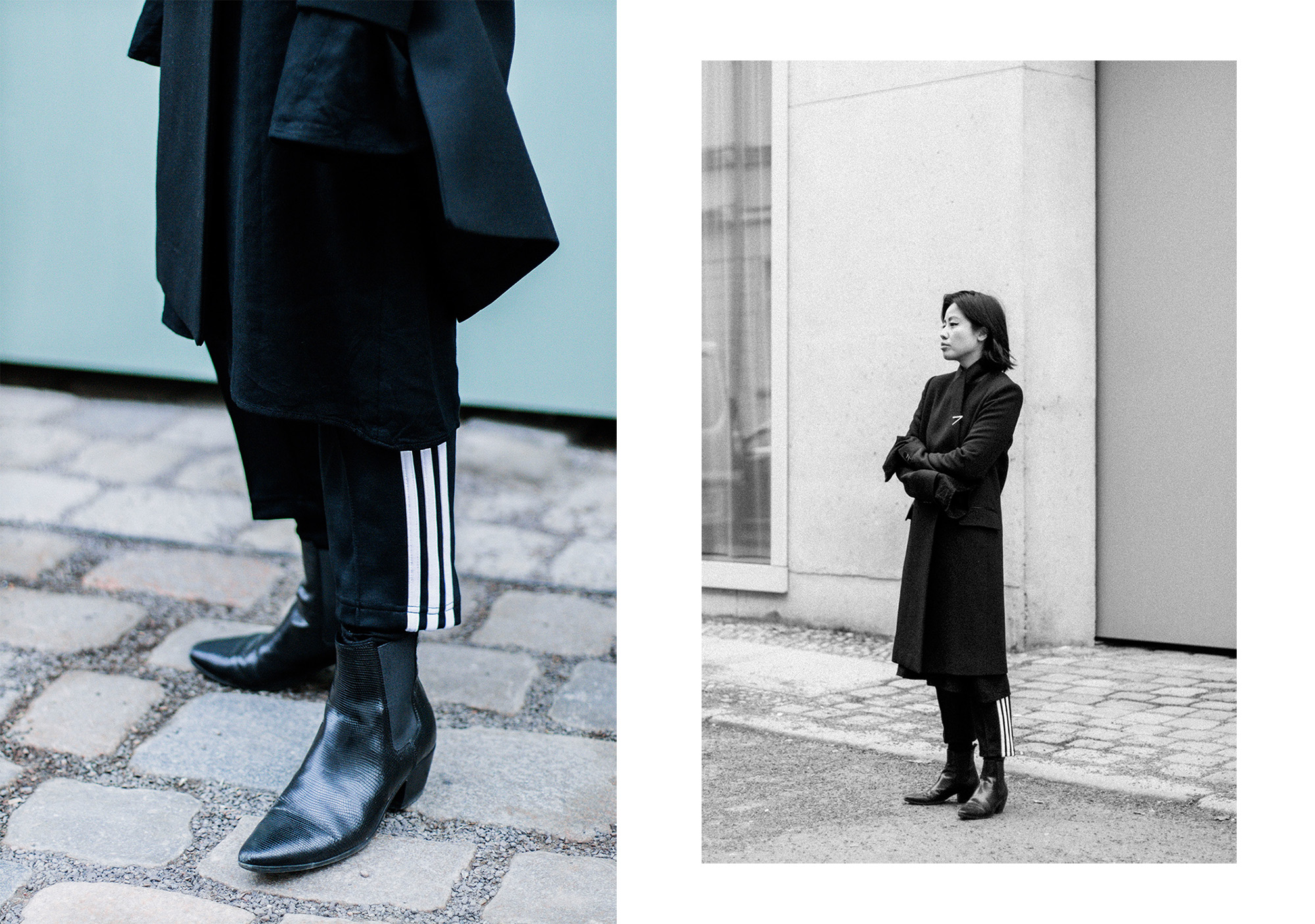 Seit Jogginghosen wieder auch in High-Fashion angekommen sind, wird man nicht mehr ganz so schräg angeschaut, wenn man mit diesen sportlichen Partnern auf Terminen erscheint. Auch der altbekannte Spruch von Karl Lagerfeld: "Wer eine Jogginghose trägt, hat die Kontrolle über sein Leben verloren.", übersehen Fashionistas und Blogger für diesen Trend mal gerne. Perfekt für mich, denn nichts geht über Gemütlichkeit und Praktikabilität in der Mode!
Nichtsdestotrotz wollte ich euch heute meine Version in all-black zum Thema Athleisure Chic zeigen und diesen ungewohnt mehr chic als sporty stylen. In guter alter Alice-manier kombiniere ich die Jogginghose von adidas Originals, welche übrigens aus der Männerabteilung ist, mit einem knielangen Kleid und überlangen Ärmel aus meiner 'FRESH OFF THE BOAT' Kollektion. Für den gewissen androgynen Chic sorgt der Pallas Paris Blazer-Mantel – et voilà, fertig ist der Athleisure Chic Trend, ohne zu sehr nach 'gerade aus dem Bett gekrochen' auszusehen.
Kramt also eure alten Jogginghosen raus, wirft den besten Mantel, den ihr habt, über und fertig ist der neuste Streetstyle Trend! Was denkt ihr ? Yay or eher Nay?

Athleisure Chic
---
Coat / Pallas
Dress / Alice M. Huynh
Trackpants / Adidas Originals*
Pin / The Jean Dupont*
Boots / Saint Laurent Paris
---
Photo: I heart Alice / Alice M. Huynh
*Samples or gifted items.
*The opinions expressed here represent, as always, my own.

Merken
Merken
Merken
Merken