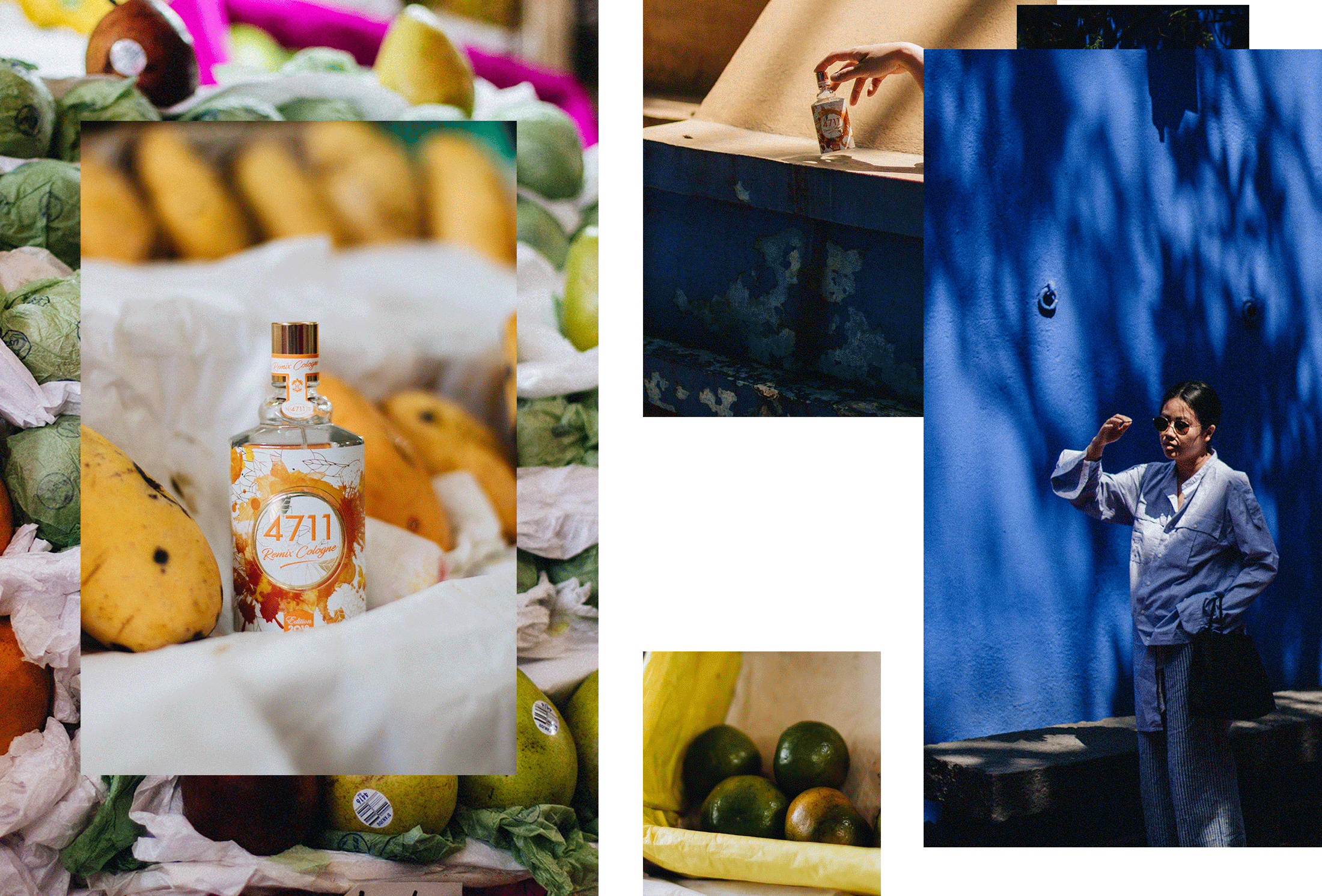 ---
Wenn ich an meine Reise nach Mexiko denke, fallen mir direkt die schillernden Farben dieses Landes ein: kräftiges Blau, leidenschaftliches Rot, strahlendes Gelb und saftiges Orange an jeder Ecke, wohin man schaut. In meinen Erzählungen von dieser Reise beschreibe ich Mexiko sehr gerne als einen riesigen Obststand oder besser gesagt ein ganzer Obstmarkt, denn genauso vielfältig, überraschend und vor allem farbenfroh ist nicht nur die Kultur oder das Essen dort, sondern auch vor allem die Menschen.
Wärmende Erinnerungen & strahlende Farben
Die Wärme, mit der ich begrüßt wurde, kam in den unterschiedlichsten Formen: Ein Lächeln des Kochs, dem ich mit nur Handgesten verständlich gemacht habe, dass das Essen wunderbar ist; der freundliche junge Mann auf Rollerblades, der mir in seinem kleinen englischen Vokabular den Weg gezeigt hat, als auch die frischen aufgeschnittenen Fruchtstücke am Marktstand die mir bemutternd mit Freude zum Probieren gegeben wurde.
Müsste ich meine Erlebnisse in Mexico City nun in Gerüchten beschreiben, so wäre es eine Mischung aus warmen und frischen Noten, eine leichte aber herzliche Umarmung als Duft mit einem Spritzer Charakter. Besser gesagt ein Parfum, das man riecht und dann auch als Gefühl wahrnimmt. Für mich ist dieser Duft nun Realität geworden, denn die neuste Kreation aus dem Kölner Dufthaus 4711 vereint genau diese Stimmungen und Duftnoten in einem facettenreichen Duft: 4711 Remix Cologne 2018 Edition.
4711 Remix Cologne 2018 Edition
---
Kopf / Bergamotte, Zitrone, Tee-Akkord
Herz / Neroli, Bitterorange, Enzian
Fond /Zedernöl, Kaschmirholz, Moschus
Wie jedes Jahr überrascht mich 4711 mit einer limitierten Neuinterpretation des 4711 Echt Kölsch Wasser, dessen Grundgedanke ist, die sieben Hauptzutaten in einem neuen 'Mix' vorzustellen und ein Duftstatement für den Sommer zu schaffen. Meine Erinnerungen an die facettenreiche Reise nach Mexiko als auch dieser Sommer wären nichts ohne die leuchtenden Farben und den Duft der Orange. In der 2018 Edition des 4711 Remix Cologne steht nämlich genau diese Frucht im Vordergrund, nicht nur in der Gestaltung und der Farbgebung des Flakons, sondern auch in der Duftkomposition.
Die Facetten der Orange neu ge-remixt
Die süß, fruchtigen Akkorde der sonnengereiften Orange kollidieren mit einer spritzigen Zitrone und Tee-Akkorden in der Kopfnote, wohingegen die Herznote bestehend aus Neroli (eine Art kleine & bittere Orange), Bitterorange und Enzian, die erst die Raffiniertheit der Komposition ausmachen. Zum Schluss unterstreichen die würzig-herben Duftnoten von Zedernholz, Moschus und Kaschmirholz die Neuinterpretation ohne die Identität der Marke 4711 zu vergessen. 4711 Remix Cologne 2018 Edition kommt wie sein Remix-Serien Vorgänger in der ikonischen Molanusflasche und lenkt die Aufmerksamkeit mit seinem leuchtenden orangefarbenen Design, der Leichtigkeit als auch Energie der überraschenden Akkorde, direkt auf den zeitgemäßen & modernen Duft.
Eine intensive Duftexplosion mit erfrischenden Nuancen diverser Zitrusfrüchte, die mich durch ihren aromatischen Twist, direkt an die Momente an einen heißen Sommertag in Mexiko City denken lässt.
4711 Remix Cologne ist seit Mitte Mai 2018 im Handel erhältlich & kommt jeweils im 100 ml (23,50 €) als auch 150 ml (29,50 €) Flakon,
dessen Design eine Anlehnung an die ikonische Molanusflasche ist & durch die goldenen Illustrationen
dem 4711 Remix Cologne 2018 Edition einen modernen Touch gibt.
Zudem gibt es ein erfrischenden Bodyspray (150 ml / 9,75 €), passend zum Duft.
Alles über das Kölner Dufthaus 4711, gibt es auf www.4711.com

---
---
Photo / Alice M. Huynh
Creative Direction / Alice M. Huynh
*Thanks to Farina for the help!
*In friendly cooperation with 4711.
*The opinions expressed here represent, as always, my own.