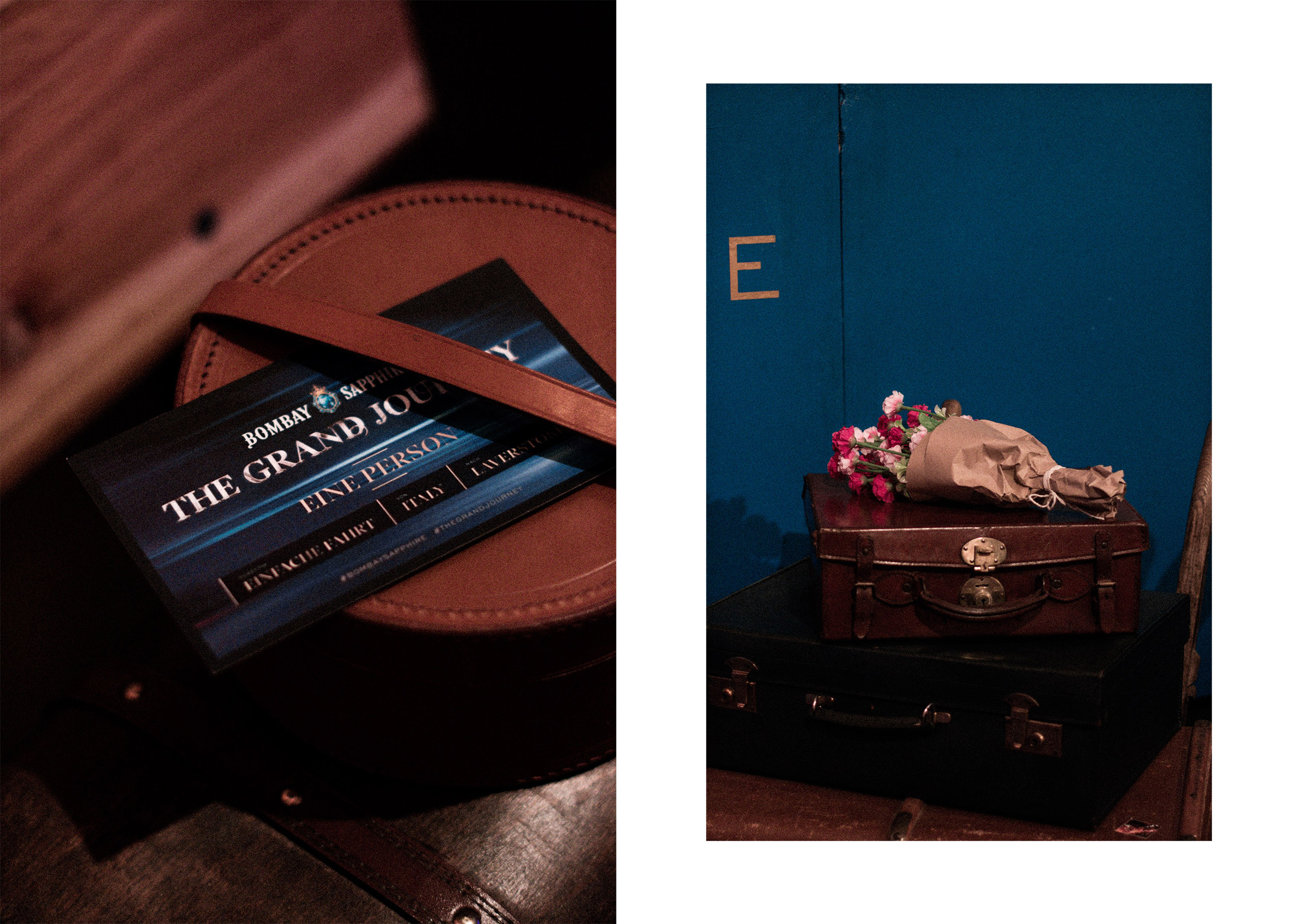 Ein saphirblaues Licht erstrahlte auf dem verlassenen Gelände des Westhafens in Berlin und lotste die Gäste zum Eingang in eine andere Welt. Es ist 21:00 Uhr und der Laverstoke Express steht schon an dem rekonstruierten Bahnsteig und der Dampf der alten Lock versetzte die Gäste in die Zeit des Charmes dieser rauchenden Giganten und romantischen Zugreisen. Wie aus einem Film entsprang die Kulisse zum Bombay Sapphire The Grand Journey Event.
Geheimnisvoller Rauch hüllt die massiven Lederkoffer, die am Bahnsteig aufgestapelt sind und auf ihre Besitzer warteten. Eine Dame in Charleston Kleid und eleganten Handschuhen stolzierte über den Bahnsteig, während zwei Herren in maßgeschneiderten Anzügen sich anregend unterhalten. Die Gäste genießen dieses interaktive Schauspiel mit kühlen Gin Tonics, während man gespannt auf den Einlass in den Laverstoke Express wartet.
---
The Grand Journey w/ Bombay Sapphire
---
Eine Reise für die Sinne
The Grand Journey mit Bombay Sapphire ist eine Reise, die alle Sinne einnimmt und die Gäste interaktiv und visuell in die verschiedensten Länder schickt. Anhand der unterschiedlichen Ursprungsorte enthüllte der Zugbegleiter die verschiedenen Geschmacksrichtungen der Botanicals, die den Bombay Sapphire zu seinem aromatischen Geschmack verleihen. Während ich im Zugabteil auf den großen Ledersitzen Platz nahm und die detailreiche Inneneinrichtung begutachteten wurden ich auf zudem mit Elan und Witz vom Zugbegleiter unterhalten.
Von einer kleinen Zauberaufführung bis hinzu einer Tanzeinlage wurde unsere Reise, in die verschiedensten Ecken unserer Welt, zu einer kleinen Show! Bewegbildprojektionen an den Wänden, Düfte, Musik und Licht trugen zu dieser wunderbaren Reise herbei, dass vor allem auch die Speisen und Getränke, ins rechte Licht rückte.
---
---
Von Italien nach Laverstoke
Der Laverstoke Express entführte die Gäste mit einem 60-minütigen Entertainment auf eine Reise von Marokko über Murcia in Spanien bis nach Sachsen. Das Menü wurde von Ort zu Ort nicht nur von den lebhaften Geschichten, sondern auch von einem kulinarischen Menü unterstrichen. Außergewöhnliche Kreationen wie herzhafte Mandelchurros mit vollmundigem Mandeldip bis hin zu einem Zitronenschaum zum Aromenreset mit einem Hauch Zitrone, der die Farbe wechselt – und nicht zu vergessen der ultimative Gin Tonic auf unserer wunderbaren Reise von Italien nach Laverstoke.
Genießt nun einen Einblick in diese spannende Reise in die kulinarische Welt von Bombay Sapphire The Grand Journey Event. Um euch nicht noch viel zu viel vorwegzunehmen, rate ich jeden einfach mal The Grand Journey in einen der europäischen Städte hautnah zu erleben. Mehr Infos zu den kommenden Events gibt es hier. Love, Alice.
---
---
Photo: I heart Alice / Alice M. Huynh
*In friendly cooperation with Bombay Sapphire.
*The opinions expressed here represent, as always, my own.