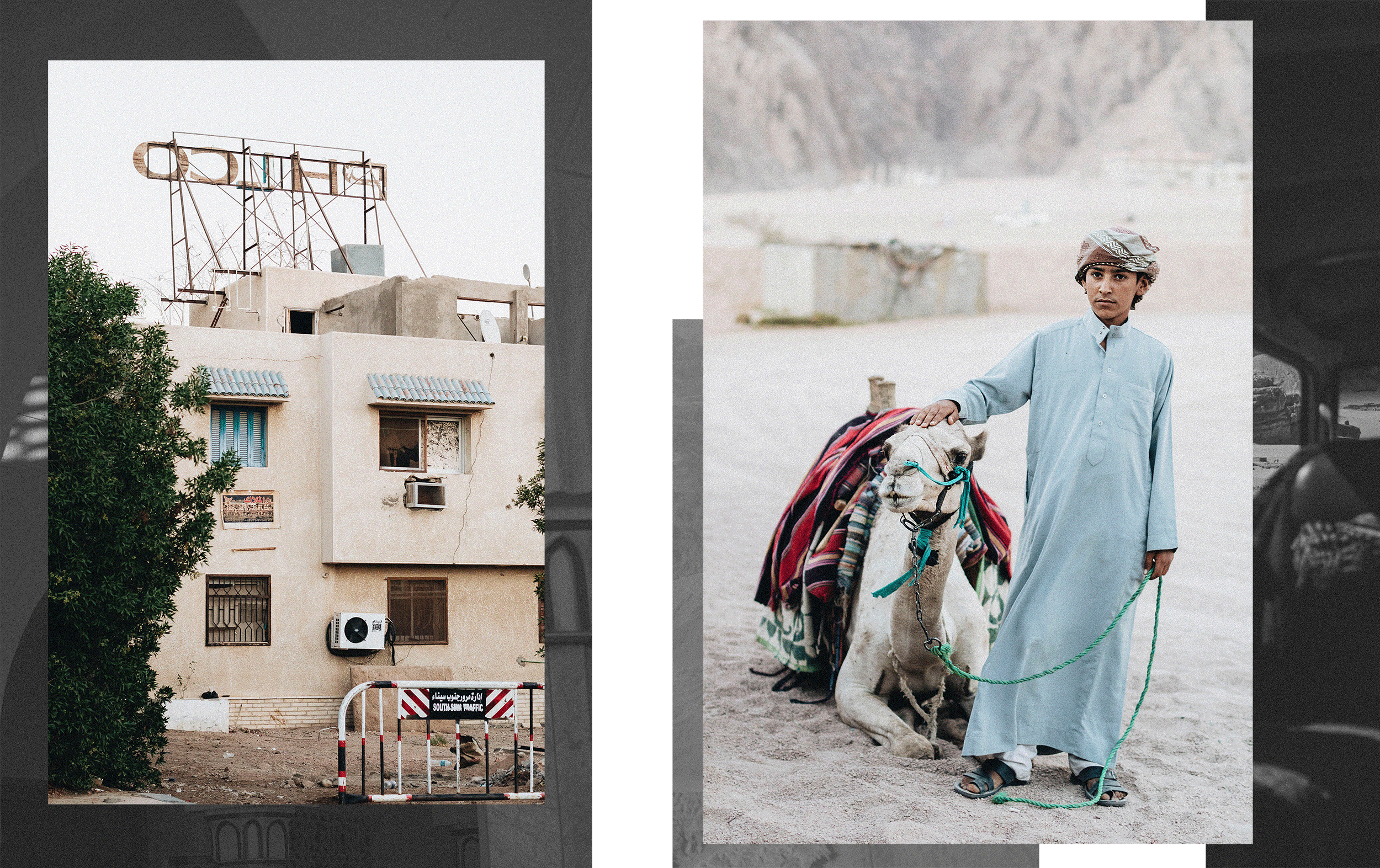 Die Landschaft ist kahl und die vereinzelten Autos und Motorräder wirbeln den trockenen Wind auf, bis dieser wie ein leichter Nebel sich über meine Sonnenbrille legt und die Landschaft in ein unscharfes Bild zeichnet. Ich komme mir vor, wie in einem Traum mit dem blauen Himmel und der kahlen Landschaft im Süden Sinais. Mittags steht die Sonne, wie jeder weiß, am höchsten und in der bloßen Hitze wird es manchmal sogar ganz ungemütlich, wenn man nicht direkt einen kühlen Platz im Schatten findet. Kein Wunder, dass zur Tageszeit es hier in Sharm el-Sheikh sehr ruhig ist, während am Abend, sobald die Sonne wieder hinter dem Horizont verschwindet, die Stadt zum Leben erwacht.
Das klare kalte Wasser des Roten Meeres birgt manche Geheimnisse in sich, die mit farbenfrohen Korallen und Fischschwärmen in den unterschiedlichsten Größen und Formen kommen, gefüllt sind. Vor Wasser hatte ich schon immer einen großen Respekt, vor allem wenn ich nicht weiß, was unter mir ist. Das Gefühl der Unendlichkeit und Stille wird vor allem im Meer deutlich, egal wie bezaubernd die Unterwasserwelt ist, in der man sich befindet. Eine Faszination, die ich schon als kleines Mädchen teilte, aber nie wirklich sehr nah kam.
Auf dem Land mit Erde unter den Füßen und Menschen um mich herum fühle ich mich dann doch etwas wohler und auch sicherer. Zwischen den Souvenirläden und Restaurants findet man einige rohe Diamanten, die es Wert sind, entdeckt zu werden. Häuser und Moscheen, Palmen, farbenfrohen Blüten und saftig grünen Kakteen verstecken sich hinter den sandfarbenen Steinen und bunten Fenstern. Arabische Schriftzeichen zeichnen das Straßenbild und die Sonne prickelt auf der Haut, während der Wind etwas Abkühlung verspricht.
On the Streets of… Sharm el-Sheikh, Egypt
---
Zwischen Fatah Morganas und Kamelenhöcker
Auf unserer Quadbiketour durch die Wüste erblickte ich in der Ferne zwei große Schatten, die auf einmal wie eine Fata Morgana erschien. War ich etwa schon so dehydriert oder war die Mischung zwischen Wüste, Benzingeruch und Hitze mir einfach zu viel geworden? Die zwei riesigen Gestalten kamen näher und ich konnte meinen Augen gar nicht fassen, was ich da sah. Wie man es aus einem Filmmoment kennt, zogen sich die Sekunden auseinander und es kam mir vor, als wäre ich in einer Slow Motion Szene gefangen. Zwei riesige Kamele kamen mir in einem Galopp entgegen und schauten mich mit ihren großen dunklen Augen an. Ihre langen Beine und ihr runder Körper sahen gigantischer aus, als erwartet oder ich habe wohl nie wirklich bemerkt, wie groß Kamele doch sein können, wenn diese vor einem stehen.
Zwischen den zwei Höckern, auf dem vordersten Kamel, saß ein Junge im hellblauen Kaftan und gemusterten Kopfbedeckung. Wahrscheinlich hat er sich schon an die Touristen gewöhnt, denn er winkte mir energisch und mit einem breiten Lachen zu. Mit einem gedrosselten Tempo auf dem Quadbike, der Mittagssonne auf meinen nackten Armen und meiner von der Aufregung verkrampften Finger, kam mir nur ein Gedanke: "Wegen solchen Momenten liebe ich es zu reisen."
---
Photo / Alice M. Huynh
*This trip was made possible thanks to Royal Savoy Hotel Group.
*The opinions expressed here represent, as always, my own.