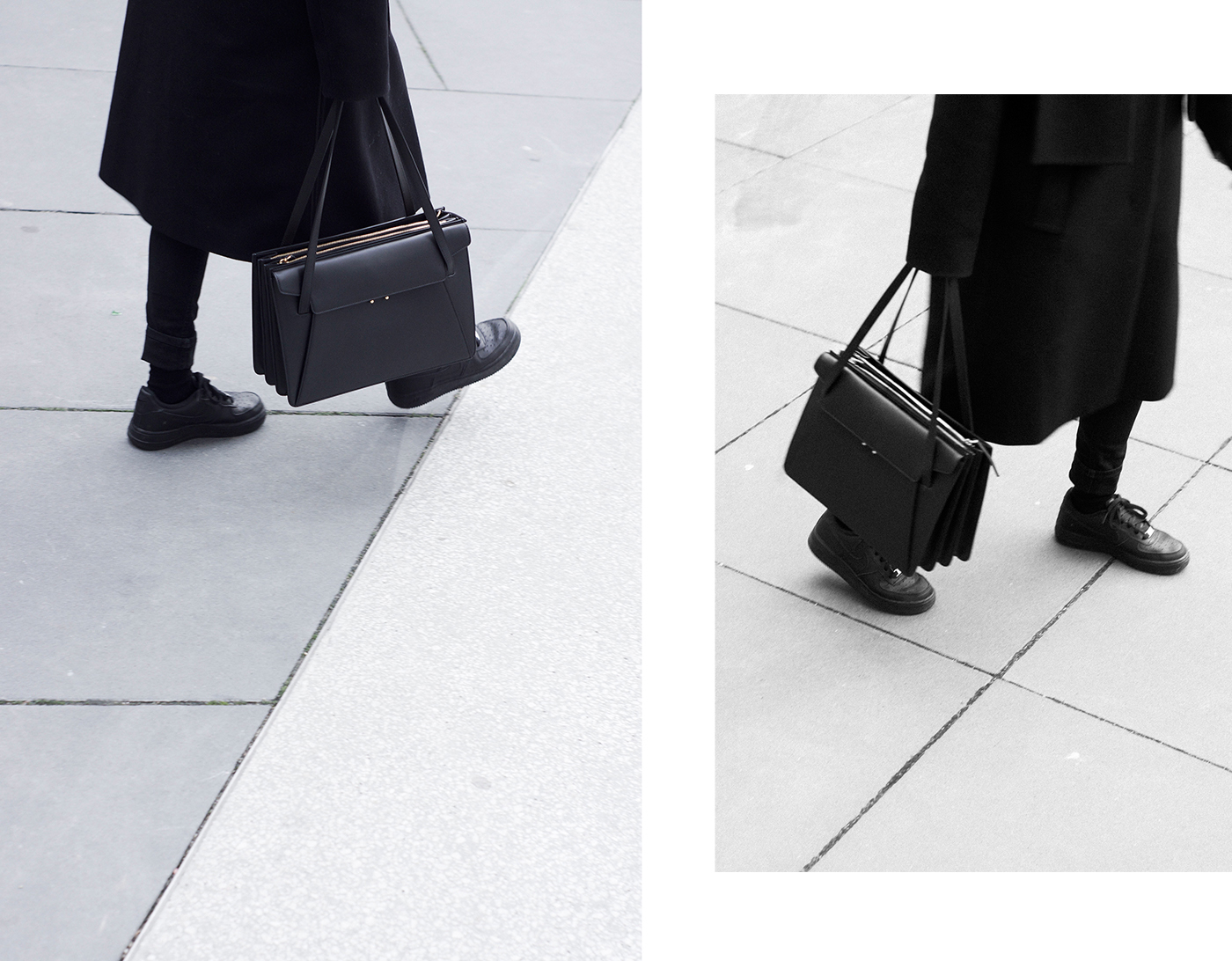 Nachdem ich euch mein Prachtstück schon zum Teil auf Snapchat (@alicemhuynh) und Instagram gezeigt habe, gibt es hier noch einmal ein Close-up zu meiner neuen Lieblingstasche! Wie ihr wisst, bin ich kein großer Einkäufer, ich achte sehr auf Qualität, möchte nicht unbedingt Designerstücke besitzen, die jeder hat, sondern besondere Teile finden und besitzen, die nicht so leicht zum Nachkaufen sind. Nach einer mittelgroßen Tasche habe ich schon lange gesucht und da momentan es scheint das die Chloé Faye, sowie die Gucci Dionysus in der Blogger-Landschaft gang und gäbe ist, kamen diese zwei Modelle einfach nicht infrage.
Ich suchte etwas Schlichtes & vor allem Praktisches, eine Tasche, die man auch täglich tragen kann. Auch war es mir wichtig, dass diese nicht nur ein "Trend" ist, der nach einem Jahr wieder verfliegt – sie sollte zeitlos sein, nicht mit Logos protzen und mir vor allem Herzklopfen verursachen. Glaubt mir, ich gehe schon lange nach diesem Prinzip einkaufen: Wenn mir ein Teil so sehr gefällt, dass mein Herz wirklich höher schlägt, wenn ich diese sehe, nicht nur weil sie eine andere Bloggerin trägt oder weil es gerade passt, sondern weil ich mich in sie verliebt habe. Wie lange ist es her, dass man sich wirklich in (materielle) Dinge in unserer heutigen Konsumgesellschaft verliebt hat?
Als ich nun am Black Friday mit einer Freundin im KaDeWe 'nur' Window-Shopping waren, habe ich mich in sie verliebt. Diese fünf großen Fächer, dieses glatte Leder im matten Look und die dezente Hardware in Gold, haben mich einfach überzeugt. Nachdem ich 2 Tage um sie herumgeschlichen bin, habe ich sie mir letztendlich geholt und bin nach 3 Wochen immer noch sehr glücklich über meine Ausbeute. Sagt also 'Hallo' zu der Marni Origami Trunk Shoulder Bag!
Wie findet ihr meine neue Tasche? Ich freue mich über ein Feedback! Love, Alice.
English: As you might know, I am not a big shopper. I don't like online neither offline shopping at all and it takes a while until I really fall in love with (material) pieces. I share the conviction that you have to fall deeply in love with something before buying it, because if you don't, it will be another piece in your clothing graveyard called closet. Since the Chloé Faye as well as Gucci's Dionysus handbag seems to be bloggers must-have this season, I was very sure not to buy any of these. Fashion Trends are limited, especially when it comes to time – therefore I was looking for something different, something that I haven't seen in the "Bloggersphere" or on Instagram yet, a bag that is practical, timeless, made of the best material and hardware it can be and it definitely has to be special. And there it was, at KaDeWe Berlin, while I was (I swear) window shopping with a friend. Say 'Hello' to the Marni Origami Trunk Shoulder Bag, a perfect mid-size handbag, made of smooth calf leather in a matte black and beautiful but still minimalistic gold hardware! Just the perfect bag for me! What do you think? Love, Alice.
Marni Origami Trunk Shoulder Bag
Photo: I heart Alice
Thank you Diana for helping!