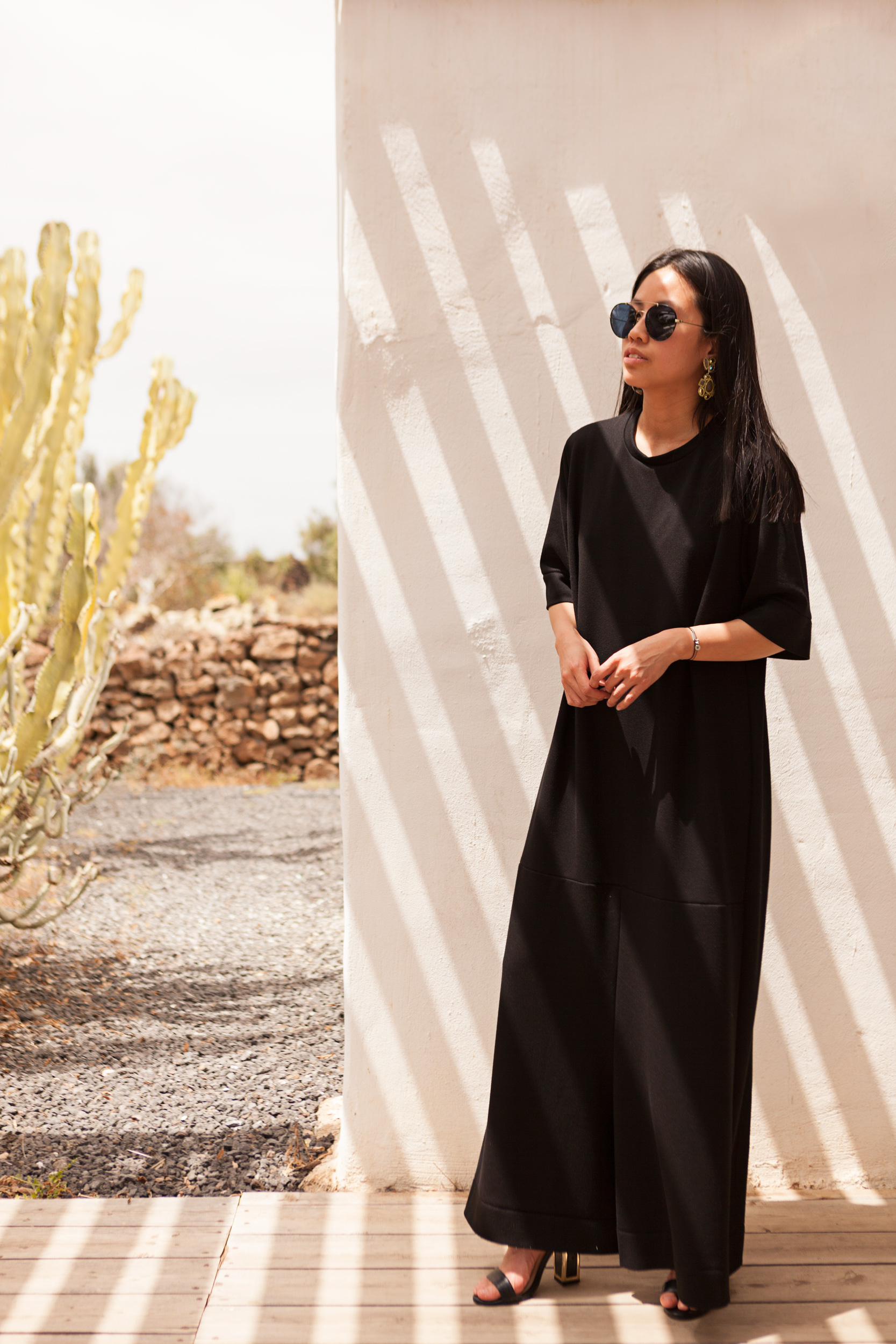 Bevor ich nun die letzten Beiträge aus Japan veröffentliche, schiebe ich eines meiner neusten Lieblingsstücke sowie ein kleines Lebenszeichen aus Fuerteventura zwischen rein.
Auf der Insel der starken Winde sind die Temperaturen noch sehr ertragbar, dennoch kann es auch mal recht frisch werden. Perfekt für dieses gemischte Wetter, war meine neuste Errungenschaft des Münchner Label WE.RE – und es ist nicht nur irgendein Münchner Label. Katharina und Therese, die jungen Designerinnen dieses Labels, sitzen an jedem Kleidungsstück eigens dran, vom Entwurf bis hin zur Stoffauswahl sowie der Herstellung in ihrem kleinen Münchner Studio ist alles von diesen zwei Super-Frauen hergestellt worden. Ich hatte das Vergnügen sie vor der Gründung ihres Labels schon kennenzulernen, damals waren sie im Studium ein Jahr über mir und schon dort habe ich ihr immenses Talent erkannt und ihre Arbeiten bewundert.
Dieses gute Stück liegt bei 140€ und ist aus unglaublich bequemes Jersey und wird in München hergestellt: Pluspunkte für diese Mädels in Sachen großartigen Design und Nachhaltigkeit! Wie findet ihr meinen Look? Oversize Jumpsuit, Yes or No? Love, Alice.
Jumpsuit: WE.RE
Heels: Kat Maconie
Shades: Prada
Earrings: FOURTH DIMENSION
Follow Alice on Instagram / Facebook / Twitter / Youtube!
English: Here's a little lifesign from Fuerteventura inbetween my Japan entries! It's pretty windy on this little island but I am enjoying it to the fullest, since I can take out this little new guy in my closet. My black jersey jumpsuit is from WE.RE, a small Munich fashion label, which produces all their pieces on their own little studio. This handmade piece is about 140€ and incredibly comfortable! What do you think? Oversize jumpsuit, yes or no? Love, Alice.
Photo: Lina Zangers